Potato chips are viewed by many of us as just a convenient snack, and its packaging as nothing more than something to be thrown out after consuming its contents. But to artist Abigail West, finding empty chip bags that have been tossed aside is an opportunity to create something new and exciting.
West, who studies printmaking and book arts at the University of Georgia, is an Athens-based artist and a reclamation intern for the Office of Sustainability at UGA. Much of West's work focuses on combining her artistic ability with sustainability and the reclamation of unused material.
All that and a bag of chips
The opening night for West's latest exhibit, titled "Plastic Bodies: River Tributes," was held on March 7 at Lyndon House Arts Center. The exhibit, which will be open through June 1, displays large prints of photographs of West wearing a bodysuit she made out of used pantyhose and chip bags. Of course, the chip bags didn't appear to be chip bags at all — West transformed the material into something beautiful.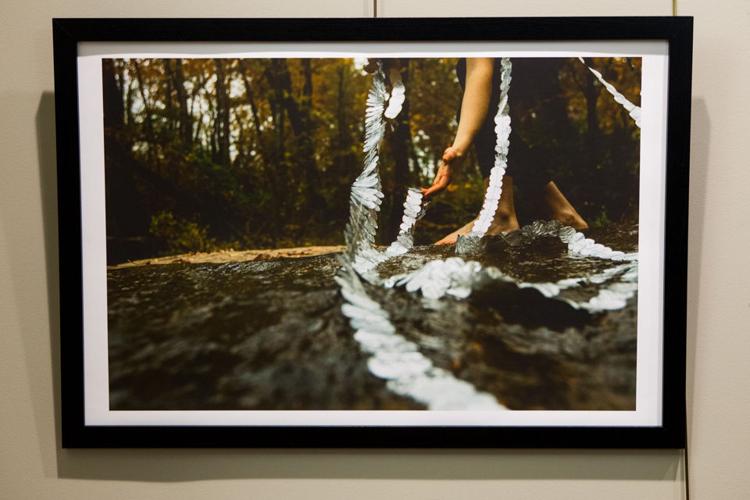 "I go around and collect chip bags from trash cans," West said. "I call myself a trash nerd because I'm super fascinated by waste and passionate about waste reduction." 
West said the photographs seen on the wall during the exhibit are only the current stage of the waste and the entire project was a performance started with her collecting the trash. 
"People probably see me going through trash and think, 'Who is this crazy girl digging through trash?' but I don't mind — it's part of the process and I value that experience," West said. 
---
"It's all in the relation of what we consume and what happens to it after we're done with it."
— Abigail West, UGA student and Athens artist
---
After collecting the bags, West takes them back to the studio, cuts them open and cleans them, proceeding to cut them into circles. She cuts the bags, then adheres two circles to each other, where the shiny aluminum coating inside the bag faces out.
Stunning and sustainable projects
As seen on West's online portfolio, the artist has had many past projects dealing with the reuse of waste.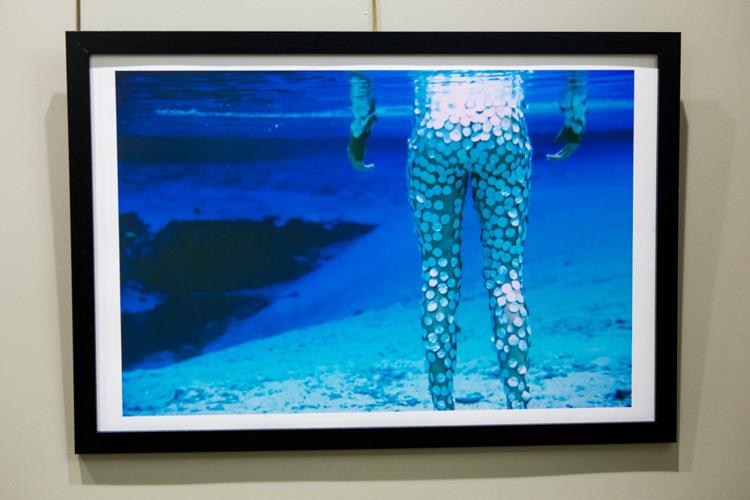 Several past works of hers include a furniture project, in which West used reclaimed furniture and unused materials like street and campus signs to make new pieces of usable furniture.
Mark Callahan, the Artistic Director of Ideas for Creative Exploration at UGA and faculty of the Lamar Dodd School of Art, talked about his experience having West as a student and the projects she's worked on. 
Callahan has known West for several years now, since a coloring book project she completed, consisting of drawings West made of Sapelo Island, Georgia. Since then, Callahan has watched West work on many other projects — especially those that have to do with sustainability — since he collaborates with the Office of Sustainability as well. West was a student in his Net Art class last semester, a class centered on internet culture and art making.
"The university is developing a richer and more viable sustainability program, and people like Abigail represent a new career path," Callahan said.
West's engagement with sustainability models how artists can engage with programs at other schools, Callahan said. West plans to continue working on sustainably-minded projects.
"It's all in the relation of what we consume and what happens to it after we're done with it," West said.