Congratulations are in order for "The Bachelor" franchise's newest couple, Demi Burnett and Kristian Haggerty.
On the season finale of the popular spin-off series, "Bachelor in Paradise," the couple got engaged on a beach in Mexico. While there were three engagements on this season's final episode, Burnett and Haggerty's generated an amount of buzz that the series has never seen before.
After 23 seasons of "The Bachelor," 15 seasons of "The Bachelorette," three seasons of "Bachelor Pad" and five of "Bachelor in Paradise," this is the first LGBTQ relationship, let alone engagement, that viewers have seen on the show, according to a recent article by Bustle. Audiences, even those outside of the Bachelor Nation, are impressed with ABC and its choice to finally represent the LGBTQ community on one of its most successful programs. However, some are wondering why it has taken the network this long to depict a LGBTQ relationship on a show that's all about finding love.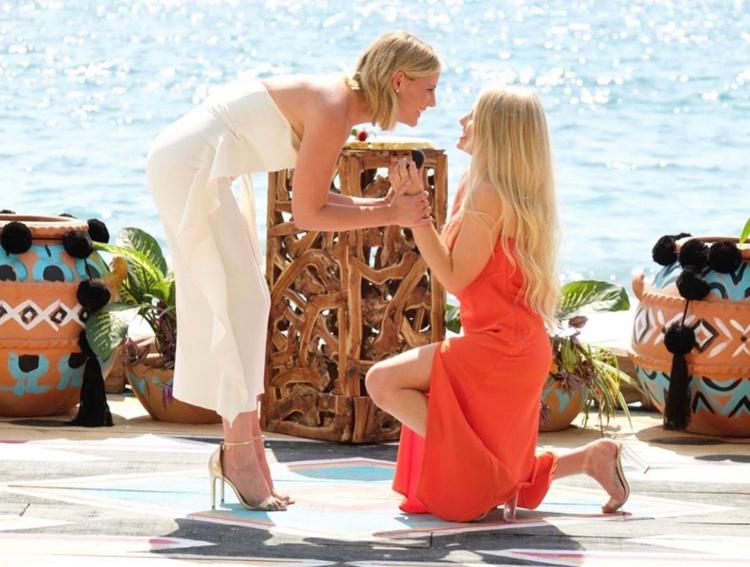 This is a common theme throughout broadcast networks: in order to appeal to wider audiences and keep advertisers happy, large broadcast networks such as ABC and Fox typically like their programming to be the least objectionable as possible. On the other hand cable networks, such Bravo and MTV, and streaming services have a more narrow audience which enables them to take more risks when choosing what and what not to broadcast on their networks. 
MTV, for example, has represented LGBTQ relationshps in many of its "Bachelor-esque" dating programs. One of these programs, "Are You the One?" has aired seven seasons of male and female contestants finding their "perfect match." However, its current season has steered away from the show's traditional formula of a house full of heterosexual matches. Instead, the show has chosen a cast with each contestant's sexuality falling somewhere on the pansexual spectrum, according to an article by Variety.
Taylor Cole Miller, an entertainment and media studies professor at the University of Georgia, has done a plethora of research on issues of gender and sexuality within media and television throughout his career. 
"What MTV is doing is good in the sense that there's probably more characterization of what it means to be a queer person if there's more people," Miller said. "But at the same time a large broadcast network show has more of an influence in large part because these networks have such bigger audiences."
Burnett received a lot of attention after coming out as bisexual on "Bachelor in Paradise.".In just a few short weeks, she evolved from the fan-favorite, blonde firecracker to the franchise's spokesperson for the LGBTQ community. In a recent interview with Ellen DeGeneres, Burnett said she hopes "The Bachelor" will progressively normalize same-sex couples in a natural way. 
Jack Matlack, a sophomore at UGA and long-time fan of the show, wants to see Burnett's hopes for the franchise come into fruition one day. 
"Hopefully, if ABC decides to normalize same sex couples on the show in a 'natural way' [and] they don't turn it into a show where they stereotyping gay [or] queer people in a negative light," Matlack said. "It should be advertised and promoted in the same way as any other show in the franchise and produced that way as well."
Miller, however, has doubts on the future of the franchise and LGBTQ representation. He said the show's recent acceptance and display of a LGBTQ relationship may just have been a ploy for viewership. Miller doesn't see the franchise trying to "normalize" LGBTQ representation any time soon because, as a result, the idea will lose its shock-factor. 
"The franchise has its own different programs. Bachelor in Paradise is one of the lesser-known so by that virtue, it has to be something to get better ratings," Miller said. "It's the perfect show to test out a queer candidate and see if it works. Then you can see if it pisses people off and if it pisses advertisers off."