Casey Carter wasn't always as comfortable talking about grief as she is now. So when her friend Laura Brooker first suggested discussing the topic on a podcast, she flat-out refused to participate. Neither anticipated their podcast, "Funeral Stories," would evolve into the hit it is today. 
Brooker and Carter met in high school and later attended the University of Georgia together. They briefly lost touch, but rekindled their friendship at a wedding nearly five years after graduating. 
"[It's] weird how that worked out," Carter said. "Obviously we were meant to do a podcast together." 
Carter was initially wary, but Brooker eventually changed her mind by likening the idea to true crime podcasts. Both are avid listeners, and despite frequently discussing crimes, neither had fallen victim.
Initially, Brooker and Carter introduced "Funeral Stories" as "a podcast about the crazy, cringeworthy, hilarious and heartfelt stories that come with saying goodbye" in February 2018. 
"It really started as an experiment," Carter said. "And then people just started responding to it."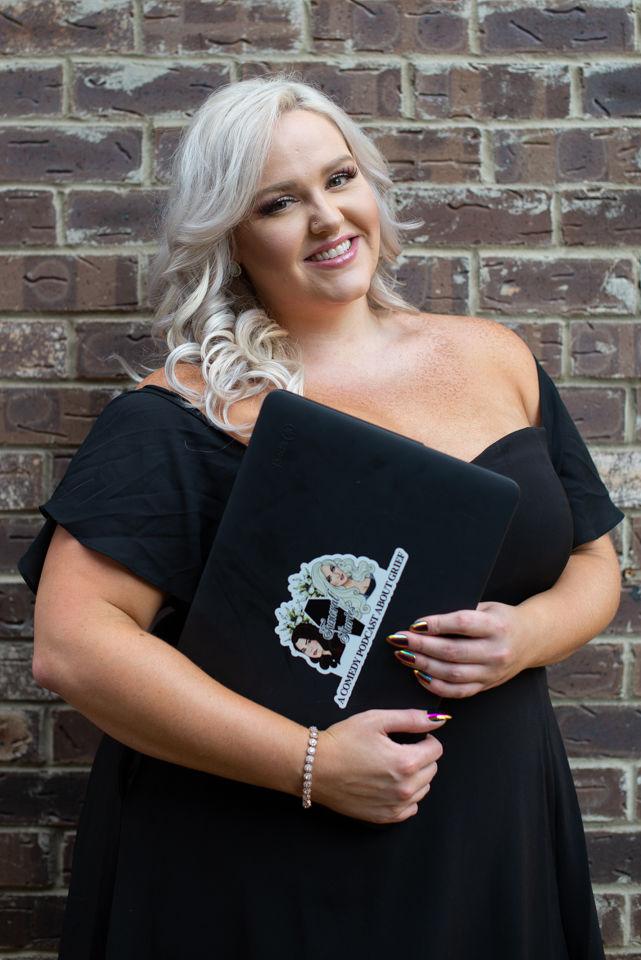 The first few episodes featured Brooker and Carter's own anecdotes about funerals, and welcomed friends with stories to share. By the third episode, which featured funeral directing apprentice Cameron Harrelson, the pair saw the show beginning to take off. 
Shortly after, Brooker and Carter realized they wanted to discuss more than just death and began bringing grief-related topics and stories to the podcast. 
"We realized that it's a podcast about grief, and you don't just have grief about the physical loss of a person," Carter said.
Different kind of therapy 
Death has always been a natural part of life for Brooker. Her family owned a crematorium, monument company and cemetery, and her father died before she turned 12. 
"It was no big deal for [Brooker's family] to talk about the day's funeral over pork chops at dinner," Carter said. 
On the other hand, Carter has also experienced loss, but had often found herself afraid to talk about her emotions before starting the podcast. After the murder of a close friend when she was 19, Carter developed such severe anxiety around grief that she was wary of even thinking about death. 
"I had no idea how to deal with the grief," Carter said. "I thought, 'If I talk or think about it, then I'm going to attract it to myself.'"
Both hosts are careful to specify they're not mental health professionals, but instead consider themselves mental health advocates. 
Current episodes feature a mix of guests in the funeral industry in addition to death-positive discussions and submissions from listeners. They've even produced an episode about the deaths of "Harry Potter" characters, which featured Carter's sister, Ginny Kathleen.
Carter said their listeners generally fall into two categories who they've nicknamed "Caseys" and "Lauras." Fans tend to be more aligned with one of the hosts' backgrounds — either uncomfortable with death like Carter initially was, or more curious about the topic like Brooker. The pair take advantage of their different backgrounds to offer comic relief. 
"I've had people say, 'It's so nice to hear someone talking about these feelings that I've often felt ashamed of,'" Carter said. 
Authentically Athens 
When Brooker and Carter were putting out their first few episodes, the prominence of music and arts culture in Athens seemed like a barrier to entry at first. 
"I think being in Athens helps and hurts us, in a way," Carter said. "It's such a prominent music and arts town."
Carter recalled thinking the name "Funeral Stories" would scare people away. She was quickly proven wrong.
Jesse Ward, co-founder of drag troupe, The Kourtesans, recalls being intrigued by the topic when Carter approached them to create the podcast's logo. They decided to listen to the first episode, and hasn't stopped since. 
"I've personally seen a lot of death here and there in my 33 years," Ward said. "Just to have something that makes it lighter, easier to deal with things — I wish I'd had that when I was going through a lot of it."
Last Friday, The Kourtesans performed at "A Night of Death, Drag and Dancing," a live recording of "Funeral Stories," to celebrate the third season.
"We've been received so well here," Carter said. "I've heard from so many people, myself included, that when they moved to Athens they realized that this is the first time they could be [their] authentic selves."
Carter said she and Brooker aren't opposed to expanding in the future. They've done several live shows, with the most recent at 40 Watt Club  featuring The Booty Boyz. While the duo hopes to take the shows to larger audiences such as Atlanta or New York, they're happy to be based in Athens.
"If you can't make it in your hometown, you can't make it anywhere," Carter said.