When Elf Power first started playing shows around Athens in 1994, the Athens music scene was not as lively as it is has become. Part of what became known as the Elephant 6 Collective, Elf Power was one of eight bands from the '90s that rose to great commercial fame under the Elephant 6 Recording Company.
Having played AthFest many times over the years, Elf Power returns once again, before playing a few shows in Europe, to perform for the hometown crowd at the 22nd AthFest. The Red & Black sat down with Andrew Rieger of Elf Power to talk about Elf Power's latest album, playing AthFest and where the band got its name from.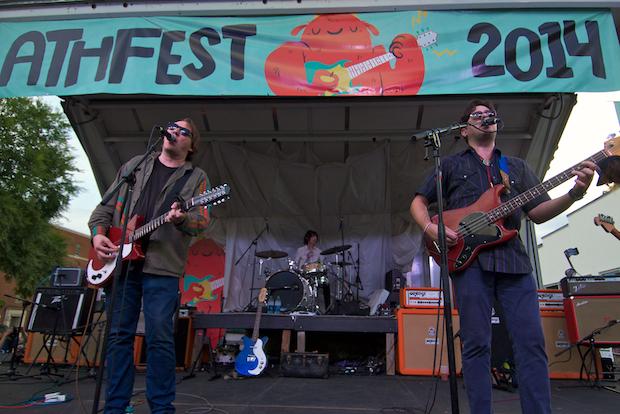 ---
Red & Black: Elf Power has been a band since around 1994 and you've played AthFest a bunch of times over the years. How do you feel like you guys have changed as a band from your first AthFest performance to now?
Andrew Rieger: The repetition of all the touring and playing we've done over the years has just made us a better live band. I think with that experience we've become a better, more versatile live band. We have so many songs to pull from at this point that we'll play a good set of new songs and old songs from all the older albums, and maybe a few cover songs as well.
R&B: How do you think Athens has changed from when Elf Power first started playing to now?
AR: There's just way more bands, especially these days. Back when we started in the '90s, there weren't as many places to play and there weren't as many bands, and I think the population of the town and university has grown and that's just naturally led to more people.
Athens has a reputation as being a great music city so that kind of draws people here. That's one of the reasons I ended up in Athens, because I was a fan growing up of bands like R.E.M. and B52's and Pylon that were here in the late '70s and '80s. Those bands were influences on me and I think it just naturally keeps going where people will hear other bands that they really like in Athens and that draws them to Athens.
R&B: What about AthFest makes you guys want to keep coming back?
AR: I really like being able to go see so many new bands. It's always cool to get turned on to new music and going out and seeing the band that weekend. As far as playing goes, I always love playing on the outdoor stage because, not only do you get the people that are there to see you, but then you also have the random people that are out there to see whatever and it's always nice to try to win some of those people over and get new fans.
R&B: You guys released "Twitching in Time" four years after "Sunlight on the Moon," your last album … was there any particular reason that you took a bit more time making this album than you have for others?
AR: We toured a lot for 'Sunlight on the Moon,' so it just took us awhile to get back into the writing process. I feel like since we're a band that has been around as long as we have and have put out as many albums as we have, we just, at this point want to take our time and not rush out an album. You know, naturally the writing and recording process kind of took awhile this time. We'd rather wait a little longer than put out an album just for the sake of putting out an album.
R&B: Where did the name Elf Power come from?
AR: I was walking down the street in downtown Athens and I saw it written in the concrete, but then when I went back to that same spot later to find it I could never locate it. So I was wondering if I imagined it or if it was something I really saw.
R&B: What should people expect from your performance this year?
AR: I'm always just happy if people have a good time and enjoy the music and have an enthusiastic response to it. We'll basically be playing a good bit of stuff off of our new album and some stuff off the older albums as well.
R&B: What advice would you give to any up and coming bands starting out in Athens?
AR: For any bands starting out, just play a lot of songs. With my songwriting and playing, we work on a lot of music that we end up just throwing out because we don't think it's good enough. Don't get discouraged if you work on a song for a long time and then you realize it's not that great, because it's all part of the process of getting the good stuff.
Elf Power will perform at 5:45 p.m. on Sunday, June 24 at the Southern Brewing Co. Main Stage on West Washington Street.