Nestled underneath The Mark apartment complex downtown, Frutta Bowls' illuminated storefront promotes health and wellness. Its menu includes a wide range of smoothies, smoothie bowls and oatmeal bowls.
The store, which opened to the public on Sept. 8, is decorated with dark, wooden furniture. Industrial lamps hang from its high ceilings and the far wall is a chalkboard decorated with colorful typography.
Pineapples line the counter at the center of the store where customers can choose from menu options such as the Hulk Bowl, a smoothie bowl with a base of kale, vanilla Whey protein, sweetened almond milk, banana and pineapple, topped with granola, mango, strawberries, blueberries, honey and peanut butter.
Each bowl is categorized as either acai, pitaya, kale, superfood or oatmeal, depending on its base. Customers can also get smoothies, such as the detox smoothie, a blend of kale, banana, pineapple, chia seeds, water and ice.
I decided to give Frutta Bowls a try. Here's what I thought.
Tropical Smoothie
I started out with the Tropical Smoothie, a blend of pineapples, mangos, bananas, water and ice. Upon first sip, the consistency was a bit too frothy and pulpy, as if the concoction should have been blended for a few more seconds. The sweet, unmistakable flavor combination of mango and pineapple that first attracted me to the smoothie was heavily diluted. The drink tasted more like a watered-down, mashed-up pineapple rather than the fresh blend of fruit the menu promotes.
Earth Oatmeal Bowl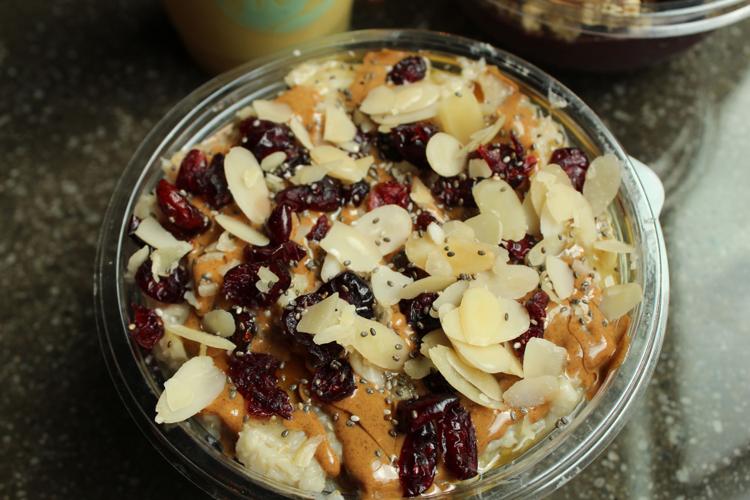 Frutta's oatmeal bowls are a distinct combination of smoothie, oatmeal and toppings. Layer one is the frozen layer. In my case, the Earth bowl's frozen layer was a blend of kale, banana, pineapple and almond milk. Layer two was a "hot" layer of cooked oats and layer three was a "fresh" layer of toppings. The Earth bowl's toppings include almond slices, craisins, chia seeds, honey and almond butter.
As expected, the frozen layer was completely melted from the heat of the oats by the time I took my first bite. The result was an awkward and frankly inedible combination of melted smoothie and oatmeal mush. The oats had a gelatinous consistency and tasted as if they had marinated in a vat of sugar.
I did enjoy the toppings. The tart craisins worked to balance the sweetness overload of the rest of the bowl.
PB&J Acai bowl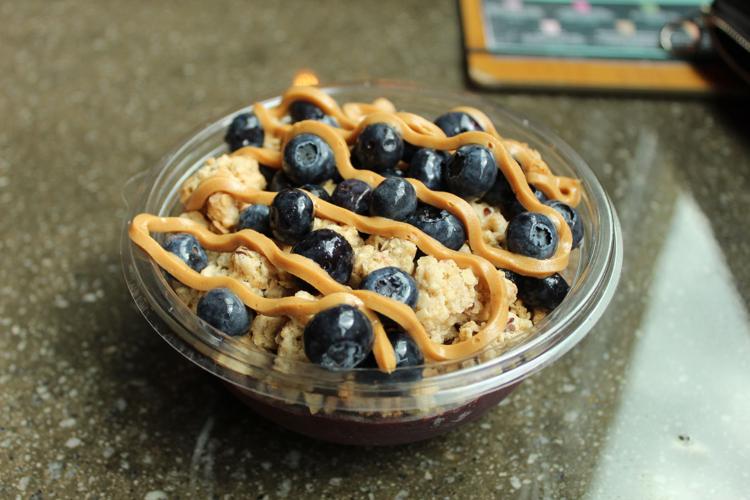 The PB&J acai bowl is Frutta Bowls' saving grace. Topped with a classic combination of crunchy granola, just-ripe blueberries and a salty peanut butter drizzle, the bowl is a gift from acai bowl heaven to Athens. The sweet base of blended acai, guarana and banana is balanced perfectly by the savory peanut butter. Being the millennial that I am, I have tried multiple smoothie bowls in the past few years, and Frutta's PB&J bowl is definitely one of my favorites.