The University of Georgia is home to many incredible students. With over 28,000 of them, it's impossible to meet them all, but one particular student is worth knowing.
Kyle Clark just transferred to UGA last fall and at only 21 years old, he's had six songs on the radio, over hundreds of followers on his Spotify and opened for Darius Rucker at the Verizon Wireless Amphitheater. He is a rising country star and has been pursuing a career in country music ever since he started singing. 
"There's videos of me singing old Kenny Chesney, Alan Jackson and George Strait songs," Clark said. "My parents always liked listening to country music, so I was influenced by that."
Clark is a self-made, self-taught artist. He's taught himself how to sing and play guitar; in addition, he's funded every aspect of his singing career from recording time to music videos.
"I've been managing myself," Clark said. "My paychecks come in and they basically go all to music. I took all my graduation money and made an album." 
UGA student Niki Neiconi is an intern at Full Moon Studio where Clark produces his music. Neiconi mentioned how frequently Clark goes into the studio.
"I like his work ethic — he is in the studio most of the time [that] I'm working," Neiconi said. "He really works to make sure his music sounds the best it could possibly sound."
Clark explained his rise as a musician as "insane." After his first performance at the Miss Jackson County Pageant his sophomore year of high school, he soon realized his natural talent could turn into a possible career.
By his senior year, Clark released his first song "Small Town Rivalry." The release of his first single took a large step forward for his career, but he found it hard to prioritize music while still in high school.
"I had other focuses in high school," Clark said. "I think that is why it was tough to get really serious about it because of the confidence with it. It wasn't like I had had that sense of recognition with it yet."
Clark found his popularity, success and focus on music growing tremendously after going to college. In the spring semester of his freshman year at the University of North Georgia, Clark found his music career blossoming.
"2017 goes down as the best year of my life," Clark said. "I think about that year, and it was just insane."
 On March 7, 2017, he released an EP with six songs on it. It was the titled "Small Town Dreaming Big."
"It hit top 100 or right on the outside of top 100 iTunes country albums," Clark said. "Of course, it's not top charts, but it charted. It had a number beside it. Luke Bryan was next to me and Brantley Gilbert, Jason Aldean and their albums were sitting there." 
In addition to charting, it played on 94.9 The Bull.
"It was on The Bull and had like five weeks at number one," Clark said. "It's a cool accomplishment to have because you have your fans voting for you to be number one over nine artists."
After the success of this EP, Clark found the sense of recognition and confirmation of his talent. Around this same time, he found himself with an invitation to "The Voice."
"I was invited to be on 'The Voice,'" Clark said. "Their talent person emailed me after seeing some of my YouTube videos. I skipped the initial round and got to go to the call back round. It was all people who had made it through the first round, so they were all talented people."
Clark didn't make it past the call back round he went to. Though rejection can be hard, Clark took it as a learning experience. 
"I didn't see it as a failure," Clark said. "I thought they were going to regret their decision not taking me. I want to show them what they missed out on. That is how I took it and ran with that kind of 'chip on the shoulder' attitude about it. I decided to grind and get a lot better." 
With his determination and confidence, Clark worked to get better. It was after this rejection that he went on to win Nash Next, a radio competition that works to find the next best names in country music. By winning that, he was rewarded with a chance to open for Darius Rucker at Verizon Wireless Amphitheatre.
Clark started laughing when reminiscing on his performance opening for Darius Rucker. He explained on stage at that major performance, it was only his group's fourth time ever performing for a live audience together.
"That's what's really funny about it — I started off in one of the biggest venues," Clark said. "Most people play a bunch of little shows their whole life and then have a big show. Playing on little stages now gives me that hunger to get better and get back to that big stage."
Clark said the concert as an "inspiration," and after it, he wrote some of his best songs. The success at Verizon also led to another big show.
"My favorite performance of all time was the Coca-Cola Roxy [Theatre] show with Kane Brown," Clark said. "There were over 3,600 people there."
Though he loves the big stage, he is still working to spread his name and music around the Athens area. Recently, he performed for one of Delta Gamma's philanthropy events.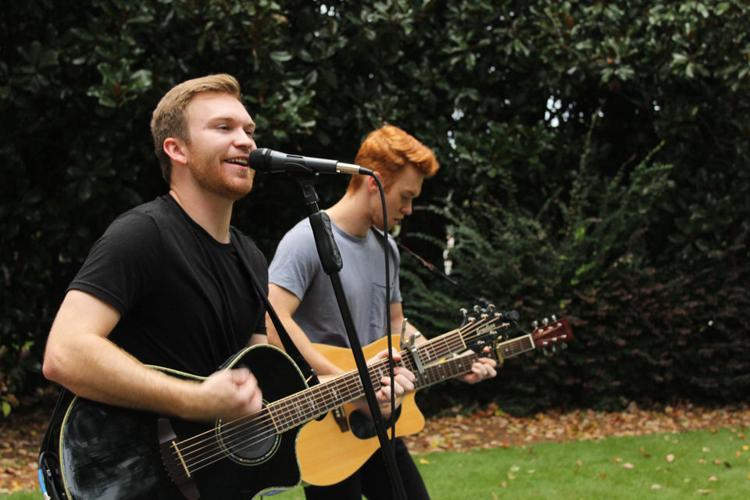 Delta Gamma's Vice President of Foundation, Rebecca Lockwood, hired Clark for the event.
"I was kind of at a loss because it's a philanthropy event and everyone charged a lot and my sister told me about him," Lockwood said. "She gave me his [Clark's] number. I texted him and I was like, 'He is definitely going to say no just like everyone else,' but he didn't. He said it's not about the money. He just wanted to gain some experience and exposure in Athens, and he would love to do it."