Whenever people visit the University of Georgia Starbucks in the Tate Student Center, they get more than their grande iced caramel macchiato.
While some baristas may add more syrup to drinks, Derrick Mathis adds an extra dose of kindness. On the days when he works, Mathis leaves customers with not only their order but added encouragement to go throughout their day.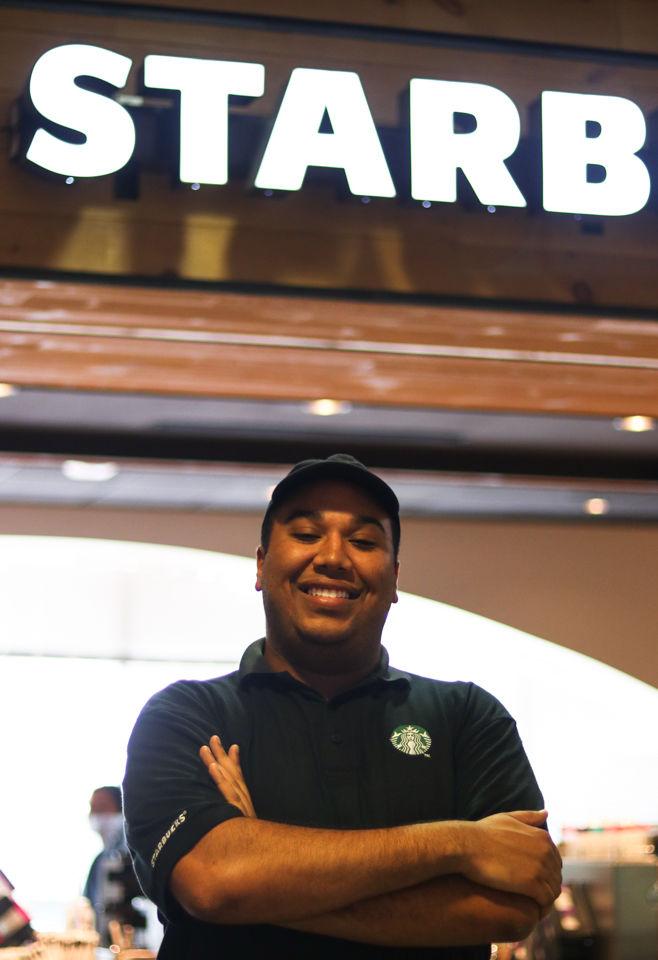 "I have a mission statement," Mathis said. "I try to enrich lives daily and create an experience they may not have every day."
Unmatched work ethic
Mathis is 24-year-old Athens native and a 2013 graduate of Cedar Shoals High School. He began working at the Tate Starbucks when it first opened in November 2016. He works full time from Monday through Friday from 6 a.m-3 p.m.
Not only does Mathis work at Starbucks, but he also works part-time at Zaxby's on West Broad Street. Once he clocks out of Starbucks at 3 p.m., he begins working at Zaxby's from 4:30 p.m. to closing time. Mathis has the same loyal customers at Starbucks and Zaxby's and despite his long hours, he loves to work.
"I wake up every day and always try to say, 'It's going to be a good day,'"  Mathis said.
Before Mathis' role as an adored barista, he worked at Bolton Dining Commons at UGA in 2014. Contrary to the radiant personality his customers have come to know, Mathis had shier demeanor since he worked in the back doing dishes. Because he worked in the dish pit, he wasn't able to interact with the students, but he was aware of his natural essence with people.
Over time, Mathis formed connections with customers and once he moved over to Starbucks, the relationships started to flourish even more.
Max Grant, a 30-year-old UGA graduate from Milledgeville, Georgia, is the unit manager at the Tate Starbucks. Grant said he didn't realize what he had in Mathis when he first hired him.
Shortly after Mathis was hired, Grant received corporate blurbs from the people Mathis helped. The blurbs were sent from local customers who had contacted the Starbucks national headquarters about Mathis' impact.
"If I'm working the register the same time Derrick is, I'll have people push other people in front of them so they can give him a fist bump and talk to him for the day," Grant said.
Grant said he has never had an employee like Mathis. He constantly witnesses Mathis going out of his way for customers who have forgotten their card or simply having a rough day by giving them a free drink.
---
"I have a mission statement," Mathis said. "I try to enrich lives daily and create an experience they may not have every day."
— Derrick Mathis, Tate Starbucks barista
---
Laura Antonelli, a senior psychology major from Cranston, Rhode Island, is a student worker at the Tate Starbucks. When she first started working at Starbucks in January 2018, Mathis was a constant source of encouragement through her training and learning process.
To this day, working with Mathis is the highlight of her day.
Even when Antonelli works early morning shifts with Mathis, she said he's singing and bubbly when everyone else isn't as exuberant. Employees want to come to work because Mathis makes the day positive, Antonelli said.
"Even the people who come to Starbucks once a week or every so often know him and know his story," Antonelli said. "I feel like that is pretty special."
Beyond a barista
Mathis' giving nature transcends outside of his work life. He was a certified volunteer first responder with Athens-Clarke County for two years. If he spotted someone on the side of the road, he would go over and assist them.
Mathis attended Athens Technical College for training as an emergency medical technician but withdrew because he wanted to venture into law enforcement. After this year, he wants to begin working with the UGA Police Department. Law enforcement is a lifelong passion of his.
"I want to do more when it comes to law and grow more all over campus, instead of Starbucks in general," Mathis said.
Continuing community connections
However, Mathis' welcoming personality extends beyond being a kind employee, Grant said.
Grant recalled a specific incident in which a customer expressed suicidal thoughts, Derrick helped him through. For an entire month and a half, Mathis acted as "his medicine" and was a friend to the customer. Mathis followed up with customer last November and said he's now in a better mental space.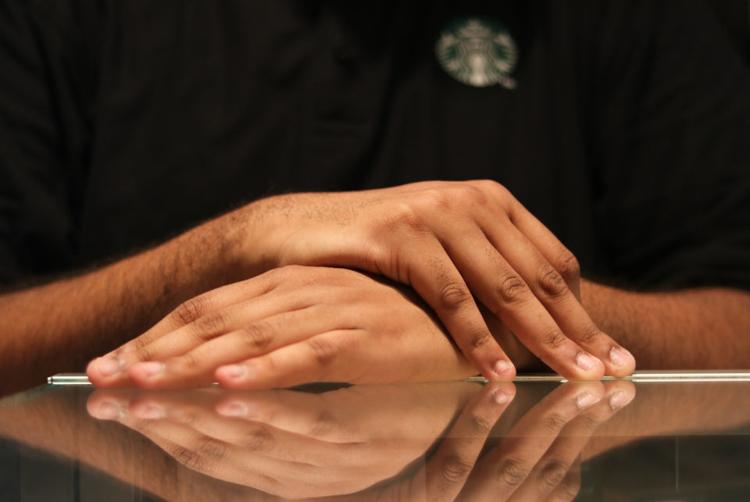 Mathis will receive anywhere from 8-10 letters from his customers during the holiday season. The thank-you notes aren't seasonal but regular occurrences. He knows just giving people a simple smile and a wave makes a change for all those he comes into contact with.
But Mathis' warm demeanor isn't exclusively tied to his work. He said even if he's walking through Walmart and he sees someone is coming towards him, he will say hello and ask about their day.
Though lots of baristas can remember customers names and drinks, Mathis has a keen awareness for remembering specific stories about people. Customers will come up to the counter and Mathis will ask about how their exam went the other day, Antonelli said.
Each week, Mathis has people directly express the impact he's made in their lives. He said he doesn't act this way to acquire fame or notoriety, but that it just comes naturally to him.
"He just goes out of his way to connect with other people," Antonelli said. "I think it really impacts our community as a whole."