Some say it is harder to get into the University of Georgia than it is to stay at UGA. What if it is even harder for a student to know whether or not they even want to come to UGA?
Startup company Admissions Owl is looking to make finding the answer to that question a much easier task.
Pioneered by three freshmen at Emory University, Admissions Owl is an online hub where prospective college students can connect with current college student consultants to learn more about the school they are interested in.
"This has the potential to revolutionize college admissions," said Casey Lambert, Admissions Owl co-founder. "Nothing like this exists, and we want to make this experience available to all high school students."
Every college admissions process is different. Smaller private schools may have an intimate admissions experience where prospective students tour in small groups and meet with admissions counselors one-on-one. Other larger schools have mass group tours and meetings.
"We want to level the playing field," said co-founder Sam Jones.
Admissions Owl began as an idea for a business competition called HackATL. At the competition, co-founders Sam Jones, Casey Lambert and Zack Schaja received positive feedback regarding the financial model of their business, and they decided to run with it.
The company operates exclusively through their website where users have the ability to search for the schools that peak their interest, read short bios for consultants available at that school and schedule a 30-minute Skype interview with the consultant of their choosing for a flat fee of $19.99.
During the interview, consultants can answer almost any question the student may have.
"What makes us unique is that students can ask the questions they want to ask. 'How's the party scene?' 'What classes should I avoid?'" said cofounder Zack Schaja.
---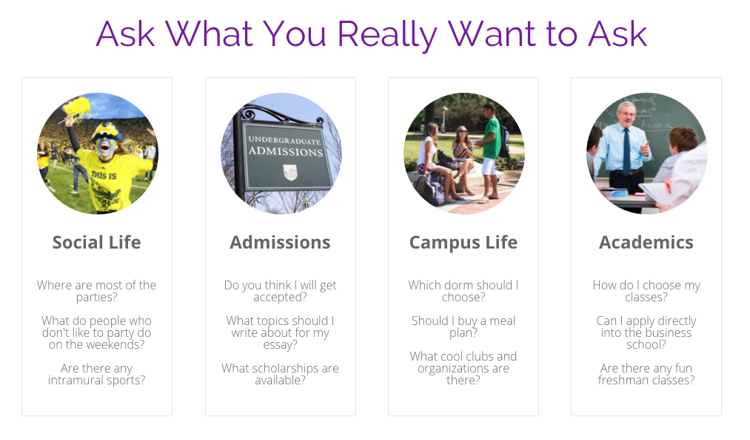 Admissions Owl Website Screenshot
---
The goal of Admissions Owl is twofold. First, the company wants to give their hired college students a reliable source of income on a flexible schedule. Second, they want to offer another, more cost effective, option for college admissions consulting.
Through their research, the co-founders determined that about one-third of college-bound students use some kind of college admissions consultant. For personalized admissions consulting, the experience can run upwards of $3,000. Admissions Owl wants to offer a better experience at a more affordable price, connecting clients with consultants right in the middle of life at their school. 
Student consultants with Admissions Owl do not work for the school and are not recruiters. Therefore, they are under no obligations and can give a firsthand, honest account about what they know to be true from experience.
"It's like your own inside scoop on the place you're going to spend the next four years at," said Gina Ford, an Admissions Owl consultant for UGA. "You can ask anything and just be able to talk. It's just different and really effective."
Universities are making more and more information about admissions available online. Admissions Owl consultants stress the importance of talking to someone face-to-face to get insights that cannot be found from a computer screen.
"I wish that when I was doing applications that I had someone to go to and talk to about to schools I wanted to go to," said Ford. "I wanted to be that for someone else, someone that's open and could help answer any questions."
Admissions Owl desires a presence on as many campuses as possible. Currently, it has consultants at 14 schools including UGA, Harvard University, Northwestern University and the University of Notre Dame. The company has recently been selected for an entrepreneurship accelerator program and will take on some big marketing projects in the coming months in order to help the company take off.