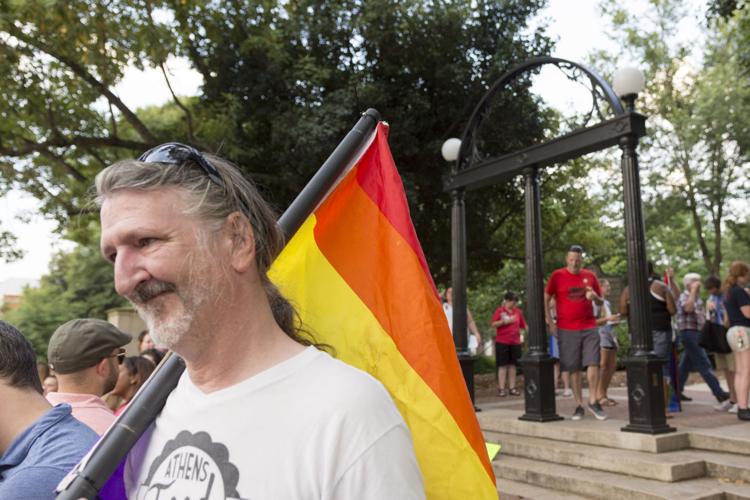 Every June since the '70s, America's LGBT community has gathered to demonstrate their pride to the world in what is known as Pride Month.
Born out of the 1969 Stonewall Riots, Pride Month is a time for LGBT individuals to show their visibility in the face of oppression and hate with celebration and activism.
"[Pride Month is] to show the world we exist, we are here, we are proud of who we are in the face of so much hate," said Ricky Ericka Roberts, founder of Common Ground LGBT center. "During this month, we try to use [hate] as a message to say 'We are who we are and we're not going anywhere.'"
Although Pride Month is recognized throughout the country with celebrations in major cities and various festivities, Athens and Atlanta don't have major pride celebrations during the month of June. The Athens PRIDE organization celebrates Pride Week during September, while Atlanta Pride is in October. This is primarily due to the heat, as well as due to Athens' football season.
Despite the lack of parades and massive shows of pride during June, the LGBT community of Athens nevertheless displays pride in its own ways. Many of the Athens community simply show their pride through small forms of activism.
The road ahead
For Sean Umbehant a fourth year student and Executive Director of Lambda Alliance, activism is accomplished through introspective awareness. He said he tries to open his ears to the dialogue within the community and participate in those discussions. Umbehant also tries to meet up with some of his friends for dinner to celebrate Pride Month together.
"I try to be more authentically me everywhere I go," Umbehant said. "I'm trying to work on not backing down and never letting bits of my identity slide. I make [the celebrations] myself."
Although Pride Month is certainly a time for the LGBT community to celebrate, a somber shadow has recently descended over this time of pride. The Pulse Nightclub shooting, a wound still very much fresh for the community, casts a tone of sadness over Pride Month as those across the world mourn the loss of those killed in the massacre.
In commemoration of the shooting, Common Ground LGBT center hosted a two day event on June 12-13 to remember and honor the lives lost at Pulse. On June 12, Common Ground took part in a nationwide event known as 49 Bells, in which the Chapel Bell was rung 49 times in honor of each person killed. On June 13, the organization hosted a respectful community conversation, known as Center Space, in which the topic was Pulse: One Year Later.
"It's a shame that when we're in such a celebratory mood, we're going to have to stop and acknowledge what was done to our community on June 12, [2016]," Roberts said. "I feel like what happened was to destroy us and show us that we should not have any pride. So it's important to us to keep moving forward and keep fighting for justice and equality so that we will never let them win."
The history behind
Although the Pulse shooting marks a particularly sorrowful day during Pride Month, people can often forget some of the meanings of the month of June. Pride Month was inspired by the Stonewall Riots, which were the first major protests for LGBT rights in U.S. history. Therefore, Pride Month is in celebration of those LGBT people who fought for their rights. This can be overshadowed in the midst of celebrations.
"We hope that people remember that it's a month to remember LGBT people still don't have equal rights and protections in the United States," said Deidre Kane, the vice president of the board for Athens PRIDE.
The origin of Pride Month isn't fun and visibility; it lies in the remembrance of the struggles of the LGBT community,. For those celebrating Pride, there is a balance between celebrating, remembering the work to be done and continuing activism after the month of June.
"Not everything is completely over and there's still a lot of work to be done, but queer people are finally finding that confidence in themselves," Umbehant said. "We're a force to be reckoned with."
Athens victories
Beyond the triumph of marriage equality and an increased prominence of LGBT influence within television and film, there is much success locally within the Athens LGBT community.
One specific point of pride is a new partnership with Athens PRIDE and the LGBT Institute out of the Center for Civil and Human Rights in Atlanta. The LGBT Institute has also joined with Georgia State University in an effort to create the first-of-its-kind comprehensive survey of LGBT individuals. This survey will hopefully collect data which will in turn aid in funding and helping local organizations.
"That for me is a really important piece outside of any parade or celebration," Kane said.
Whether it's celebrating one's pride, remembering those who fought for it or working to fight for further rights, Pride Month is a time people show strength, solidarity and visibility for the LGBT community.
"We are worth celebrating," Roberts said. "Just our mere existence is worth celebrating. We're always going to find a way to lift ourselves up and show the world that we are proud of who we are."