Graveyard shift at downtown Waffle House brings out the best — and worst — of Athens
---
Willie Carr stood at the grill of the downtown Athens Waffle House with one hand poised to open the refrigerator stacked with bacon and sausage. But something about the couple just leaving their table made him pause.
The two hurriedly looked around the busy restaurant before pushing open the glass front door and picking up their pace, running down West Clayton Street. But before they were even outside, Carr had checked the table for cash and rushed after them. He limped after the couple on a bad leg, but he noticed the attempted dine and dash fast enough to catch up to them.
Meanwhile, other workers were screaming after him to be careful, a group of eight boys were trying to get through the door, and every other table was trying to get a glimpse of the action.
It was just another Wednesday night.
Cody Woodall, a regular customer, said this wasn't the first attempt at a dine and dash that he's seen here. Woodall and Carr, who everyone at the restaurant affectionately calls Pop, chased after a group of "younger fellas" who tried to pull the same stunt.
"Pop and my friend and I took off after them," Woodall said. "Pop feels like kind of the protector. He understands that if they do get away, that that's not coming out of his pocket, but he feels obligated to do what he can, when he can."
The promise of a familiar environment coupled with a consistent menu across the 2,100 locations attracts people to the 24-hour breakfast joint at all hours. In downtown Athens, some of the busiest times come when all the other restaurants turn off their lights for the night.
For regular night owls like Woodall, it's a time to catch up with the workers bustling behind the counters. For visitors, it's a place to decompress after a high-energy show next door at the Georgia Theatre or a classic Saturday in Athens in Sanford Stadium.
The best thing about night-time stops at Waffle House? They're never the same.
That's exactly the reason Josh and Claudine Schofer decided to stop by for a midnight snack after a country music show, sitting at the bar to watch the workers cook at the grill.
"It's easy, it's quick, it's entertainment," Schofer said laughingly. "It's characters. There's lots of different people here."
The novelty of Waffle House isn't lost on the people who clock into work every day, either.
We talked to the three employees on a slow Sunday night while they washed dishes and cleaned the grill area. Server DJ Craig, 18, has nine months of experience at Waffle House and laughed at some of the ridiculous nights he's had.
Craig's teasing view of his restaurant is something familiar to most Southerners. Waffle House is a place for a drunk snack, a roll-out-of-bed breakfast or a stop on a long road trip. It's not a place that takes itself too seriously, and customers don't expect royal treatment when they slide into the skinny booths.
Just like any chain, the prices are the same, the food tastes the same, and even the architecture is the same. But by making Waffle House the punchline of Southern dining, we forget that within each restaurant, every worker and every customer has their own story.
Anatomy of a Waffle House
If you've never been to a Waffle House, let's explain. Part of the chaotic atmosphere comes because the kitchen is completely exposed to the customers, and the workers call the orders out loud to the cook instead of putting it in a computer system or handing them a ticket. 
"We have the ability to connect with our customers across a short distance because we're standing right by where you eat," Waffle House CEO Walt Ehmer said. 
Customers pick any open booth or table and seat themselves, and a server follows by laying out a napkin followed by a full set of silverware.
Their goal? Get the table flipped in 15 minutes or less. This means their greeting is usually in the same breath as asking for the entire order. Many customers are familiar with the menu and don't need more than a minute to decide anyway.
On busy nights, servers compete over who can call their table's order first. The cook listens to the Waffle House-specific lingo the servers use and mark the plates to show which meal goes where.
It's the soundtrack of the nightly routine in any Waffle House — servers calling, cooks pulling plates, customers talking. For Woodall, it's a familiar tune.
The breakfast club
Nine years ago, Woodall started going to this Waffle House most nights after his shifts at 9d's Bar. He said he became close with two particular workers, Pop and Sherry Ballard, who he calls Mom. Now, he and his girlfriend go over to spend Thanksgivings with Mom and Pop.
"From the moment I got there, I felt at home," Woodall said. "The feeling of just home. I haven't felt that in a good while. I had a rough past, and I don't have many friends and family, and the little friends I do have, they are family."
Woodall no longer pops into the restaurant just for hash browns. Instead, it's to visit his family.
"I only eat when Mom and Pop are there," Woodall said. "When Pop looks over, just to see that smile, he'll be like, 'I got you, I know what you want.'"
These familial relationships aren't just between customers and workers. With most shifts lasting at least seven hours, employees spend a lot of time together, for better or for worse.
For Christina Rutherford, who grew up in the foster care system, she appreciates this supportive surrogate family just as much as Woodall does.
---
Christina Rutherford, a psychology and social work student at Athens Technical College, does homework during a slow period at the downtown Athens Waffle House on Wednesday, Nov. 13. Rutherford works the graveyard shift and then goes straight to class, sometimes only sleeping for two hours a night due to her busy schedule.  
---
Workers spend the time in the restaurant without customers doing homework, talking on the phone to family members or stepping outside for a smoke. Slow nights are the longest nights, but busy nights can create high tensions. 
"Sometimes, you just have those rough nights where you get into spats and arguments with people, but you always make up at the end of the day," Rutherford said. 
Even for people who may not know all the workers at the downtown location, server Bobbie Peek said they welcome and look out for everyone coming in, especially younger students. 
---
Bobbie Peek, 46, a server and dietitian at Piedmont Athens Regional, cooks at the downtown Athens Waffle House on Monday, Nov. 11. She knows at least a few words and phrases from German, Russian, French, Italian, Hebrew, Urdu, American Sign Language, Romanian, Mandarin Chinese, Japanese and Korean. Peek used to work at Bolton Dining Commons during the 2016-2017 school year where she'd often help train international student workers and develop close relationships with students.
---
 Dylan Talley came with a friend after a Georgia game on a Saturday night and appreciates the workers' dedication to their customers. Waffle Houses are famously open every day of the year, including on Christmas and in horrible weather conditions.
"They're always open, and they're just — they're loyal to their people," the 27-year-old said while waiting for a table. "You know?"
His friend, John Murphy, laughed.
"I'm being serious. Show me another restaurant that's open during a Category 5 hurricane," Talley said. "These guys are in here. They work hard."
It's a place that hardly ever uses the lock on its door, creating a comfortable consistency across all hours of the day and all locations.
The fleeting customers
Alyssa Terry, a recent graduate of North Oconee High School, came to the downtown Waffle House after a country show at the Georgia Theatre with a family friend. 
She said it was the perfect ending to her night after an amazing show.
---
Alyssa Terry, a 17-year-old graduate from North Oconee High School, poses for a picture on Thursday, Nov. 14. The after-midnight conversation was cut short by the commotion in the rest of the restaurant  — police brought in the couple who tried to dine and dash earlier in the night, and everyone was trying to eavesdrop on the conversation at the register.
---
Weekday nights usually don't bring much of a crowd, workers said, but the manager will schedule more employees depending on what's happening in town.
Because of its location in the heart of downtown Athens, this Waffle House is entirely contingent on the mood swings of the college town. And just like all other businesses in Athens, Saturday Georgia football games are another level of chaotic. After an early November game against Missouri, server Chris Burks said the place was packed until 6:30 a.m. Sunday morning.
---
From midnight to 1 a.m. on Sunday, Nov. 10, the downtown Athens Waffle House remained constantly busy, mostly with folks coming from the Georgia game against Missouri. 
---
Burks, a 10-year veteran server, said the 9 p.m. to 7 a.m. graveyard shift goes by a lot faster when they're busy. It gets so hectic on the weekends that they have an officer every Friday and Saturday night to monitor the flow of customers.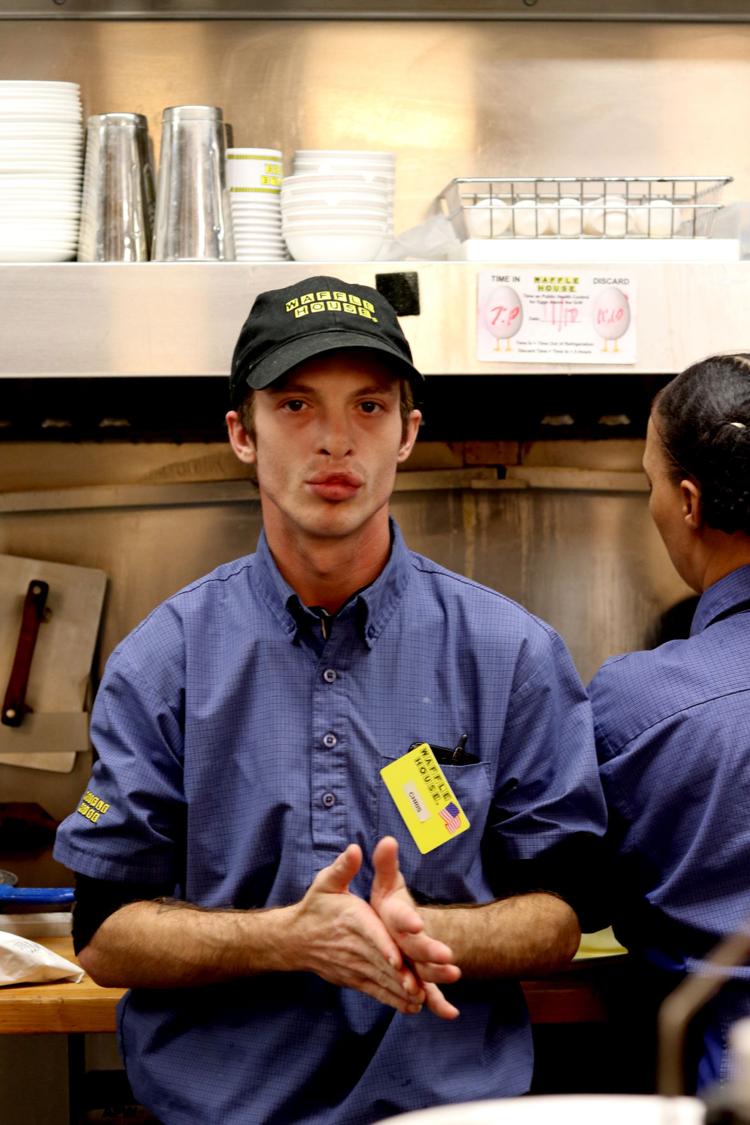 Peek, who serves and sometimes cooks at the Waffle House, said when customers stop for a meal, it's her way of watching the game. She can tell whether Georgia won by the way customers tip.
"If their team won, they're a little more free with it, more generous," Peek said. "But if their team lost they're just kind of like, 'We just want a waffle or hashbrown.'"
Luckily, the Missouri game was a shutout win, so customers and workers stayed happy throughout the rush. But this isn't always the case, especially with so many people ending drunk nights out at the breakfast place.
---
DJ Craig, an 18-year-old server, dishes up a few meals at the downtown Athens Waffle House on Monday, Nov. 11. Craig will be going into the military in January and is working at the restaurant in the meantime. 
---
Though the long nights definitely have their downsides for workers, the familiar layout is a place where they meet all types of people.
Peek said she sees all types of workers come into the restaurant, from insurance adjusters, to court judges, police officers and bartenders. She's even met rapper Tyler, The Creator while on the clock.
Waffle Houses may be stereotyped as a quick stop or hailed as a Southern staple, but each one has a different dynamic between workers and customers.
Every night brings a new set of stories. It just takes a cup of coffee and hashbrowns — scattered, smothered and covered — to hear them.  
---
Written and reported by Jordan Meaker, Taylor Morain, Erin Schilling and Amy Scott.