Rebecca Ross is living the dream she always imagined for herself. The University of Georgia alumna is a now-published young adult fiction author with her second novel coming out next year.
Ross' novel, "The Queen's Rising," is a fantasy that takes place in a Renaissance world. Though Ross always had a natural disposition for writing, no idea "stuck" with her until her idea for the first book of the series.
"I had a vision of two characters at this gorgeous, sun-lit library with this handsome young man and this young girl," Ross said.  "Instead of speaking to him, the young girl spoke to me and said, 'The summer solstice is in eight days and I have yet to master my passion.'"
She wrote down the line before the forgot it, and decided to explore these brand new and bizarre characters. Ross knew that if she wanted to find out more about the characters' lives, she would have to write it with them. Thus, she began writing her novel in 2015, which was finally published in 2018.
But the road to where Ross is now was a journey, similar to the the characters' journeys in her novel: she didn't always stay with English. Like some college students, she had a bit of trouble settling on a major even though she always had a passion for writing.
---
"I realized that books didn't write themselves and that you have to give a lot of time to them."
- Rebecca Ross, author and UGA alumna
---
"When I told people that I was studying English, the number one question I would get is if I was going to teach," Ross said. "I told [people] that I was studying English because I loved reading and writing, and they would give me a look as if to say, 'Well, good luck getting a job.'"
The journey begins
Ross started at Gainesville State College, which later consolidated into the University of North Georgia. When she transferred to UGA after her second year, she decided to change paths entirely.
"When I transferred to UGA, I was so sick of people thinking that I was going to waste time studying English, so I decided to try out dietetics because I was into nutrition," Ross said.
Ross didn't take to the sciences easily — organic chemistry, in particular, was one of the factors that turned her away from the major.
"One day, when I arrived one day early to o-chem, a Red & Black article was sitting beside me," Ross said. "I picked it up and started reading it, and there was an article in there about Jackson Pearce. She's a young adult author who went to UGA and studied English. So I began reading her talk about her new book and why she writes young adult fiction, and I realized that it was exactly what I wanted to do with my life."
Despite spending a year over on South Campus studying the sciences, Ross put down the o-chemistry textbook and decided to jump ship. After talking to her mother, she decided to go back to the English department to study what she was passionate about.
This transition was something that she had needed. In Park Hall, Ross said she felt like she belonged.
"I immediately knew that these were my people," Ross said. "The first day of class, a drawing of a hobbit foot on the wall with the caption 'Live Frodo' made me feel back home."
Ross graduated with a bachelor's degree in May 2012. English degree in hand, Ross had to find a job. She settled on being a full-time captionist at Gainesville State College, where she did live-time captioning for those who were deaf and hard of hearing.
She loved that job —  Ross did it for three years with long, 8-hour days. One day, she woke up and decided she didn't want to look back and realize she hadn't written anything, living day in and day out not creating.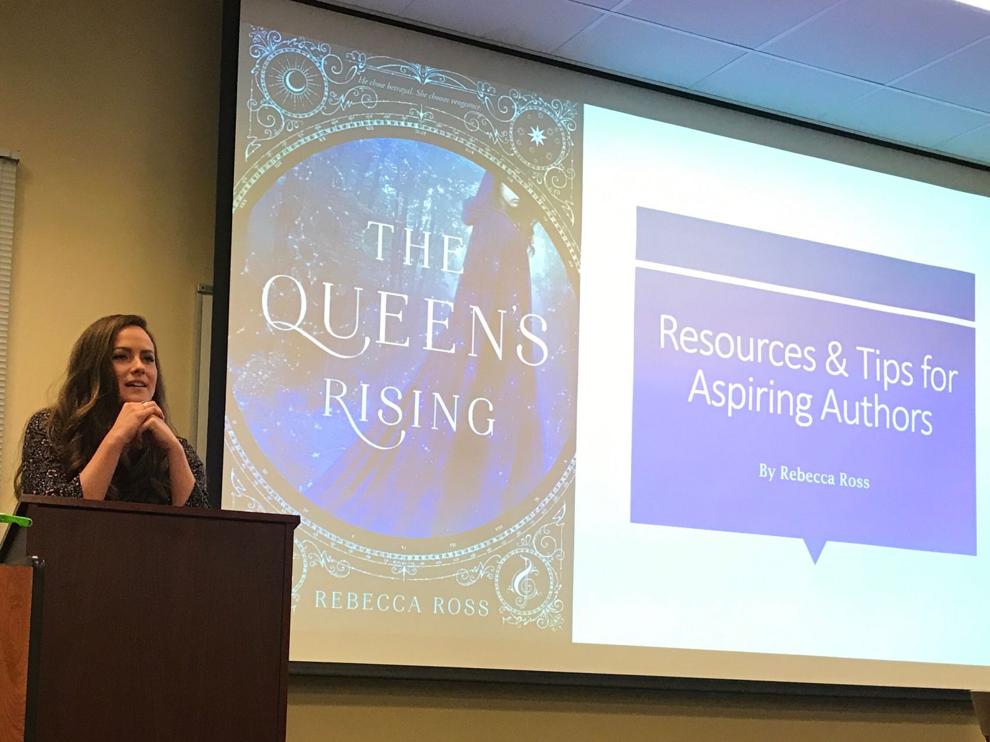 "I realized that books didn't write themselves and that you have to give a lot of time to them," Ross said. "This is what I had always wanted to do. So in the evenings and whenever I could find time, I would start creating."
Back to the drawing board
She began one idea that she said was cliche and terrible. But it taught her how to be a writer.
When she had that first image for "The Queen's Rising," her writing went beyond chapter one — immediately she knew that she had to finish the story.
To know if the novel was "any good," she let her younger sisters — aged 13 and 15 years old — decide whether or not it was worth publishing. When they told her they loved it, Ross began seriously thinking about getting her novel published.
Through a traditional publishing route and querying for a literary agent, she was offered representation from an agent and a publishing deal for three books from HarperCollins publishing.
When talking about her journey, Ross is eager to tell more. She wants people to hear her story so that they, too, know that this can happen to them.
"This is my dream," said Ross. "This has always been my dream job, as an English major."
Classic City homecoming
Ross returned to UGA on Tuesday, Nov. 6 to talk about her success in publishing. The Undergraduate English Association hosted, and multiple students came out to hear her story.
The UEA President, Rachael Dier, was particularly inspired by Ross. Dier is a senior English major from Alpharetta, and Ross' story hit close to home.
"[As an English major], you get bombarded with a lot of discouragement, and begin to wonder if the major is right for you," Dier said. "Hearing a story from someone who is successful and made it is really helpful and means a lot, especially because she was in our shoes."
Dier also said she enjoyed how Ross encouraged the students at the event to "just write" and create what they care about.
Kelsey McQueen, a junior UEA Community Outreach coordinator, put the event together.
"I wanted Ross to come speak to English majors because students don't hear an up-close, author narrative enough," McQueen said. "People feel free to discourage humanities majors, so I wanted to bring someone in who has actually published a novel, because it is a difficult process."
---
 "This is my dream. This has always been my dream job, as an English major."
- Rebecca Ross, author and UGA alumna
---
 Ross' creativity and passion is what led her to publish her first book, but she won't ever forget her time in the sciences. Thinking back, she gives a lot of credit to organic chemistry.
"If I hadn't failed that class, I would have become a dietician telling you to eat more vegetables and drink less Coke — I would not have written this book," Ross said. "I see that failure as being one of the best things that happened to me."