Ever since Avid Bookshop owner Janet Geddis could crack open a book, the novel idea of opening her own bookshop lived in the back of her head. Years would go by, the store nothing more than a pipedream. Geddis grew up and eventually moved to Athens in 2004 to earn her Master's degree in gifted education at the the University of Georgia. It was only then in 2007, after falling in love with the community and her now-husband, she set out to realize one of her greatest dreams—to open a bookshop.
At the age of 27 Geddis began her journey, and in 2008 announced to Athens and her family her intentions of opening her own bookshop. For three years she worked tirelessly in internships with bookstore owners, went to conferences and workshops and worked closely with the UGA Small Business Development Center. Finally in the fall of 2011, Avid opened its doors to the public.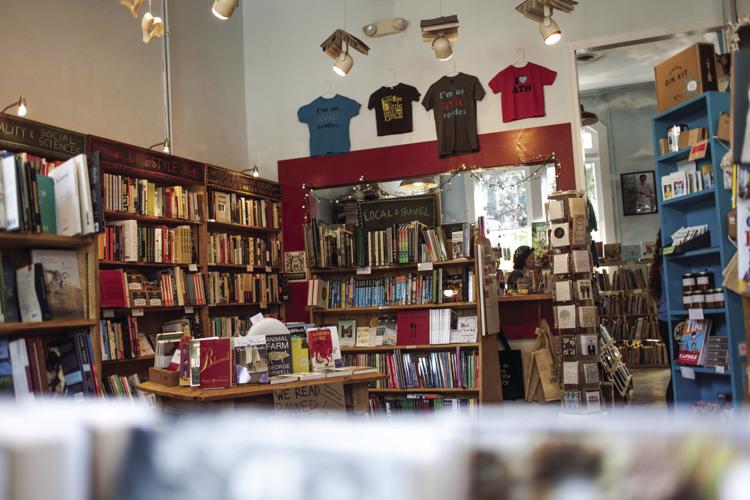 After five years, Avid plans to expand its presence in the Athens community, as the bookstore will open a second location in Five Points by the end of the year.
"This is one of the few places I've lived where people are genuinely interested in others' creative pursuits. It's an amazing creative enclave where people support art and businesses and cheer you on," Geddis said. "Once I decided I wanted to pursue opening a bookstore I began to research what would make a great town or city for an independent bookstore, and Athens hit all the marks."   
The new store, officially titled Avid Bookshop at Five Points, will be a much larger location, coming in at 2000 square feet versus the 790 square feet of the original store. The added space will allow for in-store offices and basement storage for inventory, two features lacking in the store's original Prince Avenue  location. These inclusions, Geddis explained, will allow for both shops to become more productive and profitable, streamlining the bookselling processes.
Rachel Watkins, the store's longest-running part-time employee, joined Avid in 2009, and will soon be making the jump to full-time thanks to the new location.
"Every single person who works here, as well as our UGA interns working for us, were hired with great and specific intentions," she said. "We hire avid readers, and also people who understand that the economy in Athens needs locally owned business, even if the products may cost a little more."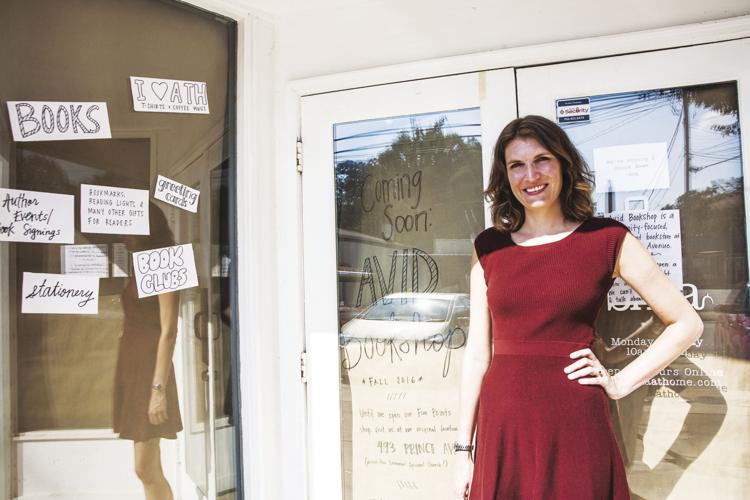 The new location in Five Points, located next to Condor Chocolates, is only two miles away from the original Avid on Prince, but Athens' distinct neighborhood system means each shop will experience different cultural spheres. Geddis stressed that the new location would not be replacing or undermining the original Avid, which she called her "baby."
Local author Derek Adams has had his work showcased by Avid more than once, and like Geddis he believes the public's love will carry over to the new shop.
"The people at Avid work so hard to keep the flame alive, to make themselves important and a part of community," Adams said. "The concept of an independent bookstore opening a second location is crazy, it's like this could only happen in this town."
Independent bookstores, as well as other locally owned businesses, face many challenges in trying to stay afloat in the commercial economy. Competition from online retailers pose major threats to business sales, as Avid faces with major shipping websites like Amazon. In fact, 70 percent of business owners said Internet competition has a very significant effect on their business, according to an Independent Business Survey released by the Advocates for Independent Business earlier this year.
Jessica Handler, author of "Invisible Sisters: A Memoir," which was named Atlanta Magazine's "Best Memoir of 2009," appreciates Avid as a writer and lifelong book lover. She spoke on the importance of sustaining support for local businesses in keeping the literary community alive.
"Independent bookstores like Avid hand-sell," Handler said. "So unlike big box stores they know our tastes, are enthusiastic about authors, and they really contribute to the literary community with their knowledge of what's new and good to read, and what authors are coming. Indie bookstores like Avid are so crucial to the literary ecosystem."
---
"Indie bookstores like Avid are so crucial to the literary ecosystem."
-Jessica Handler, author of "Invisible Sisters: A Memoir"
---
Due to her experiences in other cities, Handler encourages support of small businesses. 
"I as an author travel all over the country, and I always tell people to support their local indie bookstore," Handler said. "Never leave the store empty-handed because when you support small businesses, you're supporting people you know, people like you.
In addition to featuring a bookstore with new neighbors, Five Points will offer some new characteristics, due to the neighborhood's specific atmosphere.
"We have a lot of customers who live in in Five Points and I think it's a natural fit," Watkins said. "Five Points also has a nightlife, so we're thinking this shop will have later hours. It'll definitely have a different flavor, with a stronger collegeic feel being close to the university, and older customers."
Avid-fanatic and local librarian Amy Ingalls returned to Athens after a stint in Boston, unsure she would find a bookstore as welcoming as the one she introduced her son to there. However, her arrival back to the Classic City matched the opening of Avid's doors, and since then she and her son have browsed the store's shelves and found a family among the employees.
"The booksellers there are really nice and talk to us like we're human beings instead of just customers," Ingalls said. "They're very much in the fabric of how we live our lives within the neighborhood."
This dedication to Athenians is one of the primary goals Geddis was passionate about from the beginning.
"Having that core understanding of the business is what allows us to plan and carry out all the fun, wonderful things Avid does," she said.
One of the bookstore's regular events, the Avid Poetry Series, allows the community to engage in free speech and discuss poetry and prose they find interesting.
---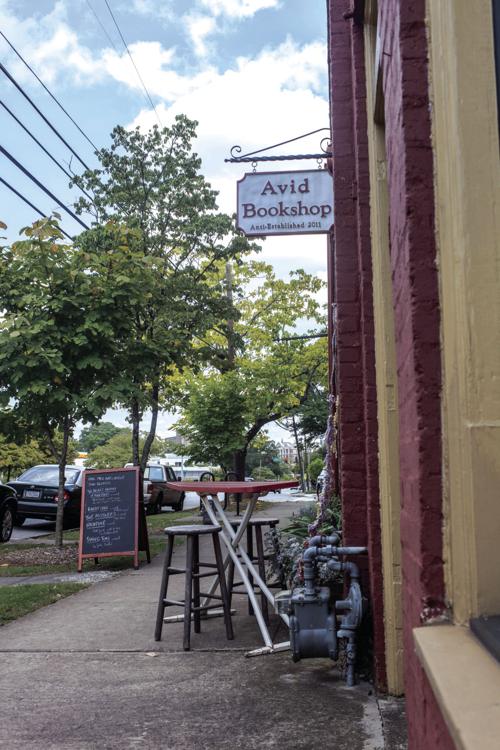 ---
"We do a lot to encourage positive engagement and open conversation and freedom of speech and people who might not ordinarily encounter each other too meet and talk," Geddis said.
New Town Revue is another popular series, hosted by two local authors who bring in music, poetry, prose and art to the bookshop during regularly-scheduled events. Additionally, Avid hosts in-store book fairs, fundraisers and many other events throughout the year. Beyond that, the shop hosts authorless activities such as Coloring Night, which invites the public to settle in for a night of fun and colored pencils.
One of the greater enemies of local, indie bookstores remains larger, online retailers. As a librarian, Ingalls acts as a liaison between Avid and her own library, happy to order from the independent store instead of a faceless corporation.
"The library is the heart of school, where you go if you need something. And Avid is the same way they don't let you leave until they find what you need," Ingalls said.
More than 150 people have applied for positions since Avid announced its new location, meaning selecting new employees will be a difficult process. Right now the current staff of nine will be splitting its time between the two stores to maintain service, with newly-hired employees working mostly at the Five Points location.
As the new store's opening day approaches, Geddis' main request of the public is that people recognize Athens is built upon many local businesses—such as her own—which make up the distinctive feel of our town.
"Athens is very literate, and people are super interested in supporting local businesses," Geddis said. "There are certain villains out there, and if we can direct money from them into local businesses the entire economy will thrive."
---
 "Athens is very literate, and people are super interested in supporting local businesses. There are certain villains out there, and if we can direct money from them into local businesses the entire economy will thrive."
-Avid Bookshop owner Janet Geddis
---
The Independent Business Survey released found increasing "buy local" movements in cities sustaining independent businesses such as Avid help them thrive. Additionally, the IBS found that lack of credit or a supportive local bank can be a major constraint for indie bookshop business and expansion, finding one in three independent businesses that applied for a bank loan in the last two years were unable to secure one.
However, for Avid, Geddis was able to secure the money that she needed.
"Janet is a very conservative businesswoman," Watkins said. "As soon as we opened, people said 'the shop is too, small, you have to expand,' and for the last five years we've just felt it wasn't quite the right time yet. But now with the support of a local bank I feel like this will be a solid financial move."
Ultimately, it's a waiting game to see how the new Avid will be received, but all signs point to this new chapter being a successful one.
"If there's anybody who can do it, it's Avid," Ingalls said. "It's this little store that could. Everyone in the world told Janet 'It'll never work!' But it did because it's not just a store, it's community. And I believe they will be successful."