Oct. 19 marked the premiere of "Small Group" in select theaters in the Southeast. The film was written and directed by Matt Chastain, an alumnus from the University of Georgia who had a passion to share a universal story about community. The movie is set and was filmed in Athens.
Chastain, an Athens resident, used his experiences from his church community to create a movie about an undercover filmmaker traveling to Athens to make a documentary on the diminishing effects of Christianity. Rather than build a set or travel to another location, Chastain brought the story to life by using the rich texture of the Classic City.
"For me, that was incredibly important to bring Athens into this film in every way that I could, visually or texturally," Chastain said.
To explain his use of Athens "texture," Chastain included some locally-loved brands and locations which made their way into the film. Even some scenes filmed off-site remained true to the local flavor. 
A few scenes were filmed in Guatemala and Chastain reminisced on the experience.
"We were running around in the most dangerous neighborhood in Central America, where we shot this movie, and I'm running around with a Jittery Joe's hat on," Chastain said.
Another recent UGA alumna, Claire Bertram, had the opportunity to view an early version of the film while finishing her entertainment and media studies major in the Grady College of Journalism and Mass Communication last year.
"That is such a cool experience," Bertram said. "Being able to have that connection to the film, knowing that it was filmed in a place that means so much to you, it's really a homegrown film."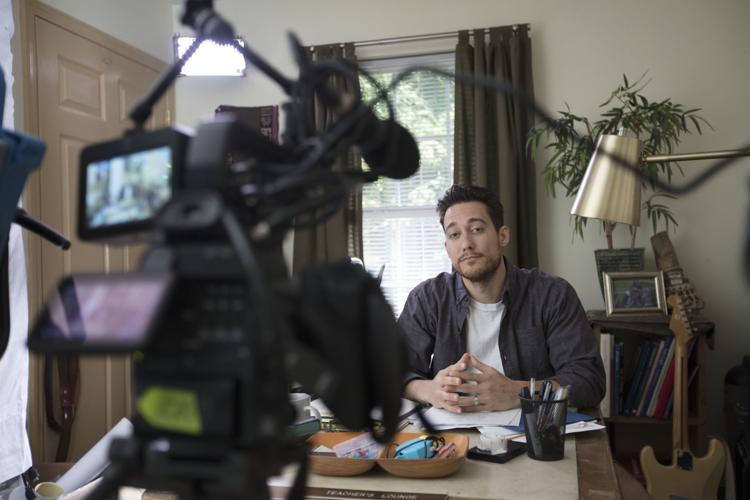 Despite starting with humble origins, the film was quickly picked up by two producers: Christos Hines from Athens and Dale Wheatley, who moved to Athens a few years ago after spending 20 years working in Los Angeles.
"My desired goal was to bring something here to Athens to get an industry started here," Hines said. "So I thought the best thing we could do was to make a fairly decent-size film here in Athens and have it be some success."
Chastain believes the film has every component needed to be a success. He said despite the film's focus on small groups in Christian cultures, anyone can find the film relatable because the search for a close community is universal. 
"When we are intentional about growing together, we allow ourselves to be more real, more vulnerable, and just more open. And that attracted me very much both as a Christian and as a storyteller," Chastain said. "Yeah, you meet and you do Bible study. But it's about more than that. It's more about seeking that relationship."
Chastain wanted the film to represent many varying perspectives of small groups — even to the point of challenging the church and church culture.
"It should be important to anybody to see themselves and their culture from an outsider's perspective," said Chastain. "How can I understand you if I don't get how you see me? We let those people really express their frustrations with Christian culture in a way that was just as open and real and honest as possible." 
Bertram said the film's way of breaching the subject is interesting.
"I think that a lot of Christian films kind of just mimic Bible stories, and it's old and redone all the time, and that definitely isn't the case with this," Bertram said. "It takes a pretty nuanced approach to the idea of a Christian film."
Bertram explained how Wheatley gave her class the opportunity to watch an early version of the film and contribute feedback or any suggestions they might have.
"I was super unsure of myself, but I just gave him a small note of something that I noticed as a female," said Bertram. "They ended up adding a whole new scene." 
Wheatley was not the only one incorporating UGA students into the process of producing the film. Chastain spoke on his experience at Grady preparing him for this difficult undertaking and his desire to be involved with current students.
"I've spoken to some classes at UGA, and it is so much fun to do that," Chastain said. "There is some serious talent at UGA."
Chastain harkened back to his early days of creating the film and he knew the advice he would give to himself or to any students now thinking about a similar undertaking.
"The biggest thing is: Do it. Do it. Make your film," Chastain said. "It doesn't matter what level you know right now, just make your film. What's important is that you're telling your story and you're growing your craft."