Utilizing the window banks at the entrance of the Lyndon House Arts Center, local artist AJ Aremu tells the story of the intersection between two distinct cultures.
Displaying black silhouettes surrounded by various colorful African print patterns, Aremu used the center's "Window Works" project to express their unique perspective as a second generation immigrant in the United States.
Growing up experiencing African culture with their family and African American culture with their peers, Aremu said they felt a cultural divide.
"There's still elements missing from each side that [doesn't] make me completely African American or completely African, so there's this state of limbo," Aremu said. "I'm trying to find out what we [would] look like if we were not separated by these two cultures that we all experienced growing up because we've been separated from each other through colonization and slavery."
Aremu is a second-year master's student in fine arts at the Lamar Dodd School of Art. Their work was first displayed in the art center's #NotASterotype exhibit curated by La Ruchala Murphy. A teacher they had who also worked at Lyndon House then recommended them to do a "Window Works" installation, Aremu said.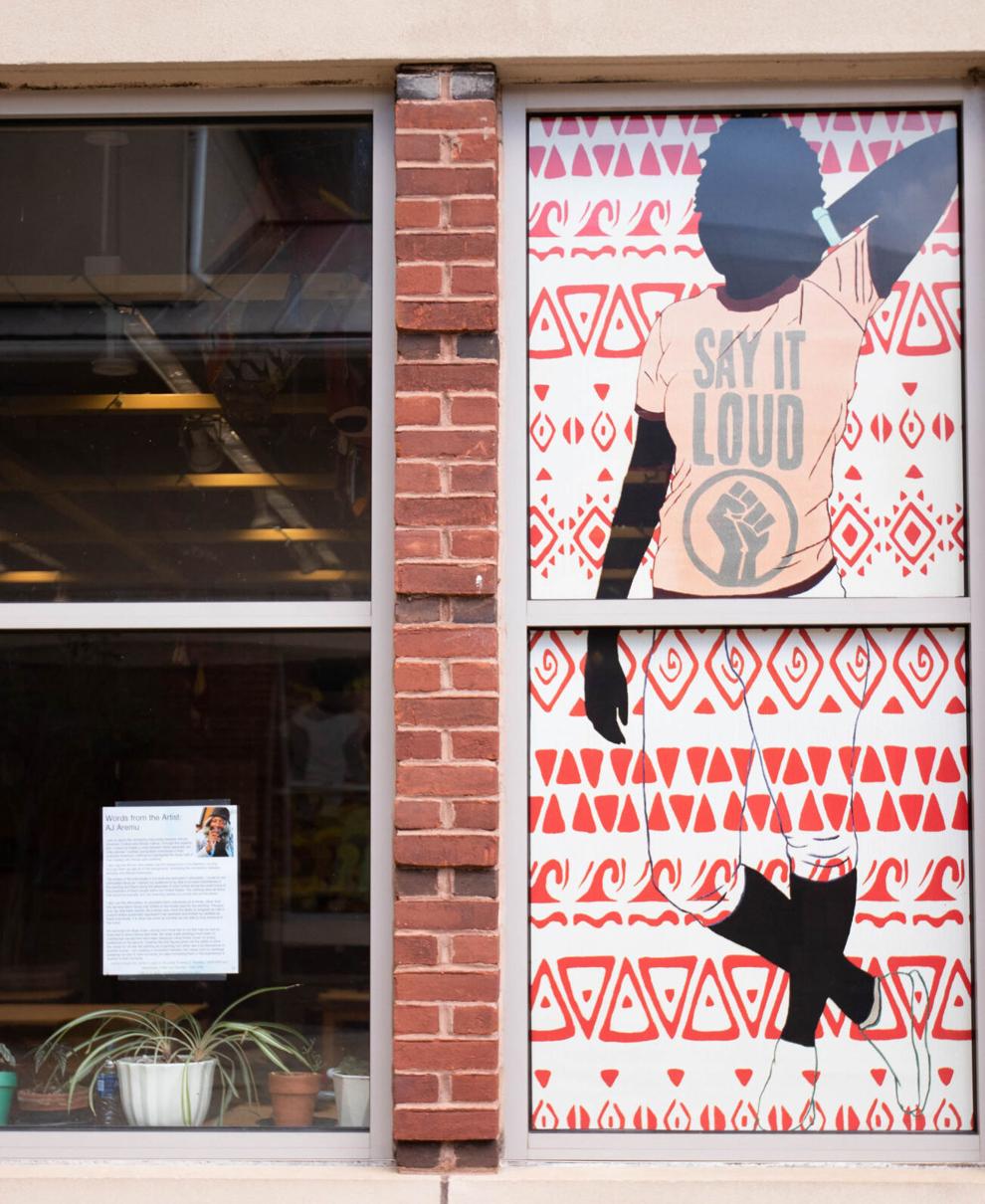 Lyndon House program supervisor Didi Dunphy said "Window Works" was an opportunity to support emerging minority artists, especially this past year amidst the climate of a "tumultuous" presidential election, the murder of George Floyd and Black Lives Matter protests.
"We started this project 'Window Works' at the height of the COVID pandemic, thinking about how we could expand the Athens area art experience by creating an experience with fresh air and social distancing and with broader hours," Dunphy said. "Our mission in this program is to elevate support and advocate for curators identifying as BIPOC."
Previously, the project featured site-designed artwork by Athens artist Noraa James, which also used representations of the Black body.
Figuring out the best way to display their art was a learning process that took a couple of tries to get right, Aremu said. The windows provide a large area space, requiring digital techniques to properly fill with their artwork.
Aremu's pieces were not created specifically for this project, but they had to use technology to transform their works and display them in a way they had never done before.
"I had to take high resolution photographs of my work and then digitally edit it," Aremu said. "From there, I had pre-taken a picture of where it was going to be installed at Lyndon House, and I kind of just filled in the blanks [before] they went off to a fast science company that prints them all on vinyls."
Aremu's installation will be on display at the Lyndon House Arts Center until Sept. 30. Dunphy said she is excited to see this new side of artwork outside of its original form and hopes to find another artist to install for the project in the fall.
"AJ's work was a perfect match for this big program," Dunphy said. "We were able to start small and then build their career into something much bigger and support their career financially and emotionally."