For all of the literary lovers out there, the University of Georgia's Creative Writing program will be hosting the 2016 Book-a-Palooza on April 10, inviting all to celebrate and mingle with students who have recently had books published.
Ten Ph.D candidates who have authored books, one-third of the total students in the program, will be attending the event on Sunday from 4-7 p.m. at Cine, which is free and open to the public. The authors will be interacting with attendees, discussing their publications and signing books, all of which were published between 2015 and 2016.
Some students will be celebrating their first publications, and the books range from volumes of poetry to full-length novels.
One of the candidates, a creative writing Ph.D student named Shamala Gallagher, will be there representing her first publication, a book called I Learned the Language of Barbs and Sparks No One Spoke. This small press book is roughly 25 pages long, and is a collection of poems originally published in November of 2015.
"Mine is a chapbook, a sort of a narrative told in the form of lyrics that have to do with my adolescence in California," Gallagher said. "A lot of the poems have to do with being mixed race and growing up with a mother who spoke 63 languages and I couldn't speak any of them. She wanted to assimilate and for her children to learn English, so I grew up longing for that experience I never had of knowing what it was like to access that experience."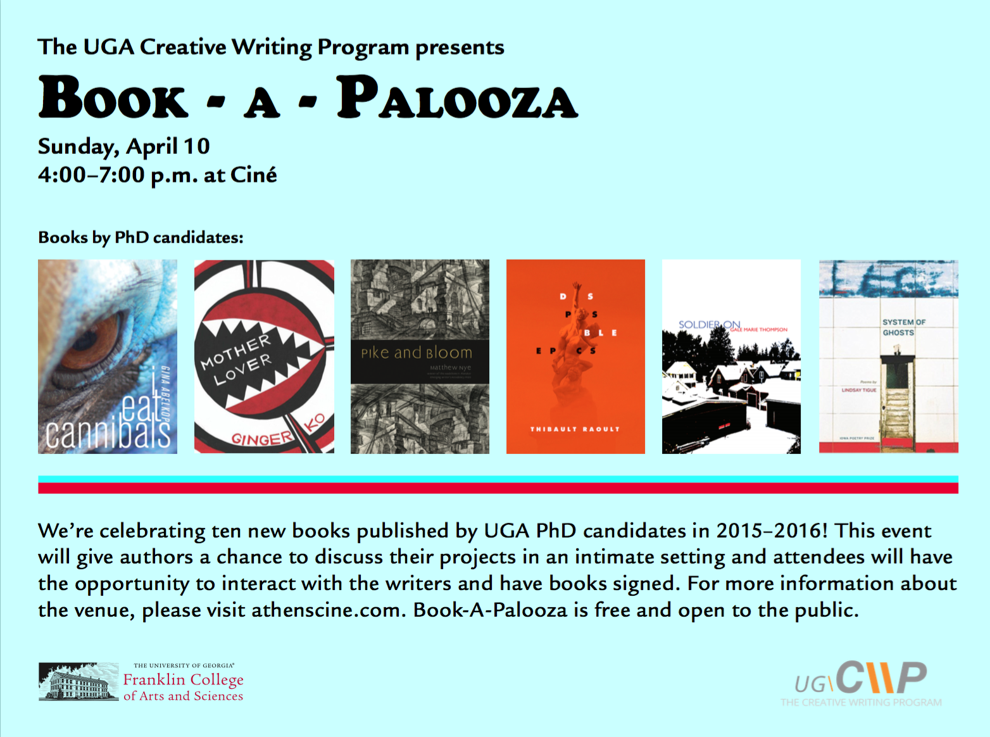 Gallagher got her undergraduate degree at Stanford, graduating in 2007 before receiving her MFA at the University of Texas and then moving to Athens in August 2014 for UGA's creative writing program.
Lindsay Tigue, another student in the Ph.D program, had her first book System of Ghosts published on April 1, a full-length collection of poems which won the 2015 Iowa Poetry Prize. A longer piece, standing at 84 pages, this manuscript was published by University of Iowa Press.
"It's my first full-length poetry collection, which came out of my Master's thesis from Iowa state," Tigue said. "Some information is from history or news articles, and then I combine it with elements from my own life. I start weaving the strands together and see where those lead me."
Tigue's experience with publication includes working for a publishing company after receiving her undergraduate, after which she went back to school. Eventually she came to Athens to pursue a Phd in creative writing in August of 2014, where she now is the graduate student assistant for The Georgia Review, a UGA-based national literary journal.
Tigue, like many of the candidates participating in Book-a-Palooza, are given opportunities to hone their craft teaching courses and workshops.
"UGA has given me the time and resources to focus on my writing. Also it's given me experience teaching writing, which helps me develop my own craft," Tigue said.
The rich differences seen among candidates publication really reflect the multiplicity of backgrounds so highly prized by this Ph.D program, allowing writers to explore different subject matters, styles and genres.
"At UGA the creative writing community is really warm and diverse," Gallagher said. "The students are doing all kinds of different things and it's inspiring to be around them."
In the future Gallagher plans to publish a full-length manuscript of poems, as well as a book of creative nonfiction essays. Tigue, meanwhile, is working on a collection of short stories, and has also started a collection of essays.
Their books, along with those of the other candidates, will be sold at Cine the day of the event, and can be found on their respective essays as well: Gina Abelkop, Colette Arrand, Shamala Gallagher, Jacqueline Kari, Ginger Ko, Matthew Nye, Thibault Raoult, Jake Syersak, Gale Marie Thompson, and Lindsay Tigue.