Typically, the letters "DD" stand for the designated driver, but here in Athens, they can also stand for Designated Dawgs.
Designated Dawgs is a nonprofit organization completely run by students of the University of Georgia. The organization offers free, non-judgmental and safe rides home from downtown Athens on Thursday and Friday nights during the fall and spring semesters.
Embyrlee Sago, a junior parks, recreation and tourism management major from Kennesaw, Georgia, said Designated Dawgs is a way to ensure students use their resources to get home, as drunk driving is such an issue.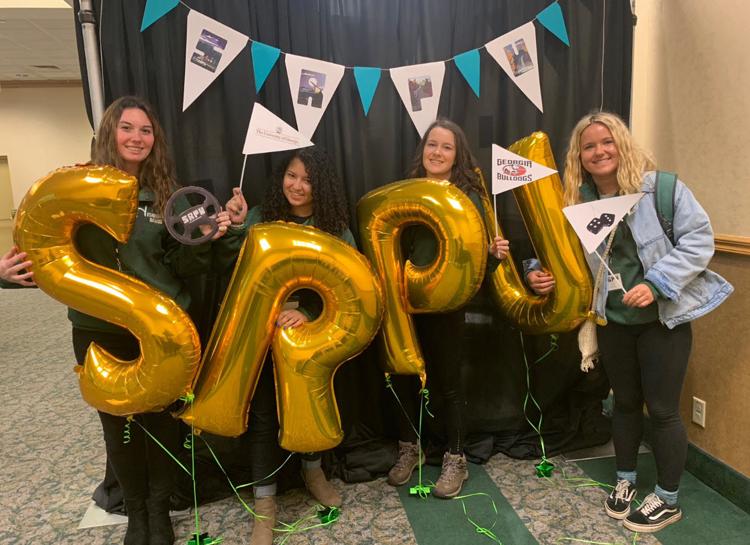 There were 368 alcohol-impaired fatalities in Georgia in 2016, according to the Georgia Governor's Office of Highway Safety, and Athens-Clarke County was in the top five counties "leading the State of Georgia in alcohol-related fatality crashes," according to the Georgia Department of Public Safety's 2016 annual report.
"We just want to make sure that you get home safely and that you feel comfortable enough to get that ride home," Sago said.
Sago became involved in Designated Dawgs as a volunteer and will become the program's vice president of finance next semester. Sago was motivated to move up to an executive position in Designated Dawgs after a close friend died after being involved in a drunk driving accident in January.
Designated Dawgs sets up its operation outside of the Wells Fargo on College Avenue from 11 p.m. to 2:15 a.m during nights of operation. The organization recognizes there are many reasons a student may need its services after a night out.
Sago said reasons range from not being able to afford an Uber to not being able to find the way home. The organization doesn't check its riders' identification as a passenger's age isn't critical information for the driver to know.
At the end of the night, the main priority of Designated Dawgs is to ensure students are delivered safely back to their homes or residence halls.
Designated Dawgs, previously known as WatchDawgs, has been a resource for students since 2001. Despite this longevity, not many people seem to be aware of the organization's services.
In the past, the organization has had nights of operations sponsored by UGA sororities and fraternities, but Designated Dawgs encourages all groups to apply for a night of sponsorship as a way to help spread awareness and serve the community.
Nicole Saltos, a senior management information systems major from Fayetteville, Georgia, currently serves as the executive director for Designated Dawgs. Volunteers for Designated Dawgs are always welcome, especially at the beginning of new fall and spring semesters, said Saltos
"We just want their help, their service [and] their time," Saltos said.
Drivers must be at least 21 years old and have a valid driver's license, but students of all ages can be involved in the setup and navigation process on nights of operation.
While Designated Dawgs serves only Athens, there are many other safe ride programs have been implemented across the country.
As of last year, Designated Dawgs was recognized as a founding chapter of the National Association for Safe Ride Programs, giving them access to national advisors and partnerships, Saltos said.
Moving forward, Saltos hopes to see Designated Dawgs become interactive in the digital age as it transitional away from paper records and files.
For now, however, Designated Dawgs will continue offering its safe rides as an additional option to students who decide they may want to cut loose tonight but also make it home to be ready for tomorrow.
The last nights of its operating hours for this spring semester are April 18 and 19. Designated Dawgs will then resume operations during the fall 2019 semester.