The University of Georgia Tango Club is an on-campus organization made to promote cultural diversity through music and dancing. The club is based on Argentine tango, and is open to all students, faculty and Athens residents.
Fuad Elhage, the founder of the club, is also a Spanish lecturer at the UGA. He started the club in 2006.
The club strives to bring inclusivity to campus through the education of Latin American dancing. Tango is a popular form of dancing originating from Argentina and Uruguay, and through training, the members are able to learn how to follow or lead in a dance. Club members learn about the different styles of dances and the cultures of origin.
Tango is a sensual form of dancing that incorporates chemistry and synchronization. Elhage said members sometimes have trouble with the closeness the dance requires because it's unfamiliar, since American culture tends to prioritize privacy. Elhage said he reminds his dancers of the importance of connection and space to combat this. As they open up, they inherently become more culturally aware.
"Something that is very important [to the club] is trust and letting go. You need to feel the music," Elhage said. "It comes down to, 'How do you teach that?' Practice and offering a safe space for the students to trust and let go is how."
Elhage started a Diversity Through Dance workshop class in addition to the club. The course is an elective for the UGA Certificate in Diversity & Inclusion. Students are taught the basic steps of tango, merengue, salsa and bachata, and learn about the ancient art of movement through dancing. Students are pushed beyond their cultural comfort zones by not only learning the dances, but seeing how music can bring people together.
"Students experience diversity through different rhythms, and they can feel uncomfortable just like someone who would learn a second language. The students love it, and the workshop fills up," Elhage said.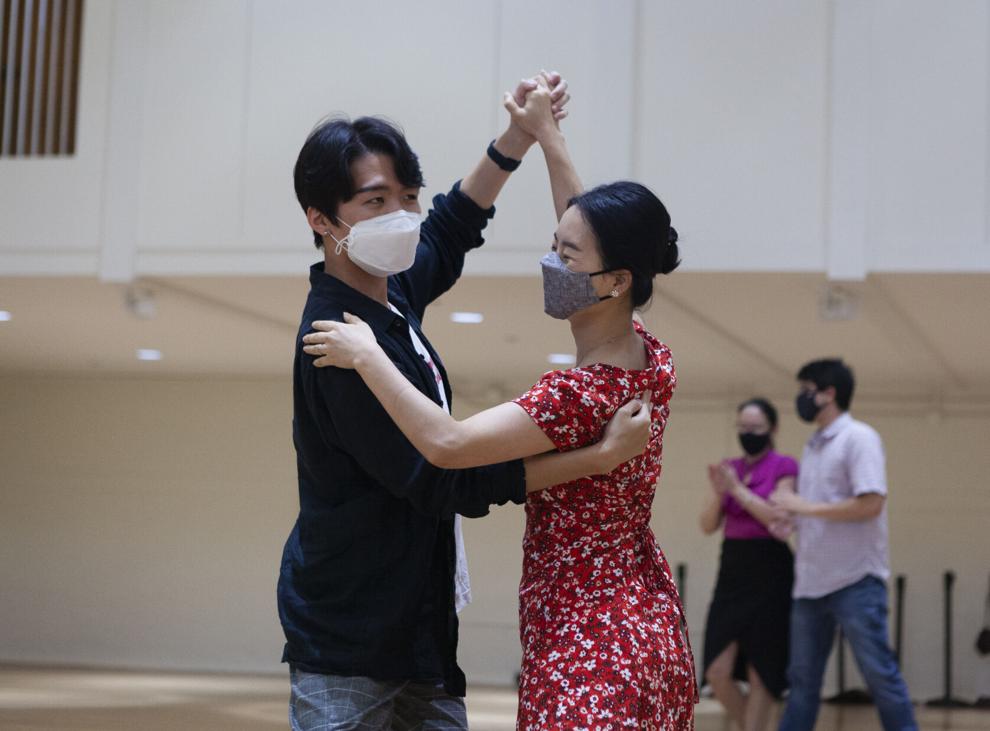 Tango requires a close tie between the follower and leader. Elhage's dance partner, Stephanie Lynn, has danced with him for almost three years. Lynn messaged Elhage after she saw a tango performance being advertised online. The two trained to build a strong relationship, and they also showcase their talents outside the club through the annual fundraising competition Dancing with the Athens Stars.
The club competes in events throughout the semester, but event members especially look forward to Milonga Tropical. Milonga Tropical is a musical event held in Athens that celebrates Latin American cultures and dances. Students who participate in the event can perform a routine, and Elhage and Lynn typically perform as well.
The Milonga Tropical audience is able to view and enjoy Latin dances, learn more about the Tango Club and speak with the performers. The performances are educational as well as enjoyable for the audience. Local Athens bands perform live music for the dancers.
"It's a tango and Latin dance event where we play a variety of music for inclusion. There's not a lot of tango events, so it's a place where these people that come to class get to dance tango, and other people that are not in the class still get to participate," Lynn said.
Milonga Tropical will take place on Oct. 28 at the Rialto Club at Hotel Indigo. The event begins at 6 p.m., and admission is free to students, faculty and Athens residents.
The Tango Club showcases Latin American culture to UGA, and members of the club learn the importance of musical connection and grow their rhythmic talents. The club emphasizes cultural teachings, and members are able to experience cultural immersion through music and movement.
The club meets every Monday for two hours, and there is no experience required. UGA students pay $20, UGA faculty pays $30 and non-UGA members pay $40 for 15 classes throughout the semester. The club is active on Facebook, Instagram, YouTube and TikTok, and people are able to see the club's highlights on those platforms.