Zeta Tau Alpha was crowned first place at Delta Tau Delta's Sound of Milledge on Feb. 19 at the Georgia Theatre after a cohesive production including songs by Queen and Meghan Trainor.
Sound of Milledge, DTD's annual philanthropy event, raised thousands of dollars to benefit JDRF, a nonprofit organization that funds Type 1 diabetes research. 
Ryan Schmitt, a sophomore from Alpharetta, Georgia, and DTD's philanthropy chair, said the fraternity has been planning the event since November. Though it's been stressful, coming together to put on the event has allowed Schmitt to boss around his brothers and the end, Schmitt said most of them came through.
PHOTOS: Delta Tau Delta hosts annual Sound of Milledge at Georgia Theatre
Delta Tau Delta fraternity hosted the annual Sound of Milledge at the Georgia Theatre on Tuesday, Feb. 19 in Athens. Proceeds went towards funding efforts by JDRF to end Type 1 Diabetes. Zeta Tau Alpha was announced as this year's winner.
Tommy Bui and Jordy Klestner emceed the event with corny and somewhat distasteful Wikipedia jokes and awkward transitions between acts.
"I personally think the emcees made the show great — they were funny because they were just so not funny," Sydney Miracle, a sophomore mechanical engineering major from Woodstock, Georgia, said.
Aside from the cringe-worthy hosts, the acts had the audience singing along to tributes to Adele, Ariana Grande and Lady Gaga.
Coming in second place was Kappa Delta, whose performance of Grande's "Dangerous Woman" nailed her look to perfection with tight leather pants and high ponytails. The girls pursued a line formation as female power took the stage.
Judge for the evening, Josh Wallace, a junior studying finance, and Delta Tau Delta's president couldn't predict the winners from the jump.
"It's really tough to tell because every year it comes down to the wire between two to three teams and you never know who will outperform who," Wallace said.
Zeta Tau Alpha took the gold for the second consecutive year with their "Lips Are Movin" act in their shimmery tops and black pants. The crowd waved their arms in response to a classic Meghan Trainor girl empowerment performance.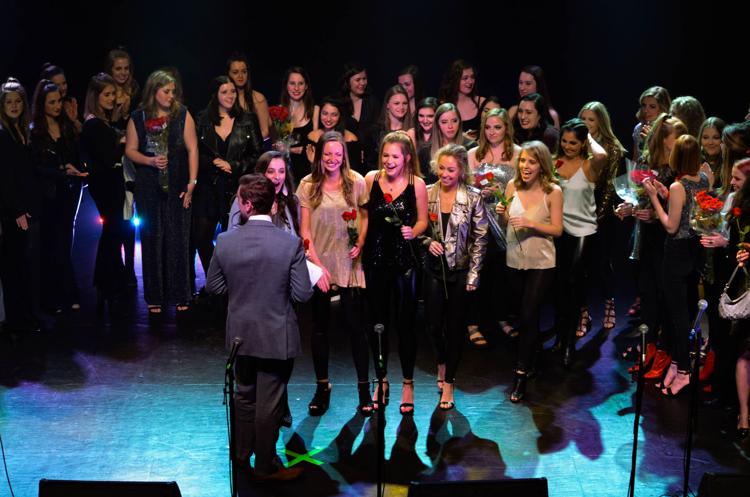 Between the acts, the Official Georgia Dance Team, Counterpoint Dance Company and the Red Hotz stunned the audience with several hip-hop performances.
After a dance intermission, third place winner, Pi Beta Phi, took the stage with three stools and a guitar, creating a relaxed ambiance.
"I definitely think Pi Phi deserves to place after their natural and simple set. It was just raw talent," Miracle said.
While Pi Phi had the crowd "wishing upon a star," groups like Sigma Kappa introduced Grammy-Award winning classics, including "Bad Romance", Amy Winehouse's "Rehab" and Lorde's "Royals."
"Everyone here is a competitor, and I have in mind who our biggest one is, but everyone is also here to have fun," Sigma Kappa's, Peyton Lynch said.
A common theme throughout all of the performances were the approaches the sororities took in paying tribute to powerful female vocalists.
"Just had to come out with some Nicki for my final year," Lynch said. "It's a right of passage."
Other groups, including Delta Phi Epsilon and Delta Gamma, performed hits from Gaga and Carrie Underwood, posing in glamorous outfits and belting heartbreaker lines.