A blue dot in a sea of red, Athens has long been known as a place where LGBTQ+ people have discovered themselves, blossoming into their identities and challenging the status quo that sought to keep them suppressed.
Throughout its history, Athens has been privy to a vast culture of gayness and artistic expression, making it one of the greatest hubs for edgy arts, theater and live music. A lot of this can be attributed to the student population that the University of Georgia draws to Athens each year, as exhibited during the tour.
Using the expansive information gathered from her CURO research, Caroline Caden curated an immersive and highly informative tour as part of the Historic Athens Heritage Walks. Incorporating digital aspects in the form of audio plays and podcasts, Caden created an enriching tour experience that elevated the information to a new level.
Caroline Caden is a senior theatre major at UGA, pursuing certificates in museum studies and historic preservation. It is their passion to bring awareness to underrepresented minority groups, and giving a tour entitled "Queer Spaces: Athens, GA" was a great way to do this.
As a proud Southern non-binary lesbian, Caden was thrilled to be telling the many stories of LGBTQ+ history in Athens.
Pride and the demand to be seen
The tour started off at the Lay Park Community Center where the first Athens PRIDE festival in the form of a family picnic was held in 2011, a little over a decade after Athens PRIDE began in 1998.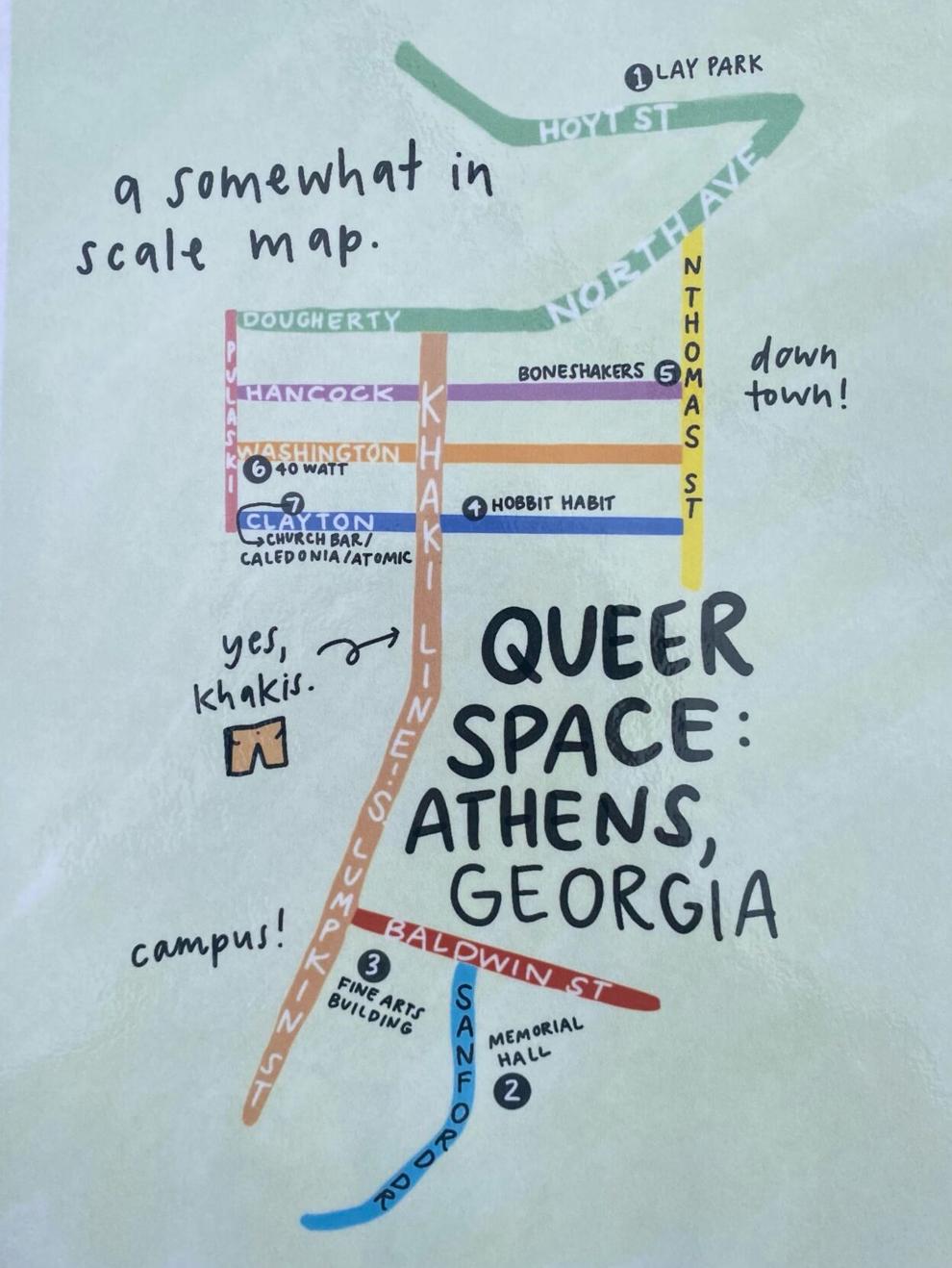 Cameron Jay, host of the local podcast "Classic City Crime" and vice president of Athens Pride, attended the tour and shared his first time attending PRIDE in 2013 and what inspired him to be on the Athens PRIDE Board.
"At that time I was very unsure of who I was and my identity, and one day… I saw something on Facebook about Athens PRIDE at Lay Park. At that time I'd never been around anything like that or knew that it existed," Jay said.
Jay remembers showing up with his hat pulled over his face, but he left with immense pride and a motivation to live as his authentic self.
Caden discussed the start of the Gay Lesbian or Bisexual Employees Supporters Group, or GLOBES, in 1994. GLOBES was a way for gay employees, mostly in the university setting, to gain support and community.
Annette Hatton founded GLOBES alongside Nancy MacNair and Vernon Wall as an LGBTQ+ staff and faculty group. Caden asked Hatton why she decided to start the group.
"It was a sort of selfish reason. It was because there was no group for me," Hatton said.
Newly out as gay, Hatton felt isolated and wanted to create a way for gay employees to have a community and be able to advocate for themselves.
GLOBES helped to make tremendous progress. According to Caden, GLOBES helped pass a resolution through the university council to add gender identity and expression to UGA's non-discrimination, anti-harassment and equal opportunity policies.
After loading onto a bus, tour attendees were transported to the center of campus. Standing outside Memorial Hall where the UGA Pride Center is located, Caden remarked this March would mark the 50th anniversary of "a dance that started a revolution."
In 1971, UGA students John Hoard and Bill Green formed the Committee on Gay Education to spread awareness and educate about the gay lifestyle. However, UGA refused to recognize it as an official student organization.
One of the first main objectives of the committee was to hold a "gay dance" to make themselves known to their community. The dance was canceled with UGA claiming it could not support an event that promoted sodomy.
After a court case, the committee was granted a temporary restraining order preventing UGA from stopping the dance. On March 10, 1972, it would become the first gay dance at a Southeastern university.
Love and community
Upon guiding the group to the Fine Arts Building which they regards as their "second home," Caden prompted the group to listen to an audio file on the love story between Edward Crouse and Edward "Buster" Wormley, fashioned after their correspondence.
Crouse was responsible for the merging of the UGA Thalian Dramatic Club and BlackFriars in 1931 which was instrumental in the establishment of a Department of Dramatic Art, now the Department of Theater and Film Studies at UGA.
"I love these letters because it works against the idea that all gay relationships were secretive and dispairing before the Stonewall era," Caden said.
The tour continued downtown at the building that now houses the stores Onward Reserve and Fab'rik. The old marble building was once home to The Hobbit Habit, a bookstore that had a "gay book" section.
Caden shifted their focus to the notorious nightlife scene of Athens.
Before Sister Louisa's Church opened in 2014, Athens' gay citizens could rely on Boneshakers if they wanted to go out to a bar, until it closed in 2005. The second and last owner of Boneshakers was Mark Bell who currently owns and runs 9d's Bar on East Clayton Street.
Caden then explained the origins of the 40 Watt Club, which now hosts an annual event called Boybutante — "a debutante ball but for gays," as Caden called it. It is a night full of drag performances and partying to raise money for the Boybutante AIDS Foundation.
The tour ended in front of where the Caledonia Lounge and Atomic used to stand. As it began to rain, attendees hopped back on the bus to be taken back to the Lay Park Community Center.
Historic Athens plans to host one more "Queer Space" tour, led once again by Caden, on Nov. 21.