On April 26, Netflix will add a new horror series to its list called "Chambers," and in this show, one cast member also happens to be a University of Georgia student named Kyanna Simone Simpson, a senior entertainment and media studies major from Decatur.
The show, which started filming in June 2018, will finally take its life on the screen, a moment Simpson has been waiting for.
A series of firsts
"Chambers" is a horror-thriller series about a teenager named Sasha Yazzie, played by Sivan Alyra Rose, who gets a heart transplant and is "haunted by eerie visions and sinister impulses" connected to the heart donor, according to Netflix.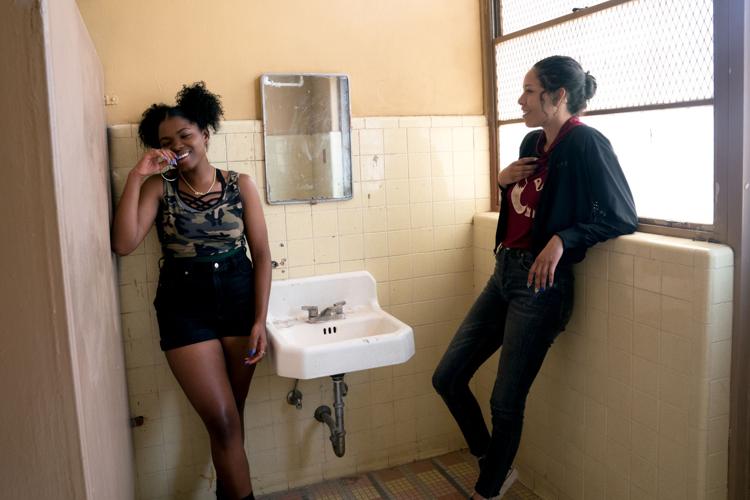 Simpson said she'll be playing the role of Yvonne, Sasha's 16-year-old best friend and described the character as a tech-smart black girl. 
Simpson is particularly excited to play the role of Yvonne because the character embodies a black girl who is smart and passionate about math and science, which isn't portrayed as often in media. Yvonne's passion for computing also resonates with Simpson, who's personally always been interested in similar subjects. 
"Us black girls, we needed this," Simpson said. "I love that we're showing these young girls, let alone black girls, being smart on TV."
The show is not only a series of "firsts" for Simpson and her acting career, but it's also making history on Netflix as well. 
This marks Simpson's first time starring in a show on Netflix, which now allows her to say she's officially a part of the "Netflix family," and it's also her first time portraying a character who isn't from her region.
Her character, Yvonne, is from Arizona, which prompted Simpson to learn about the life of a typical teenager in the Southwestern state to accurately represent her character. 
"It was really nice to learn the backstory of kids that grow up in the Southwest," Simpson. "The environment is something that you really have to take into account when you're taking on a new role."
---
"Us black girls, we needed this. I love that we're showing these young girls, let alone black girls, being smart on TV."
— Kyanna Simone Simpson, actress in "Chambers"
---
"Chambers" will also be the first show on Netflix to have a Native American lead.
"Netflix is really making this stage for brown and black people to tell their stories authentically," Simpson said. 
Living in a 'pretend world'
Ironically, Simpson discovered her passion for acting out of her love for other occupations. When she was younger, her biggest dream was to become an astronaut. However, growing up, her interests only grew bigger until she wanted to do everything.
"I started thinking, 'How can I do all of these things?' and that manifested itself into me pretending to be different people with different occupations I admired so much," Simpson said. "I fell in love with the pretend world."
While working with other celebrities Simpson grew to idolize, through her own career, she's gained a fan base herself. She gets noticed more often on campus than she does off campus.
"I'll be talking to my classmates and someone will say, 'Congratulations' and give me a pat on my back," Simpson said. "To get that from affirmation from my classmates and colleagues means the most to me."
A promise to education and acting
While her career has brought her many successes, the process hasn't always been smooth for Simpson, who's fully committed to pursuing an education at the same.
Last summer, Simpson had to juggle both filming and online summer classes. In order to refresh for the spring semester, she also took a brief break from school during the fall semester. Simpson initially thought she would solely put her focus into acting after high school, but when she got accepted into UGA, she knew she wanted to continue her education. 
"Six semesters later and I somehow have been able to balance work and school at the same time," Simpson said.
Education is crucial to Simpson, and she's always lived by her own motto — "you can do both."
Once she flew out and went to the callback that got her the role in "Chambers" and she celebrated with friends and family. The next day, Simpson flew back home and went back to school.
"That's the dope thing about Kyanna — her career's been taking off but she's been in school the whole time," Tian Richards, one of Simpson's best friends and former co-star on "The Immortal Life of Henrietta Lacks," said. "That's rare and I don't know how she does it." 
While taking classes at UGA, Simpson encountered several professors who didn't understand her career or believe in it. However, instead of letting them negatively impact her, she used their words as "fuel" to her "dream fire."
Even without the support of everyone, support from Simpson's family and close friends remains unchanged. 
"Anything that supports Kyanna, I'll wake up at five or six in the morning — it doesn't matter," Richards said. "It's one of the most beautiful things to witness her coming into her own not only as an artist but as a woman."
Since her first film, "A Christmas Blessing," which she filmed when she was 16, Simpson has been in "a handful" of TV shows and movies and has had the opportunity to work alongside actors such as Oprah Winfrey, Matthew McConaughey, Oscar Isaac and LaTanya Richardson Jackson. 
"I've never thought that I would be able to say that I can't count the number [of films and TV shows] right now," Simpson said. "It's a blessing for me to be able to say that."