A mere 20-minute drive from campus, Washington Farms has been a weekend destination for University of Georgia students, local families and north Georgia residents for 26 years. While strawberry picking has been a staple springtime activity, this year's strawberry season was the last as the farm's owners plan to reduce their workload and focus on growing other crops.
Forestry to farming
Donna and John Washington founded Washington Farms in 1993, originally only growing strawberries. With his background in forestry and finance and her background in teaching, strawberry farming was not exactly an obvious career choice.
"We started farming with no land, no tractor, we didn't even own a shovel. We had three kids and we were going to start a business, so it was kind of crazy," Donna Washington said.
After a career change, intense research and purchasing land from a developer in Oconee County, John Washington began growing strawberries. Gradually, with the work of the family — including the Washingtons' five children and other employees — the farm expanded to two locations and several other crops and attractions.
The business also attracted student employees from UGA. The farm always intended to grow strawberries for people to come pick, but for those who cannot pick themselves, one job of employees was to pre-pick strawberries. Mary Gilbert, a former employee for 10 years and a 2010 UGA graduate, began working at the farm during her freshman year and distinctly remembers the quantity of strawberries during peak season.
"Inside the little shed where we sell out of, we would have all those pre-picks, all over the floor, on shelves, I mean strawberries were everywhere," Gilbert said.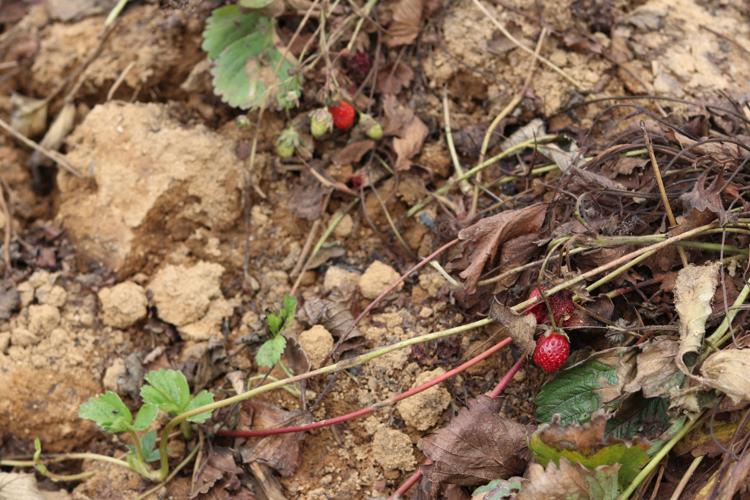 Building relationships
With her background in education, Washington began teaching children about the process of growing strawberries during their elementary school field trips. Using pictures and a bee puppet to describe pollination, Washington taught the students and John Washington took them on picks for some hands-on experience.
According to Washington, a late frost in their third year growing strawberries wiped out 60% of the crop. The experience spurred the farm to begin growing other crops.
"John figured the more we could diversify and offer more things, the less all your eggs are in one basket," Washington said.
Starting with pumpkins and then blueberries and blackberries, the farm offered new products for customers to come pick. The introduction of pumpkins in the fall made way for a corn maze and other "agritainment" activities to attract older kids and UGA students, according to Washington.
Anna Kate Cartwright, a rising fourth year advertising major from Douglasville, has worked for the farm for three years. In that time, she has done a variety of jobs including scooping ice cream, working in the petting zoo, doing office work and running the Instagram page. Through her work on the farm, Cartwright has been able to build relationships with regular customers.
"It's really cool to see these people become more than customers and become friends," Cartwright said.
Gilbert echoes this sentiment. Ever since she started out working for the farm, she has become close with the family and remains a family friend.
From red to black
While strawberry picking is a fun weekend activity, the process of growing the strawberries requires a lot more effort. According to Washington, strawberry season is six weeks, usually beginning in mid-April and concluding at the end of May, depending on the weather.
Because of their short season and reliance upon good weather, strawberries are difficult to grow and maintain.
"Strawberries are very labor intensive, they're very high maintenance, they're very high risk," Washington said.
According to Washington, she and John Washington have wanted to slow down for a while and were initially going to turn the farm over to their farm manager. When he left his position, the Washingtons decided it would be too difficult to train someone new from scratch.
While Washington Farms is no longer growing strawberries, it will continue with its other crops and farm activities. The farm has been growing blackberries for about 10 years. The blackberries continue to grow from the first cane they planted, unlike strawberries that have to be replanted every year. Additionally, blackberries bloom in May and are not at risk for frost, unlike strawberries that can be severely affected by late frost.
"We're hoping that we can continue to do the agritainment part...and we intend to keep the blueberries and the blackberries going," Washington said. "We still have our foot in farming, just not the labor-intensive strawberries anymore."