Athens is home to a vibrant array of small businesses and now Half-Shepherd Market & Cheese Shop is signing its name onto the eclectic list. Riding the coattails of this new venture is an extensive variety of cheeses and specialty items.
Half-Shepherd Market & Cheese Shop is located on 1238 Prince Ave., Suite B in Athens. From 11 a.m.–8 p.m., Monday–Saturday, customers can peruse products that have been newly introduced to the palate of the Athens community.
Within its newly-minted location in Normaltown, an extensive assortment of specialty items and meal options grace the counters. Through the opening of Half-Shepherd, Athenians have the chance to try "cut-to-order cheese and charcuterie, prepared foods [and] specialty grocery," according to the Kickstarter.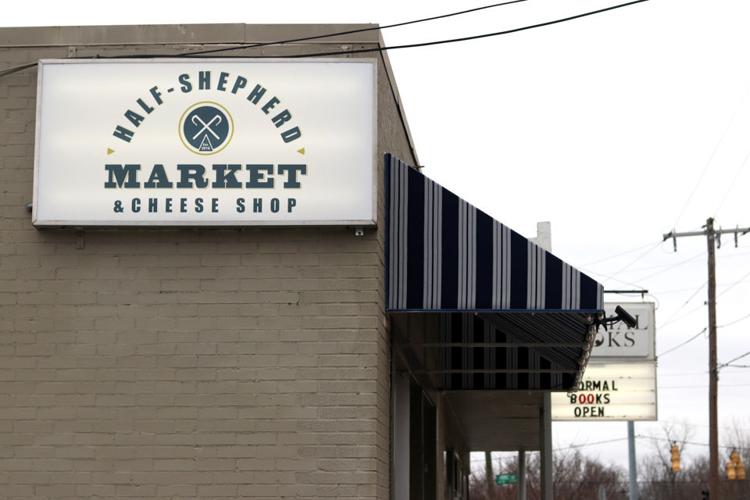 The Half-Shepherd lunch menu, which includes salads, soups and sandwiches, is only available from 11 a.m.–2 p.m., Monday–Saturday. The menu includes an "Old World" Grilled Cheese with Comte, Gouda and Brie for $6.
The owner, Fritz Gibson, cites his favorite sandwich as the Cubanesque, which is a Cuban with a southern twist. If the lunch menu times aren't convenient, Half-Shepherd has ready-to-eat items available during all hours of operation. To add a homestyle flair, local Athens vendors including Independent Baking Co. baguettes and Condor Chocolates are sold at Half-Shepherd.  
Gibson describes his shop as a neighborhood market and wants his customers to use it such a way.
"Even though cheese is the focal point, we like to think it goes with something else in the store too, whether its cheese and a baguette, or cheese and a bottle of wine," Gibson said.
Because the cheese is priced by the pound, customers can get enough for an entire dinner party or just enough for a family meal.
"Since we are a cut-to-order market, it gives you a chance to try a bunch of things and figure out what you want, but buy as much as you need," Gibson said.
Customers are able to sample various cheeses to determine their specific preferences. Once a customer's choice is determined, the employees can recommend a cheese the customer should try.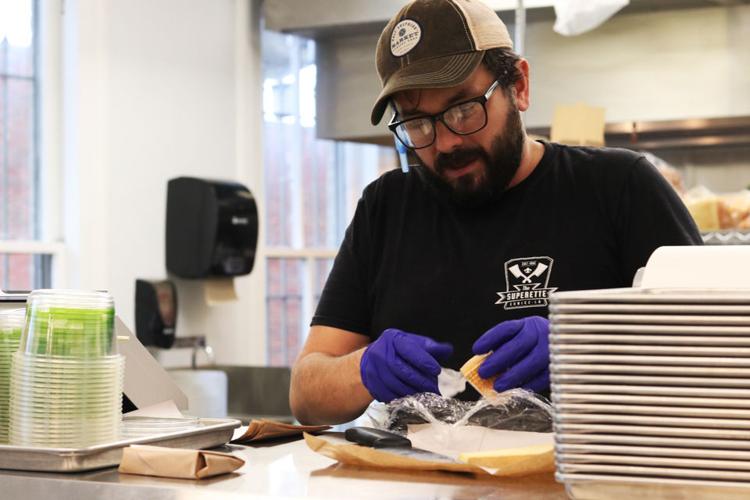 Not only do customers have the opportunity to learn from this shop, but so do the employees.
"My favorite thing is I learn something new here every day," said Summer Sipos, an employee of the shop. 
When customers waltz into the store, they can expect a welcoming atmosphere with employees who love to laugh as much as they enjoy helping you discover your new favorite cheese obsession.
Like his two half-German shepherds, Kilgore and Wyatt — who have passed but exist as the namesake of the establishment — the shop has an "off-kilter, full of personality and adorably quirky" vibe.
"Even though we take the products we sell very seriously, I don't want us to take ourselves too seriously," Gibson said.  
Gibson wants to make Half-Shepherd Market & Cheese Shop as accessible, comfortable and fun as they can for their customers.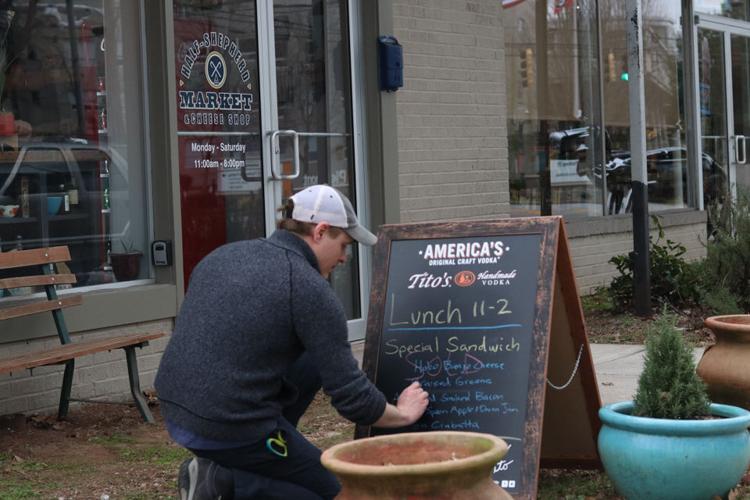 The man behind the endeavor, Gibson is no stranger to the Athens community. He moved to Athens 20 years ago and during his time here, he met his wife, adopted his two dogs from the Athens Canine Rescue and worked at his first cheese shop.
In 2009, Gibson and his wife packed up their two dogs to attend the New England Culinary Institute in Montpelier, Vermont. During his time in Vermont, he was able to interact with actual cheesemakers.
After graduating from the institute, he moved to Chicago to work at the specialty food store, Eatly, where he learned about Italian cheeses. When deciding to start a cheese shop of his own, Gibson couldn't shake Athens from his mind.
Because Athens was flourishing with new small businesses while he was away, it gave Gibson hope to plant his business roots in the Classic City.
---
"To see our generation, and what had been our community, making things and doing things felt like there would be a support network for us."
— Fritz Gibson, Owner of Half-Shepherd Market & Cheese Shop
---
"After we left, Independent opened, Condor opened, the breweries were all going … so it seemed viable for us to do it here," Gibson said.
Not only did Gibson see that the market was right in Athens but the community he was once apart of was welcoming him back with open arms.
"We started seeing our friends, people that used to play in bands at the club downtown, opening businesses, such as Normal Bar," Gibson said. "These are the people we've known for 15 to 20 years. To see our generation, and what had been our community, making things and doing things felt like there would be a support network for us."
As Gibson has found his community within Athens, Athens has now found a community to indulge in cheese and specialty food desires. His culinary endeavors throughout the country help Athenians experience the exotic without having to travel far.
"I don't want it to be just a special occasion for people," Gibson said. "Half-Shepherd welcomes you to enjoy specialty food for not-so-special occasions."