Not every fashion brand carries the burden of making their products both stylish and safe for the road. For Athens-based motorcycle gear and apparel brand Chic Riot, however, these are two of the small business' top priorities.
Chic Riot's products are geared towards women riders, enthusiasts and passengers. Their workshop is located on 220 College Ave., where the co-founders of the business, husband and wife Kidd and Tabitha Fielteau, work to hand make everything from bold, colorful jackets and sleek pants to decorative helmet pins on a made-to-order basis.
Their products can be found on and ordered through their website, where customers can browse through the unique creations of fashion designer Tabitha Fielteau and get information on sizing and style options for each product. The website also features photo galleries of Chic Riot's apparel, taken by co-founder and beauty and fashion photographer Kidd Fielteau.
When it comes to the aesthetics of Chic Riot's products, Tabitha Fielteau has a very distinct style.
"I think every person, whether you're a stylist or not, you have things that you gravitate to," Tabitha Fielteau said. "So things that I gravitate to are sequins, shiny things, bright things, things that are sleek."
This is reflected in her work, and all of Chic Riot's riding jackets possess a dramatic flair in the form of bright color blocks, iridescent sleeves or even funky polka dot patterns.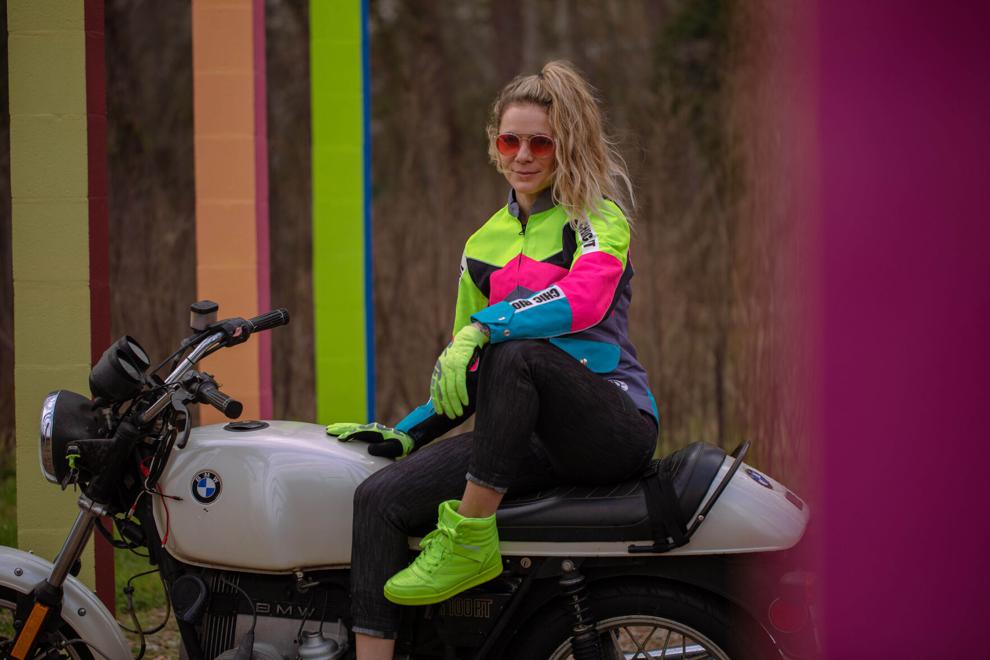 Chic Riot was born from a simple but long-standing issue: the abysmally bare market for women's motorcycle gear. The number of women motorcycle riders has been increasing steadily, with a 2018 report by the Motorcycle Industry Council revealing a 10% increase in the past decade.
However, while the percentage of riders who are women now sits at nearly 20%, motorcycle gear stores have yet to catch up. Many of them still have only a small portion of inventory dedicated to women's gear, where all you'll find is the men's jackets in smaller sizes and bright pinks.
As riders themselves, both Tabitha and Kidd Fielteau were very familiar with this problem. In 2019, Kidd Fielteau decided to find a solution, and when he pitched the idea of Chic Riot to his wife, the business was born.
Chic Riot's mission remains to create motorcycle gear that will empower women by offering more diverse clothing choices that are specifically tailored for their bodies, as well as allowing women to feel confident and express their femininity, even on the road.
Leslie Reyes, a regular customer of Chic Riot, said she loves the brand because its products let her feel "like a girl" when she is on her bike.
"Women know how to design clothing for women," Reyes said. "They know how to make it comfortable, and they know how to make it look good, and they understand what real bodies look like."
However, as a motorcycle gear business, Chic Riot's efforts can't end at good style. They also carry the responsibility of making their products safe for the road.
Protective gear is extremely important for helping motorcycle riders avoid road rash – the grazing of the skin when it meets asphalt –and shielding their impact zones, which are the most injury-prone bones of the body.
The Fielteaus said that in spite of this, not only do many riders remain unaware of the importance of wearing gear, but many women in particular refrain from wearing any due to a lack of flattering or comfortable options, posing an extreme risk to their safety.
"We wanted to change that and be something that could be fashion forward but also protective," Tabitha Fielteau said.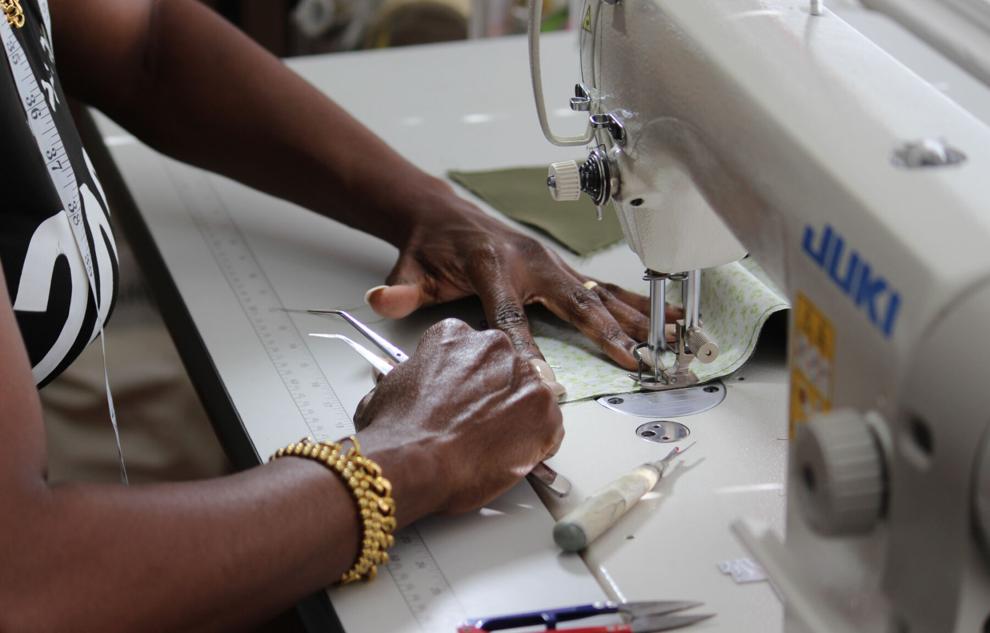 This blend of fashion and safety starts at Chic Riot's design process. After mapping out initial sketches for new designs, Tabitha Fielteau stitches the pattern together using highly rated, high-abrasion materials, and employing a triple-stitch on the seams to make the piece stronger and more durable.
After the pattern is graded for the five different sizes the business offers and the sample is cut out, it is tested for comfort and breathability before being finalized and prepared for delivery.
Although the business now functions like a well-oiled machine, the Fielteaus have had their share of struggles, from conducting years of preliminary research before they could begin making safety gear to navigating the very niche area of women's motorcycle gear.
"It's a little bit difficult, because we're kind of having to learn as we go," Kidd Fielteau said. "It's not like a restaurant business where there's so many tips and tricks, and there's so many people we could talk to."
Nevertheless, Chic Riot has established its place in the world of motorcycle apparel, currently offering over 16 different products and attracting customers from right here in Athens to as far as Ireland.
Although the small business is sailing strong with only two people behind the helm, the Fielteaus would love to see it expand in the future while still staying authentic to their brand.
"I look at Chic Riot as I want it to be big, but I still want it to be small enough that it still has personality," Kidd Fielteau said.