100+ Women Who Care Athens has been making a meaningful and positive impact on the local community since 2015 — and the group has no plans to stop.
"As just one person, or just a family or a few people, you can make a difference. But when you tell your friends, and they tell their friends and everybody comes together to support a particular cause, the impact is just phenomenal," said Sherry Clouser, founder of 100+ Women Who Care Athens.
The 100+ Women Who Care Athens fundraising initiative has turned a small commitment into an impactful cause for local nonprofit organizations. Since the first meeting of the Athens chapter in March 2015, the group has donated over $125,000 to local nonprofits, said Rachel Allen, media relations specialist for the organization in an email.
Most of this total is from the pledged donations of members, but a 50% matching grant from the Richard M. Schulze Family Foundation has also contributed to the local chapter's overall donations.
The group of women meets quarterly to nominate and vote on which charity will receive their collective donation. Each member commits $400 a year, and their donations have gone toward a number of projects, ranging from the Athens Area Diaper Bank to the Athens StepUp Scholarship Program.
The organization's goal is to offer an easy way to make a collectively significant impact. Meetings are only held four times a year, at which three charities are nominated by members to receive that quarter's donation. After three members present a ten minute pitch for each charity, the group votes on who should receive the donation.
In March 2021, Executive Director of AthFest Educates Jill Helme, who has been a part of the group for three years, pitched her organization and won the vote. The total $6,700 donation will fund a music education program at a local elementary school in partnership with the University of Georgia.
"A gift the size that 100 Women Who Care makes has a massive impact on smaller organizations," Helme said.
While the local chapter is made up of women, other 100+ Who Care chapters are made up of men, seniors, children and more. And not every chapter has 100 members; while the goal is to get at least 100 members to join and pledge the annual $400, any number of individuals can be assembled. The Athens chapter started with just nine members in 2015 and currently has 64.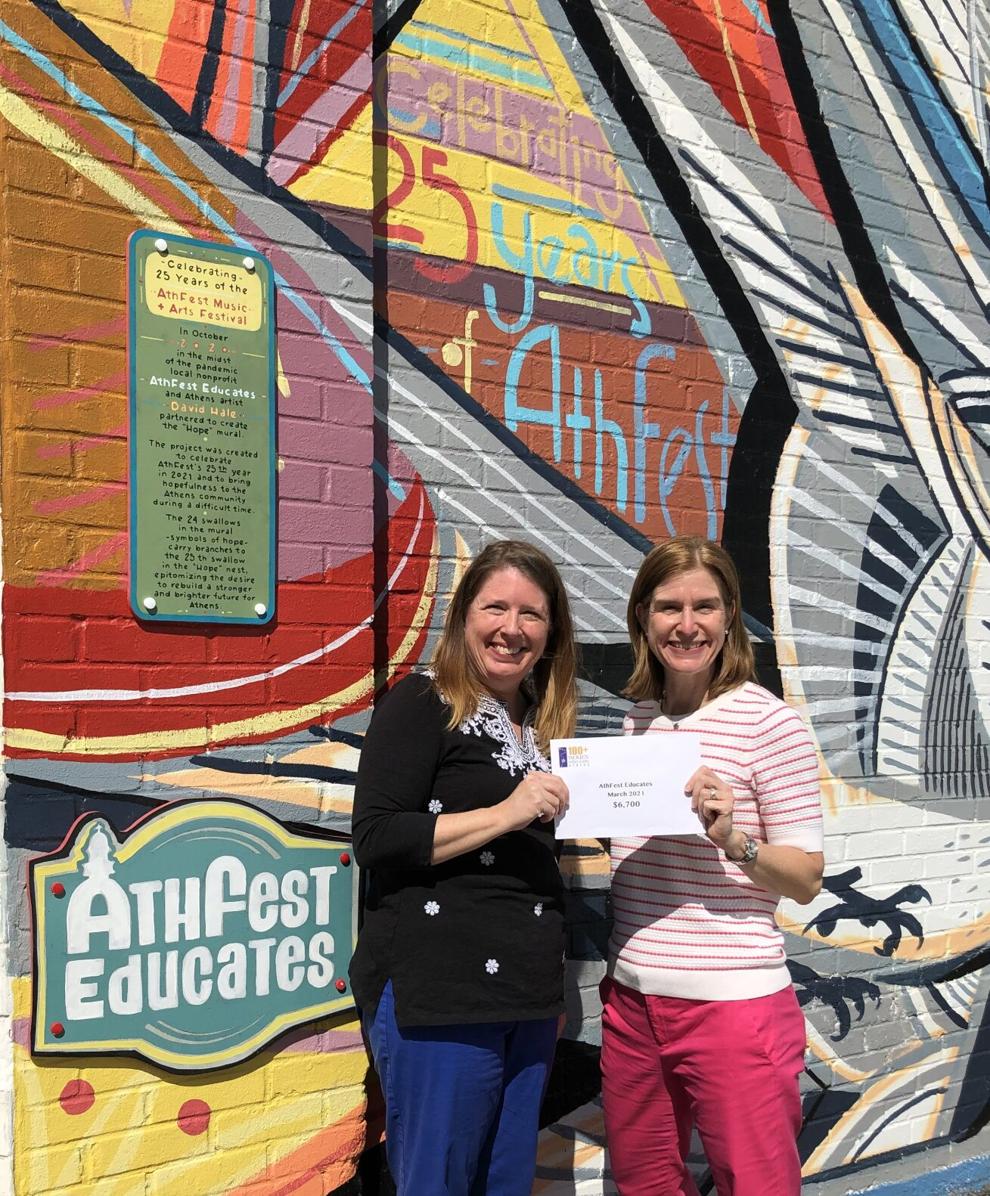 The 100+ Women Who Care concept started in 2006 in Michigan with just women, and Clouser decided to keep it that way when she started the Athens chapter in 2015.
"I just feel like women sometimes care about different causes, perhaps than men might. And I just wanted to make sure that our voices were the loudest in this organization, and the easiest way I think to do that was to just keep it to women," Clouser said.
100+ Women Who Care Athens has most frequently donated to charities that support women, children and education. In March 2019, the group made a $7,650 donation to the Ashton Hope Keegan Foundation, which supports education and job training costs for women. Donations have also gone to Strong Girls Serve, Books for Keeps and U-Lead Athens.
The organization not only donates to charities, it also increases member's awareness of the work going on in Athens.
"I was surprised when I joined the 100 Women Who Care of Athens chapter how many nonprofits I didn't know about," Helme said. "And so it gave me a great opportunity to learn about what's here. ...It's been a really rewarding experience to be a part of."
Only members can nominate a cause at the group's quarterly meetings. Therefore, Clouser encourages women of the community to join, as this will expand the pool of organizations up for consideration. Those interested in joining can visit the local chapter's website.