In the middle of downtown Athens sits a store adorning so many local music posters, it sometimes "looks like an abandoned warehouse," store manager Nathaniel Mitchell said. In 1981, flyers and posters covering the store's exterior were seen as an "eyesore," and nearly taken down by Athens Downtown Council. But inside, Wuxtry Records is far from lifeless, and those posters are far from meaningless.
In its 43 years since opening, it has facilitated the meeting of famous band members in the '80s and continued to promote Athens music throughout the decades.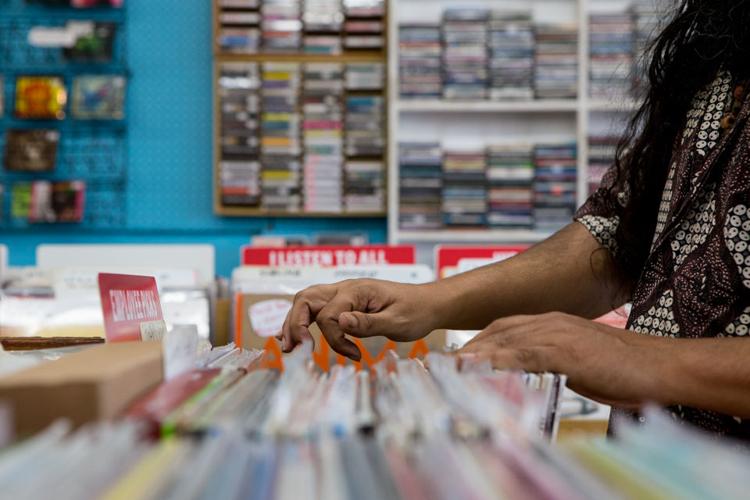 Today, the shop acts as a library for the changing tune of Athens' music history — while posters for rock bands R.E.M., Pylon and Porn Orchard used to hang in Wuxtry's window display, the store has made a move to promote shows of local drag troupe The Kourtesans and metal group Savagist. 
Promoting local bands is "something the shop has always done," Mitchell said as he flipped through his dozens of archived posters from the 1990s. He archives the posters which have the best graphic design from over the years. In this way, too, he is able to document the diversity in Athens' music scene.
Shrinking spaces
Wuxtry was the origin story for the famous Athens-originated R.E.M. when lead guitarist and then-employee Peter Buck met lead singer Michael Stipe, then a student at the University of Georgia. When Tyrones, a popular club where R.E.M. frequently played, burned down in 1982, Wuxtry provided an album safe haven. It saw the 40 Watt Club move from the edge of Clayton to its fifth and current location on East Washington. 
During its four decades of existence, the shop has acted as a means for local artists to consign their CDs, LPs and cassettes. Athens music has continued to diversify, adding local hip-hop artists to the indie-rock and harder rock scene. Tourists typically come to the store inquiring about local music digs and to "grab everything that is Athens music," Wuxtry employee Colette Arrand said.
Despite a universal interest in local music, Arrand thinks the general Athens music scene has changed with less small artists coming to success. 
---
"This job is sharing a relationship with someone that's universal and beautiful." 
— Colette Arrand, Wuxtry employee 
---
"In Athens, it feels like the space for small artists has been shrinking," Arrand said. "Every time I go to a local show, the acts are a lot quieter than they used to be. There are a couple of record labels that exist around here that I follow, but I wish people were paying more attention to it."
Mitchell agrees, noting there hasn't been a major success in Athens since of Montreal, an indie-pop band founded in 1996 and still frequents the 40 Watt. 
Still, with local bands such as Walden performing at Bonnaroo and AFTM headlining to an enthusiastic audience at this year's AthFest Music and Arts Festival, homegrown bands may only need time on their side to succeed. Plus, Wuxtry stands in the middle of downtown Athens to promote them with it's collective library of music. With its extensive collections, customers can buy records from the newly-emerging hip-hop scene to the well-known sounds of R.E.M. and the B-52s. 
Not your parents' Athens 
Over time, these customers have changed too. The clientele was made up of an older demographic when Mitchell began working at the store 10 years ago, and then four years in to his job, the demographic began shifting to predominantly college students. 
UGA junior Clay Harden learned about Wuxtry Records from his dad. He tries to go back every two to three months to look over additions to its collection. Harden said Wuxtry Records "lives up to its history," with its records and varieties of music.
For UGA sophomore Delanee Wilson, Wuxtry was one of the first stores she remembers visiting in Athens. She visited when she first toured UGA in high school, and bought one of her first albums by The Strokes, which began a lengthy conversation with a Wuxtry employee who wanted to learn more about her favorite band.
Since Wilson's first visit, she's been back around 10 times, and has also explored Athens music in Wuxtry's "local music" record bin. 
"There were artists who I already listened to who I didn't know were from Athens," Wilson said.  
The initial conversation that brought Wilson back to the store is something Arrand hopes to share with customers on a daily basis. 
"This job is sharing a relationship with someone that's universal and beautiful," Arrand said.