The bar scene that Athens is famous for has been on hold since St. Patrick's Day, first closed by a city shelter-in-place ordinance and then by a statewide edict. Now that Governor Brian Kemp has declared bars free to open on Monday, the big question is: Will they?
For bar owners in Athens, wrestling with the required safety measures is coupled with a college town's particular economic concerns. Summer normally is a slow time for Classic City bars, and in 2020, with AthFest Music and Arts Festival canceled, students taking online courses and many residents still reluctant to go out, bar owners are unsure if reopening will bring in enough business.
If they choose to reopen, bars must comply with 39 regulations released by Gov. Brian Kemp's office in order to legally operate during the COVID-19 pandemic. However, reopening means a chance to bring in revenue.
Jarrod Miller, manager of Moonshine, On the Rocks and 1785 Bar and Grill (formerly Jerzees) said that every bar owner he has talked with plans to reopen. (1785, which is also a restaurant, has already been open, with restrictions.)
Miller expects his staff to spend as much time cleaning surfaces and monitoring adherence to the state restrictions as they will actually serving drinks.
"I think the days of people going into a dive bar and expecting it to be grungy … are kind of gone for a while," Miller said.
Still, the challenges of implementing temperature checks, limiting party size and bar capacity, using disposable containers and constantly cleaning are outweighed by a different reality. With a "bleak" financial outlook, Miller said downtown bar owners are reaching a tipping point. The lack of revenue means opening, even under strict regulations, is a necessity.
"People are really afraid," Miller said of the financial hardships facing service employees, including the approximately 175 people that work in the three bars he manages.
"The problem with hand sanitizer stuff in a bar setting is that the concern is people will just take it, so we're trying to figure out how to do that," said Kim Long, one of the owners of Flicker Theatre and Bar. That being said, Long said she was happy about the reopening and that following the regulations is "doable."
However, not all bars are choosing to re-open on Monday. Jon McRae, owner of Sister Louisa's Church bar said that as of Friday, May 29, the bar is not set to re-open but will be speaking with staff and looking over regulations to decide — as a team — when they would like to re-open.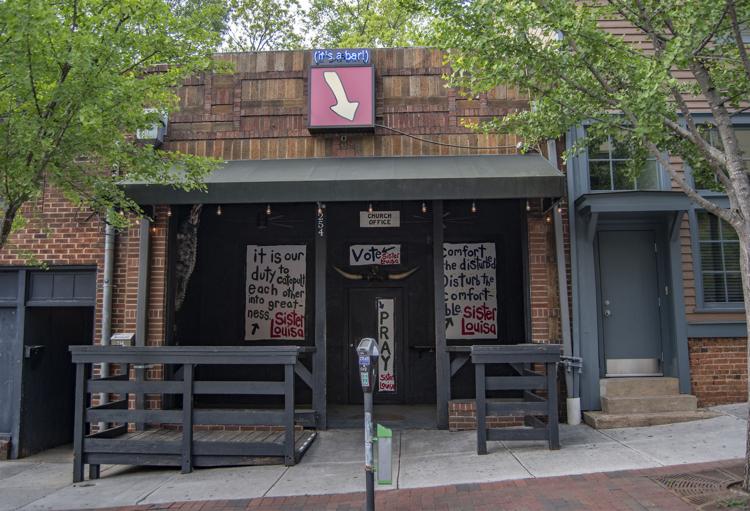 The Athens-Clarke County government is also looking at ways to limit the number of patrons inside establishments while continuing to allow drink sales. Mayor Kelly Girtz said he is proposing a pilot program to allow "streetscape seating opportunities," where customers could sit outside in the street after grabbing their drink from a bar.
The program would start in one location as a "proof of concept," before expanding to other locations. This would involve closing street lanes and blocking parking spaces.
"It seems that what is clear is that exterior spaces are safer, you have better air circulation and 'smaller viral load,' as the health professionals say, when you just don't have the enclosure of four walls and a roof," Girtz said.
Nevertheless, even as owners prepare for reopenings and the local government contemplates ways to help, owners still face the challenge of reopening during the pandemic and the already slow summer in Athens.
"Once we do open it's gonna be like, slow as molasses, you know. I mean we're gonna have like, a third of the people coming out that would normally come out in the summer," Long said.
A Summer Experiment
For Miller's bars, staff is seasonal, and while he does expect part of his staff to be prepared to return to work in the summer, he said some may not return until August.
With summer classes at UGA operating online, some student staff members that would have worked the summer may not be returning, said Scholl Wright, a manager and bartender at On the Rocks, Moonshine and 1785.
Wright said bartenders help bring in customers, so with a shortage of them, it could affect their sales. However, with the limit on capacity already in place, Wright said they have enough staff for current operations.
The issue of summer staff also brings up the question of whether some establishments will be able to turn a profit. While McRae said Church typically does well year-round, Wright and Long said sales for their bars are normally down during the summer.
"Summer's pretty low, we don't really get enough to save, except for when AthFest gives us a ton of money to save to pay for the liquor license on Nov. 1," Long said.
Some bars are able to save up during the spring months to "weather" a bad summer with less students and low revenue, Miller said. However, after remaining closed for almost three months during the spring, establishments have lost millions in sales, and Miller is concerned some places have already had to dip into those savings.
On the other hand, Wright said business may pick up a bit differently than previous summers.
"This summer is going to be different because when the bars open, all those UGA students that are usually on vacation for summer, still have leases in Athens and their vacations just got canceled," Wright said.
If they make it through this summer, McRae said business owners will have to reevaluate their system in the face of the pandemic in order to find ways to generate revenue in the long run.
"The businesses that get creative and figure out how to generate revenue in ways that they didn't before are going to be the businesses that survive," McRae said.
---
This article is part of ongoing coverage of bars and restaurants and how they are impacted by COVID-19. Please contact Anila Yoganathan at ayoganathan@randb.com with any news tips or updates.