Donna Chang's has served as a cornerstone of the thriving dining scene that has grown in Five Points over the past few years, as its sleek, black exterior fits among destinations such as The Expat and LRG Provisions. Like its neighbors, the restaurant has had to respond to the coronavirus pandemic by altering its operations. After suspending service for a short term, Donna Chang's reopened for patio dining a few weeks ago.
What remains unchanged at Donna Chang's — named for the character in a "Seinfeld" episode — is the basic concept: Updated takes on classic Chinese takeout dishes and a focus on quality over an extensive list of menu options.
How the menu works
Guests are encouraged to bring friends and family to order several dishes to share from the "Larger" menu items priced and sized for splitting.
However, don't expect to receive a traditionally made Mu Shu Pork or Kung Pao Shrimp at this restaurant. Their menu takes recognizable Americanized Chinese dishes and puts a contemporary, up-cale spin on it.
What to expect when ordering
Although Donna Chang's has limited patio seating for diners, the inside portion of their restaurant still remains closed to the public. I opted to order online and was able to pick up my food within 25 minutes before getting home in time to enjoy my food at a sufficient temperature.
The online menu features several entree-sized dishes, smaller dishes, pint-sized ice cream and wine and beer by the bottle. If you get there before your meal is ready, the restaurant has set up an outside bar to purchase cocktails that can be enjoyed on-site while you wait or, after receiving their meal, customers can choose to make use of their limited patio seating.
Guests are encouraged to use a mask when speaking to employees and are provided a disposable one if they don't have one. All of my items were packed into a bag for easy transportation, with extra sauce available upon request.
The food
I tried the braised beef chow mein, smashed cucumbers and pork wontons. The braised beef chow mein included broccoli, onion and braising jus. With each bite the braised beef melted in my mouth, with the filling noodles soaking up the flavor to deliver another bite of braising jus. This entree was portioned to feed 2-3 adults, and was priced at $25.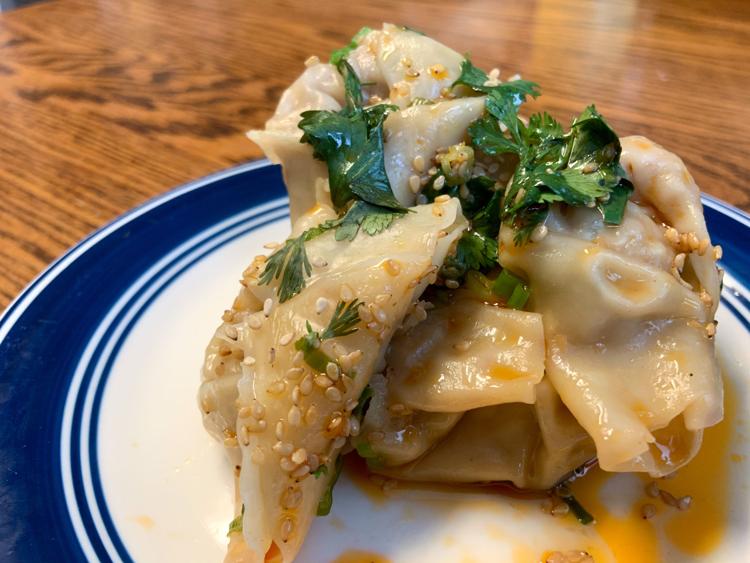 The smashed cucumbers, marinated in garlic, vinegar, sesame oil and fresh herbs, acted as a complimentary agent that, with crisp, fresh flavor helped cut through the richness of the entree. At $5 this side dish could have been shared between 2-3 adults along with an entree.
The pork wontons were tender, juicy and cooked with Donna Chang's chile oil, scallions, cilantro and sesame. This menu item was the most time sensitive in terms of freshness since they can get gummy the longer they sit. This side is priced at $10 for eight pieces.
The overall experience
As a weekend dinner, Donna Chang's was a flavorful and carefully crafted alternative to the typical takeout fare. Service was quick, friendly, accurate and even included a business card that lists a link to their Spotify playlist with the songs they play during their dine-in service to make the experience more authentic at home.
Although the dining experience was just as good from my own kitchen table, I could see how it would be even better if you were able to linger over the dinner, debate about what the best dish was and finish the night with a stroll around Five Points.