On June 18, The Rowdy Goose, owned by local husband and wife duo Brian and Taylor Cowart, opened in the space previously occupied by 100 Proof.
Brian Cowart has been in the service industry for about 13 years, previously owning a restaurant for a few years with Taylor Cowart, who also has industry background as a server.
The couple said they are big supporters of the Athens community and fell in love with the city in college. When it came to opening a bar, they had no hesitation waiting for an opportunity to open in Athens, rather than another city.
"We had been talking about wanting to get into downtown Athens and the bar scene and looking for the last three years. We looked at several other options and spaces when different people were trying to sell, and this ultimately ended up being an option we both liked," Brian Cowart said.
With negotiations for the location an on-going process during the pandemic, there were many unknowns, but the couple saw the "potential for the space, and it worked out just about perfectly," Brian Cowart said.
The best part about owning the bar so far has been the staff, the duo said.
"The staff that we have instantly became like a second family to us," Brian Cowart said. "Our staff is hands-down phenomenal, from our bartenders all the way up to management, we couldn't have asked for a better bar family," Taylor Cowart added.
The Rowdy Goose features a rooftop patio, a beer pong table and a shot wheel.
"Typically you'll have a group of people come up and want a shot but won't know what they want, so we have a shot wheel that has popular shots on it that they can spin and whatever it lands on is what they get," Taylor Cowart said.
They will also continue to feature slushies, popularly offered by their predecessor, which are now made with new recipes containing cane sugar, rather than high fructose corn syrup, and a higher dosage of alcohol.
Currently, they rotate different drink specials weekly that can be found on their Facebook page.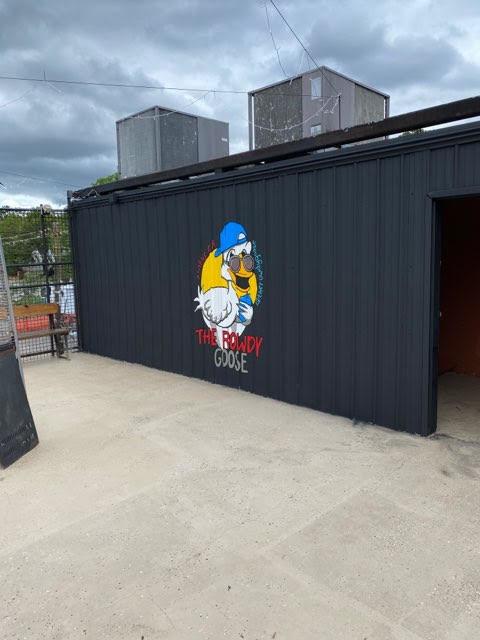 The Rowdy Goose has several COVID-19 safety measures in place, such as asking guests to social distance the best they can, hand sanitizer at the front door, sterilizing surfaces at the beginning and end of the night, encouraging guests to take advantage of the open-air rooftop patio when it's open and only allowing 35% of their fire marshal capacity — 99 people — to occupy the space at a time.
The current operating hours for The Rowdy Goose are Monday-Saturday, 8 p.m.- 2 a.m. with the rooftop bar open Thursday-Saturday, 10 p.m.- 2 a.m.