On Krista Lark Slater's Instagram page, she describes herself as a "low-key sommelier." It's an understatement considering Lark has been studying and working with wine for years now.
In 2018, Lark and her husband, Jerry Slater, opened The Expat in Five Points. Since then, the pair have made their mark as entrepreneurs and restaurateurs. Lark announced a new endeavor earlier this year — a wine shop and tasting space on Prince Avenue. The Lark is set to open later this fall.
The Red & Black spoke with Krista Lark Slater, local sommelier, illustrator and co-owner of The Expat, about her own journey, the Georgia wine scene and what to expect from this new space.
Red & Black: For those who don't know, what does a sommelier do?
Krista Lark Slater: Formerly, and kind of traditionally, a sommelier is a person who works in a restaurant as the wine expert … wine specialist is what I prefer. It's somebody who's just there to guide you through the wine selections to find the best pairing for your meal and which will suit you. They usually are the ones who select the wines as well. I think in a more modern context, a sommelier gets a little looser in the sense that it becomes more of a term about somebody who's just a specialist in wine and guiding customers through wine.
R&B: Tell me how you got to where you are now.
KLS: I got a degree in art history, and was originally a visual artist, working in museum and educational programs. I actually spent a good bit of time in Europe, and in Germany is where I first discovered wine as part of a semester in cultural studies there and fell in love with it. I fell in love with everything about it in a sense that it was much like art in a way, for a community, or a society of people to express themselves, but instead of using paint they're using grapes … I moved to California to go to a culinary school that had a specific program in professional wine studies … I worked out there for a while and I got my sommelier certification out there, and then eventually made my way to Georgia for family reasons. I moved to Atlanta in 2008 and worked in every section of wine that had nothing to do with restaurants … [Slater and I] ran a restaurant in Atlanta that was open for about six years. And then we made our way to Athens. Just out of a desire for a change of environment, a change of lifestyle.
R&B: When did you decide that opening a wine shop is what you really wanted to do?
KLS: It's been kind of a career long dream of mine to have a wine shop that also has a food and drink component, kind of a social, retail space for people to gather, relax and enjoy. To learn kind of through osmosis rather than through formal classes. And, also leave with a few good bottles to take home … I love working with my husband and I love doing restaurants. But we've talked about this. I think it's a thing — as entrepreneurs, we're always talking about wonderful ideas that excite us. We joke that we walk around with a Rolodex of ideas. We very much believe as business people that the space is crucially important to the business. You can't just say I want to do this business and then shove it into a box … We saw [Janet Geddis'] posting and were very sad about [Avid Bookshop] leaving, but then I saw the space and was like, that'd be perfect.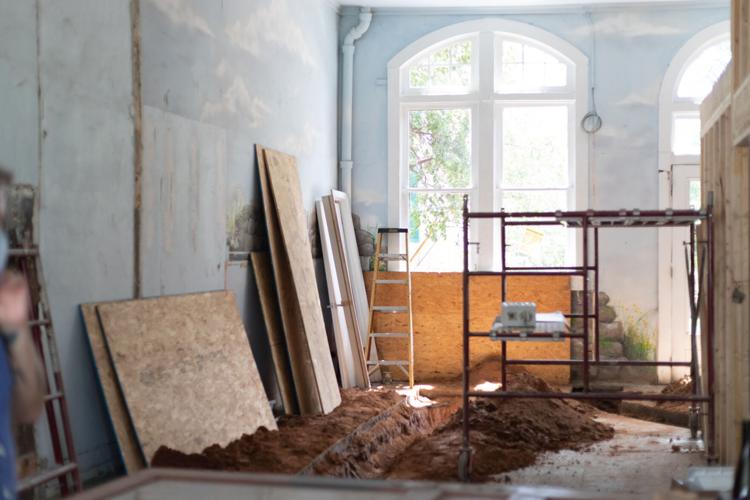 R&B: Is this going to be your own venture or will you still be in a partnership with your husband, Jerry Slater?
KLS: It will be 80% of my attention and time going there. I view my husband's input, as a businessman, as a creative person … It's really very important to me. But this is something where his time is going to be devoted mostly to The Expat. What he does there is so crucial in regards to the hospitality side of things, and the vision of that space. But, yes, we just kind of always are like, our own perpetual consultants on one another's projects. I mean, The Expat is ours, but I've always felt that he's kind of a driving force of that because he has so much more experience on the food and operation side of restaurants whereas I've always been predominantly a beverage side of things.
R&B: What has it been like putting all of this together during the pandemic? I imagine it has its challenges.
KLS: It has its challenges … We signed the lease on The Lark back in January, I want to say, so this was a project that we started before any of us knew what was going to happen really … And then in March, everything just kind of got turned upside down for us. We had to kind of go into full 'Save The Expat' mode, so that was hard. I will say, we still felt confident going forward with The Lark. We knew that because it had those multiple aspects to the business model, that it was a retail heavy venture, that it could survive opening during this pandemic … We had hoped for an opening in late summer and now we're looking at again hopefully or early fall.
R&B: What's your vision for this new space?
KLS: I love taking people from a place where they feel scared to voice an opinion about wine to where they're just enjoying it … Our whole point as people who own restaurants and bars, we're in the business of making people happy … So, my vision is a wine shop where people can sit, taste wines, eat a small bite of food, but it's a place where they feel comfortable and they're relaxed and there's hospitality as an element … What we want people to do is slow down, relax in their day and enjoy the space, and maybe find something new that excites them. Or maybe just, you know, maybe they just come and talk to their friends for a little while and do a little tasting. So that's what I want. My vision is this space is unique in the realm of wine that is not pedantic but is heavy with hospitality and informal and relaxed … You know, I don't want to impress people with how much I know about wine. I want them to be happy with how much they've learned about wine.
R&B: Does Georgia have any local wines? And what kind of wine can we expect to try at The Lark?
KLS: We have a good diurnal shift up in North Georgia and especially in higher elevations, it gets cooler enough at night and warm enough and sunny enough during the day to have some potential to make some wine. I think the wineries that are doing it best are the ones that are exploring some grapes that are not in the traditional canon, like Chardonnay and Pinot Noir do not do well here, we just don't have the right kind of climate … I think it has potential to do great things, it's just not there yet. But there are some great ones we've worked with … So wines at The Lark, it's going to be a small selection of retail. I plan on carrying about 200 different bottles … Our goal is to keep it as a collection of both classic and new … Just a diversity that we are constantly kind of rotating through, and that have a price point variety … There is a bit of this, like, kind of elitism with wine, like that wine is only for the wealthy, but there's really good shit in all categories.
This Q&A has been edited for length and clarity.