Over in Watkinsville, Amkee Ervin-Weber moves from the grill to the fryer to the cutting board. She's the owner of The Traveling Hobo Cafe, which specializes in serving inventive burgers and homey Southern classics.
Although the Traveling Hobo is quieter nowadays with limited seating and safety precautions, Ervin-Weber has been shocked by the support from her community. Ervin-Weber spoke to The Red & Black about the past few months, her cafe's eccentric menu and the best kinds of burgers.
Red & Black: How has everything been for you guys during the pandemic?
Amkee Ervin-Weber: It's been a whirlwind. You know, nobody knows how to behave during this, so the rules were all over the place. It was just really, really difficult to know, what was the right thing to do? When was the right time to do it? At the beginning, it was really hard, because nobody was telling us, should we be closed? … Being in the restaurant business, you know, we also have our staff kind of in the front, too … we didn't know how serious it was.
You wouldn't believe how wonderful this community is, because they came out in droves. They bought gift certificates, they bought tabs for the EMS workers so that they could come and get free food. It was just, it was amazing… Everybody just really wanted our business and all of the restaurants in Watkinsville really to succeed and to not go under.
R&B: When did y'all open your dining room?
AEW: We were really the last ones to open our dining room in Watkinsville… We only have five staff members so I was really worried that if one of us got sick, we'd have to close for two weeks, you know, and everybody would be out of a job. And so we really waited till the last minute to open. I believe we didn't open till September.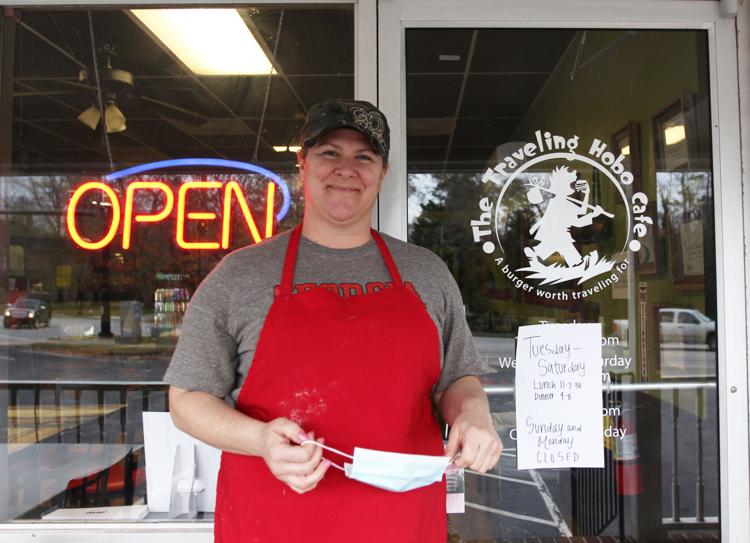 R&B: I am very curious about the inspiration behind some of your burger creations. You have a peanut butter and banana one, you have one with doughnuts as buns, you have one with fritos on it. Talk a little bit about that.
AEW: I'm a huge burger girl, I just love burgers, and I'm very creative. So this is my way of painting pictures, really, or writing music. This is my thing. So some of the burgers, obviously I didn't invent a donut burger, but maybe I brought it over the top because I like to bring things a little bit over the top. So my donut burger is a little bit bigger than some of the donut burgers. We use big, yeasty doughnuts. And we just pile a lot of cheese and egg and bacon and all that good stuff on there… The Local Moco is a Hawaiian inspiration. I lived in Hawaii for some time, so this was a kind of hangover cure, honestly. It's a big patty over rice with an egg on top and smothered in gravy… The Frito burger, I just love a chip on burgers. You know, we've done a Dorito burger and a Cheeto burger, but the Frito burger, I think everyone can get behind because it's just delicious. And it has chili on it.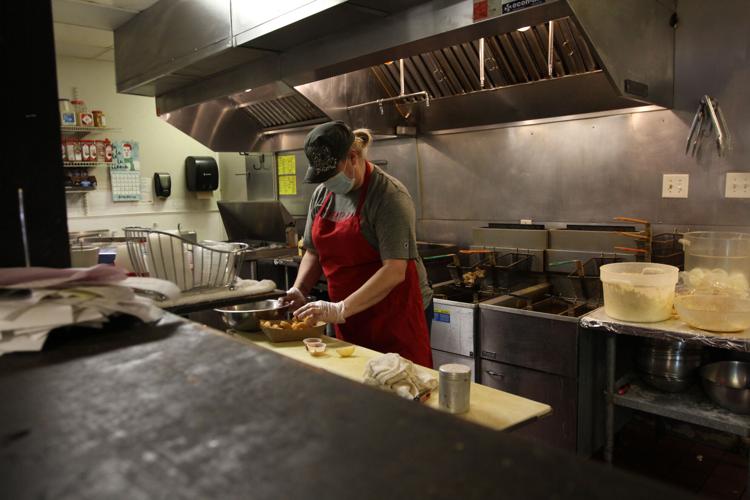 R&B: Are you constantly creating in the kitchen?
AEW: We pretty much always have some sort of burger special. I try to do at least some sort of interesting burger once a week and put it on the board and you can come try it. And then eventually it'll make it to the menu if it's popular and obviously sometimes we have some duds… but we got to experiment a little bit.
R&B: What do you see people liking the most?
AEW: People really like pimento cheese, they really like fried green tomatoes, and they really like that combo… Pretty much anything with chili is a winner… I've had some fruity barbecues that I've thrown on burgers, I've done a lot of stuff. It's really fun to be able to create stuff.
R&B: So you also have water buffalo, elk and bison. Where do you store these meats? Also, I'm curious about the benefits of the different meats. Do they have different flavors, different textures? What made you gravitate towards them?
AEW: So I have always been kind of a daredevil with food. Like with my traveling, I'll try all the local stuff. I think one of the best things about traveling is trying the food of wherever you're going. So around here, Carrell Farms are right out of Madison, so I get the water buffalo from them, and you can go visit their farm... The elk I get from Wyoming. And I usually like to do a slider trio so you could taste the difference between each of the meats… These meat are very game, they're very lean, like bison is, elk is very lean. It's not as fatty as beef. A lot of people like it because it has a very unique flavor and texture, it's a little bit different. And a lot of people haven't had the opportunity to try those things. So I think it's interesting to be able to offer it, you know, I like to see people's reactions when they order it.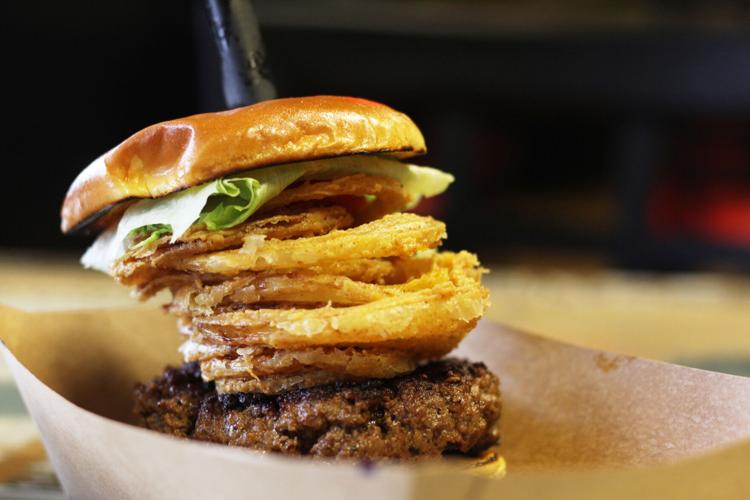 R&B: What else do you think people should try off of your menu?
AEW: I lived in Savannah for years and years and years … I brought a kind of Savannah-style, beachy, fried shrimp here to my restaurant. And also, I have the fish and chips, and mine's a little bit different. It's not like that kind of puffy beer better, it's a little bit more of a dry batter. And to be honest, these are my most popular items now, the fish and chips and the shrimp. And I'm not saying it but people have said it's the best in Athens. That's what I've heard.
R&B: Do you have any plans to expand?
AEW: I think that, you know, you're always looking to grow. At the moment, it's just, with everything going on I think I've had to put a lot of things on hold. So I really, I really don't know. Everything is kind of uncertain right now. So I don't want to kind of step out too much.
I can't even tell you how much my eyes have been opened about the place that I live and how great these people are… It's just been really wonderful to watch. Not just to me, but to my employees, to all the businesses around here… I don't think I noticed that as much before this.
This Q&A has been edited for length and clarity.