Fall in Georgia — when you get to wear sweaters and actually sweat in them. With beautifully colored trees and air just a little crisper than before, settling down with a warm cup of tea and a sweet treat is a great way to ring in the season.
For those just as confused about Georgia fall as we are, here's a dessert that combines summertime s'mores with the quintessential pumpkin spice flavor of fall. Bonus: try these chocolate chips from Condor Chocolates for a local touch.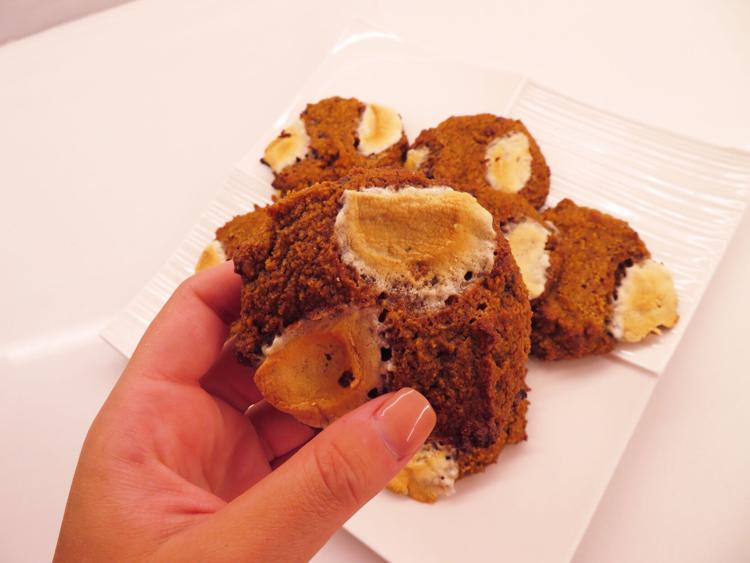 Dairy-Free Spiced S'more Cookies
(yields approximately 10 cookies)
Ingredients:
½ cup unsweetened nut butter (almond works well)
¼ cup canned pumpkin puree
¼ cup almond flour
½ cup cane sugar
1 egg (OR sub 1 tsp. chia seeds with 2 tsp. water)
1 tsp. vanilla extract
½ tsp. cinnamon
½ cup mini marshmallows
½ cup mini chocolate chips
½ tsp. baking soda
2 tsp. pumpkin pie spice
¼ tsp. salt
Instructions:
1. Preheat your oven to 375 degrees Fahrenheit. Line a baking sheet with parchment paper.
2. In a medium bowl, combine the wet ingredients — almond butter (or other nut butter), pumpkin puree, vanilla extract and an egg (or egg substitute) — until well combined.
3. In a large separate bowl, combine the dry ingredients — almond flour, cane sugar, pumpkin pie spice, cinnamon, baking soda and salt — and mix thoroughly. 
4. Create a well in the middle of the dry mixture, add the wet ingredients to the dry and mix thoroughly. 
5. Once wet and dry mixtures have been combined, fold in the chocolate chips and mini marshmallows. Use a cookie scoop or a spoon to form balls of dough, and spread them evenly over the baking sheet.
6. Add a few more chocolate chips and 1-2 more marshmallows to each ball of cookie dough if desired.
7. Bake for 10 minutes. Remove when edges are firm to the touch.