Nedza's Waffles went from a food truck specializing in bubble waffles to a full-fledged storefront near the Five Points neighborhood this summer. Though they had plans to open toward the beginning of the year, the pandemic halted the transition so owner Joe Nedza pivoted to a delivery service in March.
The storefront location has been open since Aug. 15, and with a variety of sweet and savory options to choose from, I was excited to see whether Nedza's survived the shift from a food truck to a brick and mortar store. While I expected to leave the restaurant with a satisfied sweet tooth, I found the true highlight in a savory menu item.
The menu
Biscuits, doughnuts and waffles are the staple of Nedza's menu. Its savory items — including biscuits, mains and sides — are only sold until 2 p.m. each day, which is worth noting if you decide to visit for a later-than-usual Sunday brunch. Luckily, Nedza's recently decided to sell its chicken and waffles all day.
The only vegetarian option is its "Healthy(ish)" main which includes yogurt, blueberries and granola, although you could ask for no bacon on the "Fried Green Biscuit" if you eat a meatless diet.
You'll find the original Nedza waffle on the opposite side of the menu which includes a bubble waffle with your choice of salted caramel, chocolate or vanilla ice cream, and a personalized compliment. There's also a list of its five "fried to order" doughnuts. Though, during the middle of a day on Sunday, I was told that the store was sold out of three of the five options.
The everyday options
As one of "Joe Nedza's Favorite Menu" items, the Chicken & Waffles are a must-have.
While classic chicken and waffles get maple syrup as its topping, Nedza's version offers a combination of both cream cheese syrup and sriracha aioli. Another difference lies in the waffle itself: a bubble waffle is lighter than a traditional waffle, which makes for a nice contrast when paired with the two hearty pieces of chicken breast.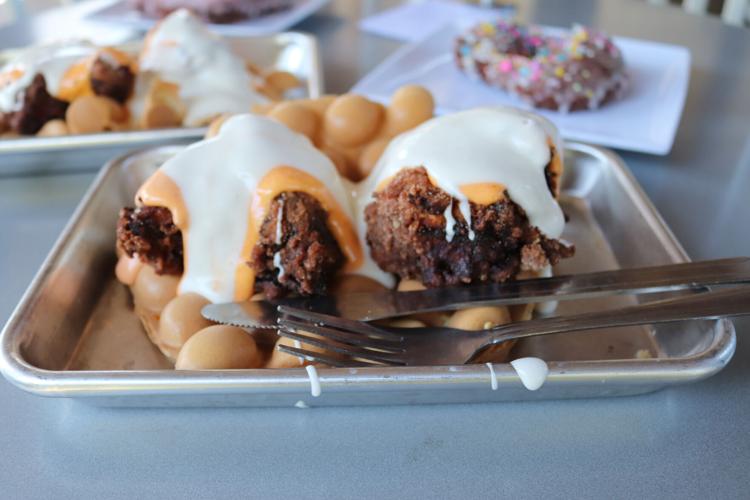 The chicken in this dish is perfectly crunchy, and there's a sufficient amount of chicken, waffle and sauces to go with every bite. Though the cream cheese syrup is less sweet than normal maple syrup, this worked well with the natural sweetness of the fried chicken. Though it was a filling meal, I wanted to order another because of how tasty it was.
For dessert, I indulged in two of Nedza's doughnuts — the vanilla glaze and the strawberry lavender. Though I anticipated ordering a chocolate doughnut and a cinnamon brown sugar doughnut, they were sold out of each by 2 p.m. on Sunday afternoon. This was confusing, as the menu says that all doughnuts are fried to order, but if you'd like to have all of the doughnut selections to choose from, it may be worth arriving earlier in the day.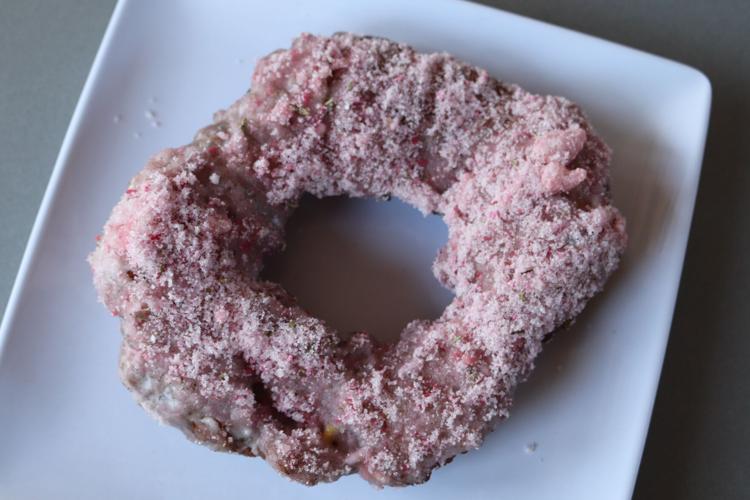 While I would say Nedza's chicken and waffles were some of the best I've ever had, its doughnuts did not live up to that same title.
Both of its doughnuts were chewy and had a dense interior. I credit these characteristics to the fact that they weren't made to order, which was disappointing.
I preferred the strawberry lavender doughnut over the vanilla glaze. The former had a strong strawberry flavor in the icing and lighter aromatic notes of lavender, though the texture of the granulated sugar could be a downside for some. The vanilla flavor in the glazed doughnut was more subtle than I expected, or wanted.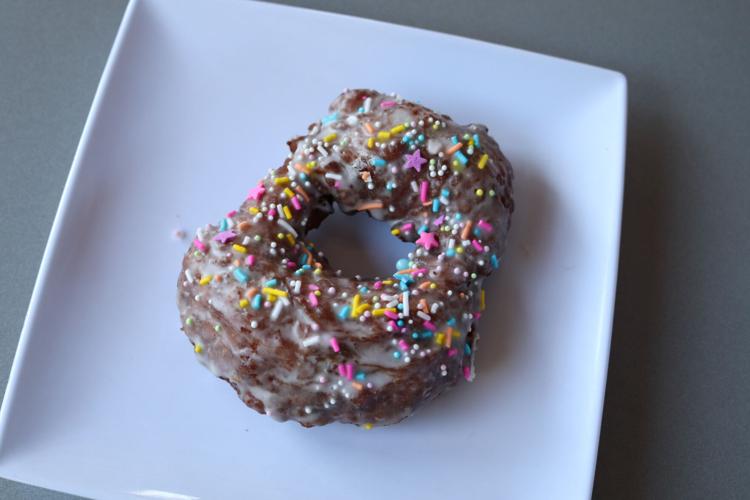 The twice-weekly one-pound cookies
Toward the beginning of September, Nedza's also began offering its "Dough Drops" — a cookie stuffed with various fillings and topped with other sweet things. With creative names such as "WAP," "Nutz for Nedz" and "Smoreo," these one-pound cookies offer a variety of flavors from red velvet to strawberry with fillings such as strawberry Poptarts and Oreos.
After only two weeks, Nedza's changed these cookies' availability from only once a week to both Wednesdays and Fridays. Customers are encouraged to reserve orders with an Instagram direct message, and each cookie costs $6.
Two cookies required one large doughnut box to carry with a personalized compliment written on top of the lid. Though the idea of breaking into these cookies was daunting, I took the plunge.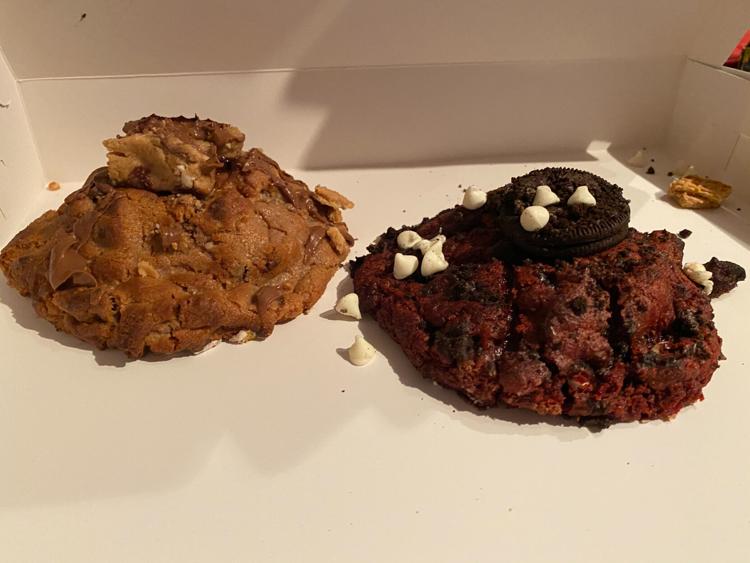 The "Nutz for Nedz" is a peanut butter cookie stuffed with chocolate chips, homemade peanut butter cups and creamy peanut butter. It's topped with a homemade peanut butter cup, nutter butter dust and a chocolate fudge drizzle.
This cookie truly was "nutz." As peanut butter is a strong flavor, I thought this option was at times overwhelming. I found myself wishing that the cookie was chocolate chip rather than peanut butter, as that might have added balance to the true overload of peanut flavor. However, if you truly love peanut butter, this option is for you.
The "Dough Dawgs" was a red velvet cookie stuffed with Nutella, Oreos and white chocolate chips. It's topped with an Oreo and a white chocolate drizzle — at least, it's supposed to be, according to the menu. The cookie I received was topped with white chocolate chips rather than a drizzle.
This cookie would be satisfying for chocolate lovers and people with sweet tooths. Though I'm not usually a fan of white chocolate, it acted as a necessary contrast with the milk chocolate flavors of the Oreo and the Nutella. The Oreo also added a nice crunch to the moist interior of this Dough Drop. Though it took me a few hours to get through this cookie — something I attribute to its rich flavor — I found myself satisfied and pleased with the fact that I was able to eat it all.
Nedza's transition from a food truck to a storefront — and the increase in menu items that came with it — works well. While I am interested to see if future visits end up with another unsatisfying doughnut left unfinished, the fact that there will be a deliberate future visit tells me that the restaurant is doing something right.
With strong menu options available only one full month after opening, it's obvious that Nedza's can only get better from here.
Correction: A previous version of this article contained a photo caption with a spelling error in Joe Nedza's name. The Red & Black regrets this error and it has since been corrected.