Open in Watkinsville, Georgia, since June 2018, The Picnic Basket Meal Market offers pre-made entrees, sides, snacks and desserts that make planning for dinner easy. The choices change every day and are announced on Instagram around 7 p.m. The store is open from noon-6 p.m. Monday-Friday.
Dinner entrée options include homemade favorites such as casseroles, pastas, shrimp and grits, turkey with stuffing, chicken enchiladas and more. Salads, baked beans and seasonal vegetables can be added on as sides.
The Picnic Basket Meal Market also offers rotating snacks — perfect for game day watch parties — such as buffalo chicken dip, pimento cheese, million dollar dip and more. The dessert section is plentiful, featuring cakes, cheesecakes, cookies and more to satisfy any sweet tooth.
The Picnic Basket Meal Market also offers special meals around the holidays.
There are two ways to shop. Customers can either enter the store on Hog Mountain Road and select what they want from the store's stocked fridges, or, they can pre-order online and pick up their order from the drive-through window — a good choice since quantities are limited. All items are portioned to be for two people.
The ease of ordering and picking up my meal was a welcome change from cooking for myself. Since I could cook my items when I wanted, my dinner would not get soggy or cold like a to-go or delivery order could. Overall, I was very satisfied with the Picnic Basket Meal Market's quality of food, food options and pricing. I can see their system working for families and college students alike.
While all of the casseroles and pastas were tempting, I am currently trying to limit my intake of dairy and gluten — but The Picnic Basket Meal Market still had a few options for me. I waited until the menu was posted at 7 p.m. the night before I wanted to order, and I found the online platform was easy to use.
Some things I wanted to try were sold out by the time I ordered at 8:30 p.m. After a tough choice between pork chops and salmon, I decided to get the garlic herb salmon, the roasted potatoes and cinnamon apples.
The drive-through was easy to navigate, and my food was neatly packed into plastic recyclable containers that stayed in the fridge until I was ready to put them in the oven. All three containers were labeled with the name of the item, the ingredients and how to prepare the item in the oven.
The salmon cost $15 and was quite a large portion that could easily be divided between two people. It ended up being well-seasoned and cooked perfectly at the recommended time and temperature. The salmon did feel a bit pricey at first, but for $7 per person, it made a nice meal.
The roasted potatoes cost $4 and again, it was well-portioned for two. However, I did not expect the sweet taste of these potatoes! The label said they were made with "red creamer potatoes," and a quick Google search told me those are normally sweet. While they were okay, I likely would not order these again because I would prefer a more savory side dish.
While I ate the salmon and potatoes, I popped the cinnamon apples into the oven, and the sweet smell of cinnamon and brown sugar soon filled my kitchen. The cinnamon apples cost $4.50. The steaming apples were sugary and soft, like they'd just been pulled out of a warm pie. These apples made for a great dessert, and they would have been even better with a cold scoop of vanilla ice cream on top.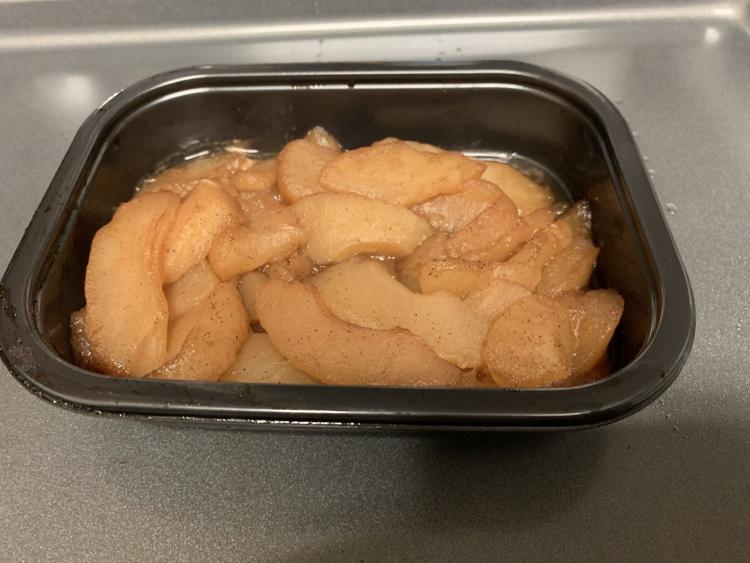 The total of my meal for two, with tax, came out to $25.14, which was $12.57 per person. For a seafood entree, a side and a dessert, I think this is a fair price.
Overall, the cooking process using The Picnic Basket Meal Market's products was simple and nearly foolproof. Just pick it up, follow the written instructions, and there's dinner! If you are looking for an easy meal and have time to stop by the store during the day, I recommend trying The Picnic Basket Meal Market.