When the U.S. ground to a halt in April as a result of the COVID-19 pandemic, Athens restaurants and bars across town scrambled to adjust. Some moved to takeout and delivery models, with others temporarily closing. The state of Georgia moved to let these businesses sell sealed beer and wine, but one type of drink is harder to market — cocktails.
Nevertheless, many establishments developed cocktail mixes to sell. We reviewed four cocktails from Athens businesses, grading them on pickup safety, presentation and of course, taste.
---
Country Club - Seabear Oyster Bar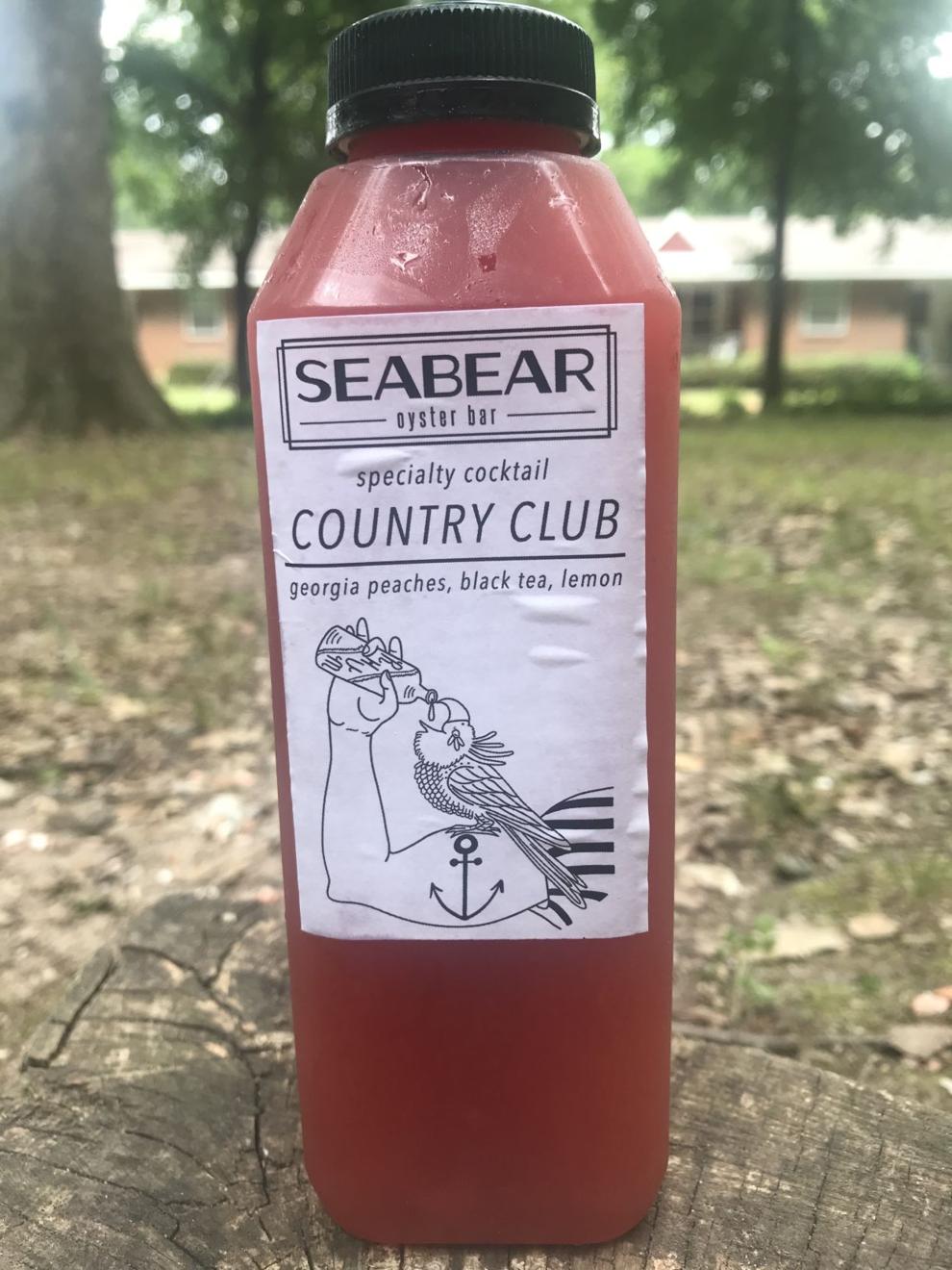 Safety — Seabear has reopened for limited porch service. After ordering online or by phone, transmission risk is low when picking up, since it takes place outdoors. Masked and gloved employees will ring you up in the entryway to the restaurant. However, the hyper-aware customer may take issue with the patrons dining on the porch, which on Friday evening was full and had customers waiting.
Grade: B
Presentation — Seabear's mixes come in 16 oz chilled plastic bottles, with an illustrated label for flair. There aren't instructions on how to perfectly proportion your cocktail, but the menu does recommend which type of liquor to add.
Grade: A-
Taste — The Country Club mix contains Georgia peaches, black tea and "a splash" of lemon. Seabear recommends adding vodka or bourbon. We chose to add a shot of Knob Creek Single Batch bourbon, two shots of Country Club mix and three ice cubes. The resulting flavor is sweet and tart at first, with a more bitter finish as the bourbon and tea comes through. Real peaches are evidenced by the pulp in the mix. The overall taste is not unlike an Old Fashioned. The peachy sweetness and distinct tea flavor is a welcome substitute to a similar combination — simple syrup and bitters.
Grade: A+
Value — At first glance, $8 may seem steep for what is essentially a virgin cocktail. However, depending on how strong you make the drink, this 16 oz bottle provides enough mix for 3-5 drinks. Considering the quality of the mix — a step above store-bought margaritas or bloody mary's — Seabear's cocktails are a fair price, but look elsewhere if you don't want to supply your own alcohol.
Grade: B+
---
Wild Blue Yonder - Heirloom Cafe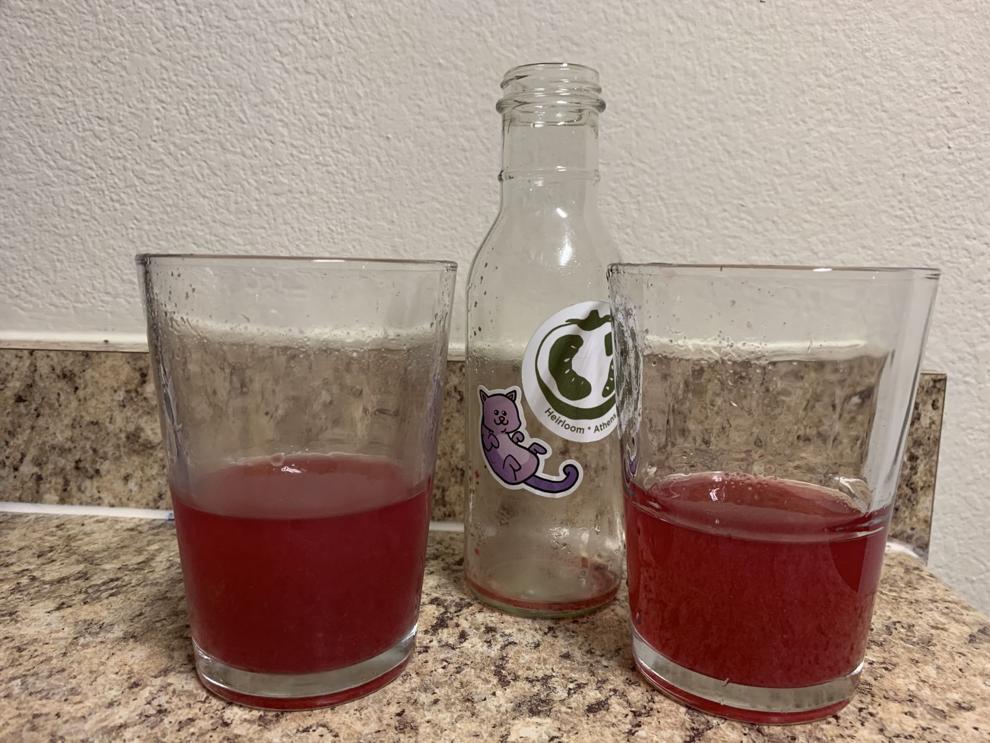 Safety — Heirloom Cafe has reopened for limited porch service, and the patio was fairly full on a Wednesday afternoon. Orders for to-go food and beverages can be placed online and picked up on Wednesday through Friday between 11 a.m. to 2 p.m. or 5-8 p.m. and on the weekend from 10 a.m. to 2 p.m. To-go orders are picked up at a table outside the front door, and the employees are all wearing masks.
Grade: A
Presentation — Described as a cocktail for two, the beverage came in a plastic-sealed glass bottle with two stickers on it. One was a cute cat, and one was the Heirloom logo. It was not cold upon pick-up and needed to be refrigerated.
Grade: A
Taste — Wild Blue Yonder is described as being a mix of 229 Vodka, strained blueberry puree, lime juice and lavender syrup. There was a clear separation of parts in the bottle, with blueberry puree sinking to the bottle. After shaking it up and adding ice in a separate glass, the strongest flavors were vodka and lime. It was not as sweet a cocktail as the ingredients might suggest.
Grade: B
Value — For $17, splitting this cocktail two ways means each drink costs $8.50. The split cost is the typical price of a fancy drink in-person at an Athens' bar. Though the bottle did not seem very full, when split into two drinks with ice the portions were good. Though the flavor was different than expected, it seems like a reasonable cost for a fairly strong home cocktail that required almost no preparation.
Grade: A
---
Red Hook - The Expat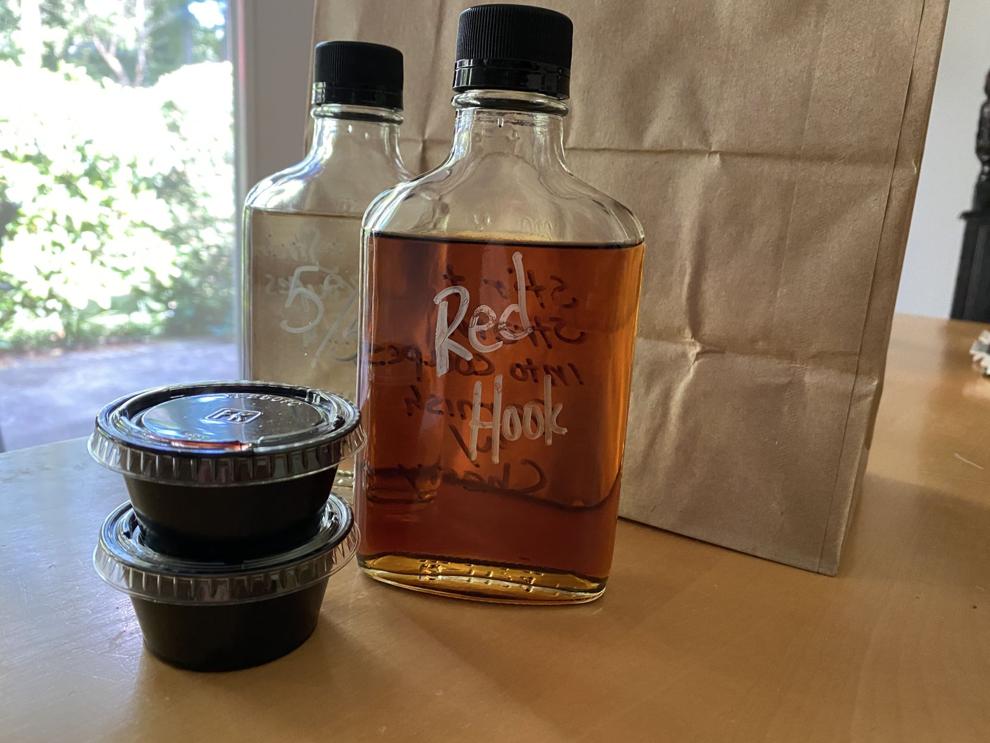 Safety — The Expat, which only recently added patio service, has been scrupulous about safety during every phase of pandemic restrictions. The patio is open Tuesday-Saturday from 5-8 p.m. To-go orders still can be placed online and include meal kits as well as pantry items, wine and pre-mixed cocktails. We ordered the drink online, got a text a few minutes later with an estimated pick-up time and arrived to find staff in masks and gloves and our order ready in a tasteful brown paper bag.
Grade: A
Presentation — Our drink came in a clear glass 200 ml bottle with a screw top lid. The name of the cocktail was handwritten on the front in metallic  script with instructions on the back. The garnish was packed in a little black container with a clear top. Overall: understated and tasteful.
Grade: A
Taste — A Red Hook is made with rye and Punte e Mes, an aperitivo that blends the sweetness of vermouth with the bitterness of Cynar or Amaro. Shaken with ice, strained and garnished with the supplied Luxardo cherry, it was like a rich, earthier Manhattan. 
Grade: A+
Value — The cocktail kit yielded two very generous drinks. Given the quality of the components and the careful blending, they are a good value at $16 each — or $8 per cocktail, less than you would pay at the restaurant. As a COVID-19 solution, this works. We did miss the service at the Expat and because we did not, alas, own the recommended glassware for serving the drinks, the serve-at-home versions lacked the restaurant's exquisite presentation.
Grade: B+
---
Sherry Baby NY Sour - The National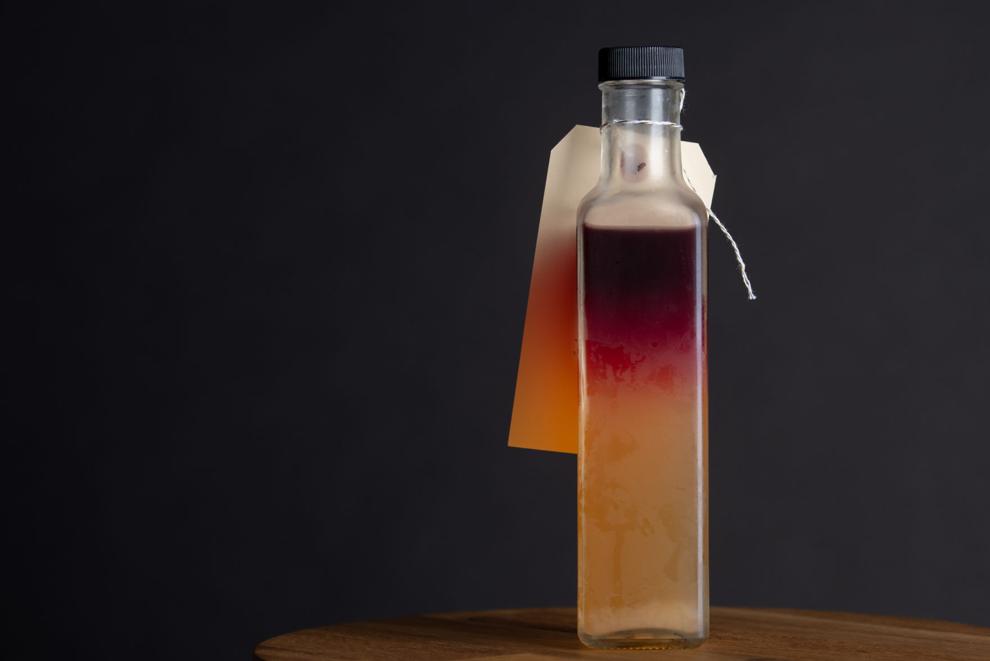 Safety — The National has remained closed to dine-in customers despite the broader reopening trend in Athens. After ordering and paying online you can only come as far as the entrance to the patio, where a table is set up for masked employees to receive you. Thanks to the online ordering system you can have a notification sent to you when your food is ready, which cuts down on wait times outside the restaurant. Food can also be delivered across the street to the outdoor area at Creature Comforts Brewing Co.
Grade: A+
Presentation — The cocktail comes chilled in a skinny glass bottle with a sealed screw-top lid. A hand-written label with instructions and the name of the drink comes attached to the neck of the bottle. The instructions are simple: "Shake, Split, Pour over ice, ENJOY!". The separation of colors in the bottle before shaking is prettier than the finished product.
Grade: B+
Taste — The Sherry Baby is a mix of fino sherry, amontillado sherry, lemon, and red wine. Unfortunately, the red wine somewhat dominates the drink. Of course, being predominantly sherry it falls on the sweeter side, with the sour side leaving something to be desired. Adding fresh lemon juice after pouring can help bring out the acidity of the drink, but this is not suggested on the label.
Grade: B-
Value — For $16, this cocktail is not quite worth the price. When sharing, it comes out to $8 a drink, which is reasonable, but if you're hoping to have multiple drinks, you'll need multiple bottles. It can make two portions, but these are mostly ice, not alcohol. Your money is better spent on the other, more complex drinks on the menu or the whole bottles of wine that are offered. Though be careful, these bottles will quickly run up your bill. The National has always been one of the more expensive restaurants in Athens, so if you're looking for a deal you may want to look elsewhere.
Grade: B