When the CDC recommended that individuals wear face masks to help prevent the spread of the coronavirus, Athens fashion and alterations businesses responded by producing cloth face masks for hospitals.
Savie Arnold, owner of the Eastside bakery Sweetie Pie by Savie, took a more personal approach. "Wearing a mask protects other people around you," said Arnold, who used her sewing skills to create face masks for her family and friends. "I wanted to do something good to show people I love them," Arnold said.
In April, Arnold made a social media post explaining the importance of wearing a mask and offering a loyalty perk to customers who wore masks when picking up to-go orders. A customer, Lili Hill, commented on the post and volunteered to make masks for anyone who could not afford to buy one.
Arnold and Hill teamed up, with Hill doing most of the sewing, and Arnold handling advertising, taking orders and distributing the completed masks. So far, Arnold and Hill have provided masks to 124 people. Individuals can request masks online through the Sweetie Pie by Savie website.
Word about the service has spread, and the mysterious local artist, who decorates abandoned phone booths, anonymously transformed the booths outside the bakery into face mask art.
Arnold first lived in Athens when working on her Ph.D. During that year in Athens, she developed a passion for baking. After earning her degree and teaching for five years in her native Thailand, she returned to Athens. She expanded her expertise by working for a local bakery and experimented with creating Asian-inspired pastries.
Arnold opened Sweetie Pie by Savie in 2015. Her East Whitehall Road shop offers takeout coffees, teas and baked goods, including buttery scones and brightly colored macarons. When asked to name her favorite pastry, Arnold said she loves "everything that has an Asian twist." For example, she offers croissants in flavors such as red bean or green tea.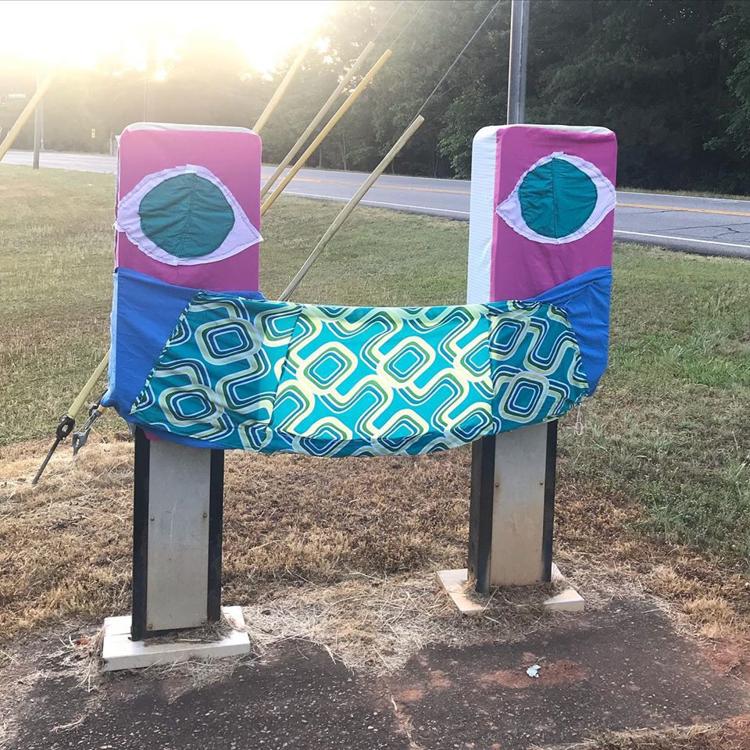 Because Sweetie Pie by Savie does not have a dining room and already relied on customers picking up to-go orders, Arnold did not have to make many changes to comply with social distancing requirements. To lessen contact between customers and her staff, she set up online ordering with curbside pickup and requires cash-free transactions, including online ordering and a gift card program.
A large portion of her business involves baking cakes for special events like weddings, and many have been canceled or postponed because of COVID-19. Arnold hopes to offset this lost revenue with increased online sales.
In the meantime, she is applying the same creativity that is a signature of her cakes to promoting masks.
"We are lucky Athens has such a supporting community," Arnold said. "We have local restaurants, businesses and customers who donate sewing materials for us to continue making masks for the community. It's because of everyone's help that we can continue this project."
Sweetie Pie by Savie is presently open Tuesday-Saturday from 7:30 a.m. to 12:30 p.m. Order online at sweetiepiebysavie.com.