The story of 3 Porch Farm reads like a movie script. A University of Georgia graduate with a degree in horticulture and a passion for growing organic produce meets and falls for a young man from California, who has a passion for renewable energy and sustainable living.
The couple worked together in California for six years while saving money to buy a farm. Almost 10 years ago, the now-married couple — Mandy and Steve O'Shea — bought a nine-acre farm a few miles from Athens with the goal of combining their two passions.
Since then, international trade policies and the emergence of social media have both impacted the farm, Steve O'Shea said. Most recently, the pandemic this year has taken a toll on the O'Shea's operations, forcing them to adapt alongside millions of local farmers and producers.
The global flower trade has taken a massive hit amid cancelled celebrations and an overall decrease in economic activity. Rose farms in Kenya — normally exporting $1 billion worth of roses a year — have had to dump much of their crops, and at flower auction houses in Amsterdam, prices reached record lows in March, also forcing massive dumping.
It's a global, billion-dollar industry that already places local farms in a tough position. In the '90s, U.S. trade deals opened the door to exports from Central American countries, which dominated the U.S. flower market with cheaper prices.
Even as the public started to value local farms in the early 2000s, consumers "were slow to extend that awareness beyond food and into flowers as well," Steve O'Shea said. Renewed appreciation of locally grown flowers was driven by "an explosion of social media and a few market savvy flower farmers."
During the early 2010s, the couple produced vegetables, fruits, mushrooms, honey and flowers, Steve O'Shea said. Then in 2014, inspired by a West Coast flower farmer who gained media attention, the couple shifted their farm's production almost exclusively to flowers, he said.
"Instead of presenting flowers as an afterthought, like every other booth at the market, we decided to make flowers the focal point," Steve O'Shea said.
Using an old iPhone and photographing her flowers, fruit and produce, lit with only natural light, Mandy O'Shea has developed an Instagram account with over 64,000 followers.
"Pictures of flowers just resonate with folks," she said.
"Mandy has cultivated a strong voice, really communicating the vision of the farm," Steve O'Shea said. "She has been very real and genuine and inviting people into our farm and life."
Nancy Walton, a long-time customer, said she is impressed with how the couple interacts with their customers, other businesses and fellow growers at the Athens Farmers Market.
"I try to support farmers with good sustainable practices," Walton said. "I love that the farm is essentially off the grid with the solar installations and the use of biofuel."
Each year, the couple adds more solar power on the farm, Steve O'Shea said. The farm now gets paychecks because it produces more electricity than it uses.
Five farm vehicles run on plant-based fuel, Steve O'Shea said. "We have made a lot of effort to be responsible in our transportation," he said.
Because of the pandemic, the couple has reduced flower production from approximately 95% to 70% and shifted to more vegetables, in an attempt to aid in food security for the community, Mandy O'Shea said. In addition, they now raise medicinal crops, like turmeric and ginger.
"COVID-19 completely flipped our business on its head, with a strong period of panic," Steve O'Shea said. "We stopped doing markets altogether and transitioned very quickly to a shipping model."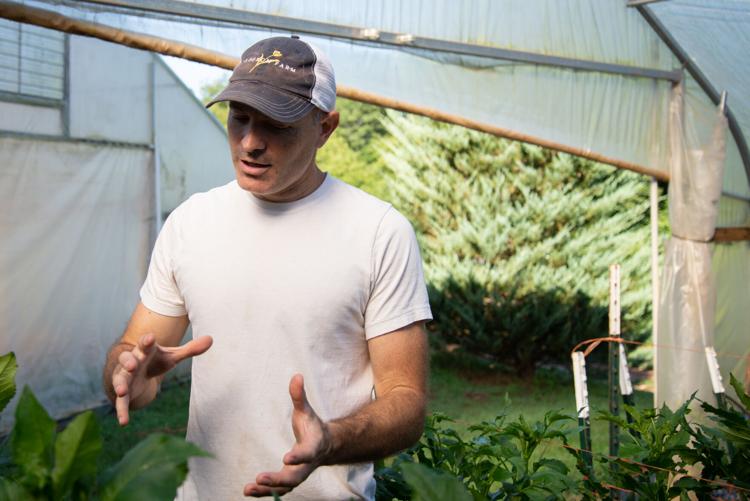 However, not all of the farm's products can be shipped, Steve O'Shea said. They are trying to be flexible going forward, keeping income coming in, while keeping the farm's five employees safe. The farm's fall plant sale has shifted to a virtual model, giving people the chance to make appointments online if they want to shop for herbs and vegetables at the farm until Sept. 5. Online ordering is also available with a pickup option.
Cutting back for the O'Sheas has meant farming 65 hours a week each. Pre-COVID-19, 85 hours a week each was the norm.
"We live and breathe farming," Mandy O'Shea said. "Even though this was such a major passion project of ours, the farm has consumed every single second of our lives," Mandy O'Shea said.
Their major goal now is to reclaim their personal lives, Steve O'Shea said. Sometimes now, the couple takes a weekend off. There is more time to connect with family, he said.
When asked what the couple enjoyed about farming, Steve O'Shea said, "The ability to put our values into practice." This includes caring for the environment and the people who work and shop at the farm, he said.