Late in the second quarter of Georgia's win over Georgia Tech, Elijah Holyfield dove toward the end zone, extending the ball to hit the front left pylon for a touchdown.
The touchdown gave Georgia a 35-7 lead and marked Georgia's fifth-consecutive drive ending in a touchdown to start the game. The Bulldogs powered past Georgia Tech, putting 45 points on the board in the 45-21 win Saturday.
Georgia looked nothing short of dominant on offense throughout the game against the Yellow Jackets. Quarterback Jake Fromm said the Bulldogs' fast start to the game was in part an effect of the triple-option offense they were facing.
"Any time you play this type of offense, what it comes down to is being efficient with what you're given," Fromm said. "Kind of going into it, thinking we're not going to get a ton of opportunities, so let's be efficient when we do, and we definitely were on the first few drives."
The Bulldogs racked up 448 yards of total offense on Saturday and succeeded in both the rushing and receiving game, as they collected 286 rushing yards on 41 carries and 162 receiving yards on 15 attempts.
---
"I mean, every week, we try to push ourselves to become better at something, and we just gotta continue to get better and better, and I believe we have no ceiling honestly."
- Jeremiah Holloman, Georgia wide receiver 
---
Then again, the level of dominance the Bulldogs showed in the win at Sanford Stadium was nothing new for this Georgia team. Georgia has scored more than 30 points in all but two of its games this season. Before Jake Camarda punted in the fourth quarter on Saturday, Georgia put together a streak of 15 consecutive scoring drives, excluding a kneel down at the end of the win over Massachusetts.
After scoring more than 60 points against UMass, Georgia continued to be dominant, this time against a Power 5 opponent in the Bulldogs' final tune-up before the SEC championship game against No. 1 Alabama.
"We've been stepping up," sophomore receiver Jeremiah Holloman said. "I mean, every week, we try to push ourselves to become better at something, and we just gotta continue to get better and better, and I believe we have no ceiling honestly."
Georgia succeeded in every facet of play offensively on Saturday. The rushing attack continued its recent success, as D'Andre Swift and Elijah Holyfield each scored touchdowns and Swift rushed for over 100 yards for the fourth time this season.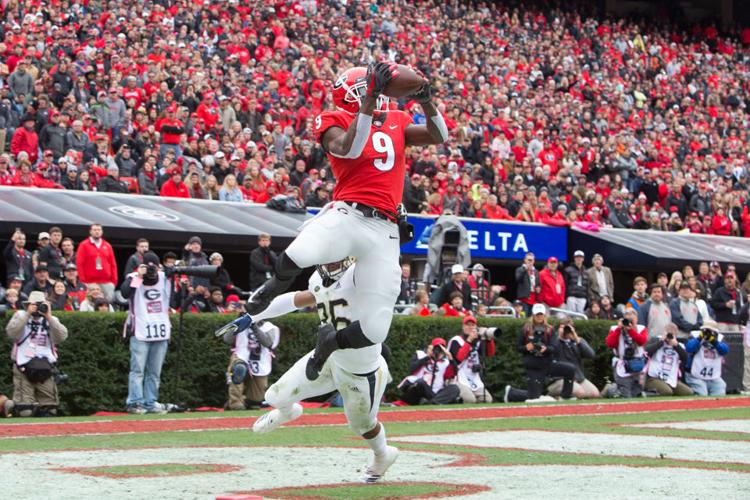 The Bulldogs also found success through the air, as five different players recorded at least one catch in the game. Junior receiver Riley Ridley added two touchdowns, while receivers Holloman and Mecole Hardman each scored a touchdown of their own.
The offensive success was led by Fromm, who had another excellent day against the Yellow Jackets. Fromm finished the day 13-of-16 for 175 yards and a career-high four touchdowns.
"I think we're finally getting molded together and playing for each other," Fromm said. "It's awesome to see, to kind of watch everything get orchestrated."
Amid some defensive injuries, Georgia has reasserted itself as a dominant offense since its loss to LSU, blowing out opponents left and right. After falling flat in Baton Rouge and scoring just 16 points, the Bulldogs have dominated every game since, and Saturday against Georgia Tech, their ascendance continued.
Smart acknowledged the team's overall improvement since the loss to LSU, but added it's difficult to compare improvement from week to week and opponent to opponent.
"Especially offensively, we've gotten better throughout the last three, four, I don't know how many games it's been," Smart said. "But it's just hard to measure improvement in the world of college football we live in, versus that. Cause it's completely different. I mean, it's not one thing that will carry over next week from what we just did."