Clean, Old Fashioned-Hate is a rivalry game filled with Bulldogs and hedges, a Ramblin' Wreck and engineers.
For the 113th time this Saturday, the Georgia Bulldogs will take on the Georgia Tech Yellow Jackets. The two schools separated by just 70 miles have as storied a rivalry as any other in college football, though many do not realize it.
Georgia Tech has had its fair share of legendary coaches in John Heisman and Bobby Dodd. The Yellow Jackets have won four national titles, the last coming in 1990 and have appeared in 44 bowl games.
The Bulldogs have two national titles to their name, the last coming in 1980. However, the Bulldogs have had more success on the national stage recently and have gone to 54 total bowl games, the second most in college football history. Georgia has had former great coaches such as Vince Dooley and Wally Butts, too.
While Georgia holds a comfortable 66-41-5 lead over Georgia Tech, the games between the two teams are frequently tight contests.
"I know our guys are excited about the opportunity to play Georgia Tech," Georgia head coach Kirby Smart said. "We always look forward to this game. It's a big rivalry in state, and I know both sets of fans are looking forward to it."
No matter if you're a player, coach or fan, this game means a lot to both sides.
"It's a rivalry game," Georgia running back Elijah Holyfield said. "Everybody's pretty juiced up for this one. We're excited to go out there and play for the fans."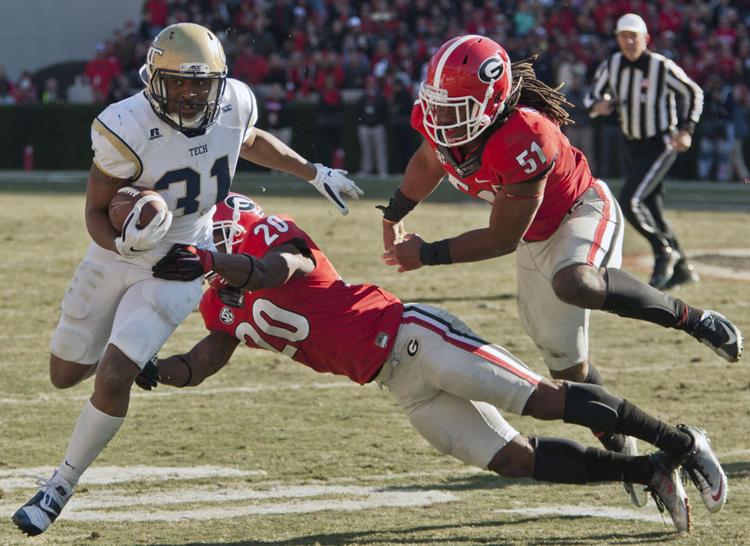 While Georgia has been dominant of late in this rivalry by winning 14 of the last 17 games between the two teams, it wasn't always that way.
With Dodd at the helm, the Yellow Jackets won eight games in a row over Georgia from 1949-1956, the longest stretch by either team in the rivalry.
Not only did Dodd have Georgia's number on the field those years, but he would also try to get underneath the skin of Bulldogs off the field, too.
Bill Curry, a former Georgia Tech player under Dodd from 1962-1964 and the Yellow Jackets head coach from 1980-1986, had a front seat to it all.
"He had some little, psychological thing he would do to the Bulldogs," Curry said. "He didn't have any trouble pronouncing Georgia Tech but he said Georg-e Bulldogs. We're playing the Georg-e Bulldogs. He made a point of mispronouncing Georgia. It infuriated the Dawgs. It tickled us."
Since the days of Dodd though, the rivalry has shifted to the Georgia side. Curry, who had the misfortune of going up against Dooley and Walker in the 80s, understands the rivalry has shifted Georgia's way, but feels his alma mater can do more than just compete against the Bulldogs.
"Well there's no such thing as a rivalry unless both teams have a chance to win and both teams have to win periodically," Curry said. "We have won very little in I'd say the last two to three decades. There have been too many long stretches where Georgia Tech could not or did not compete with Georgia and a number of the other powerful football programs and there's no reason that we shouldn't."
Joe Hamilton, a former Georgia Tech quarterback who finished second in the Heisman Trophy voting in 1999, shares that sentiment with Curry.  
"I'm not trying to boast that we're some kind of perennial powerhouse, but we do have some expectations that are pretty high up there," Hamilton said.
Competing with Georgia is crucial in the minds of Georgia Tech players and coaches. Most on the Georgia Tech side when asked who their biggest rival would cite the Bulldogs.
However, there is no clear cut rival for the Bulldogs. Year in and year out, Georgia has to play rivals such as SEC opponents in Auburn and Florida, including Georgia Tech at the end of the year. 
The lack of a clear cut rival irritates Yellow Jacket fans and players alike according to former Georgia Tech running back and ESPN college football analyst Roddy Jones.
"Georgia is definitely our biggest rival," Jones said. "The thing that kind of frustrates you about the rivalry is I don't know if it's the same on the other side. I think you look at Florida or Tennessee as bigger rivals [for Georgia], potentially even Auburn. We're not their clear number one and it pisses us off even more. I don't know if you can print that. But it makes us mad."
Jones said one thing in particular will get the Bulldogs to recognize the Yellow Jackets though.
"We are not Georgia's number one rival until we beat them and then that's all they think about," Jones said. "And the only way to get their attention is to beat them."
Georgia Tech has gotten the attention of Georgia the last two trips at Sanford Stadium. The Yellow Jackets have won the last two times in Athens and have even taken to tearing up the hedges in Sanford Stadium after the game. In retaliation, the Bulldogs have torn up sod at Bobby Dodd Stadium after wins over Georgia Tech.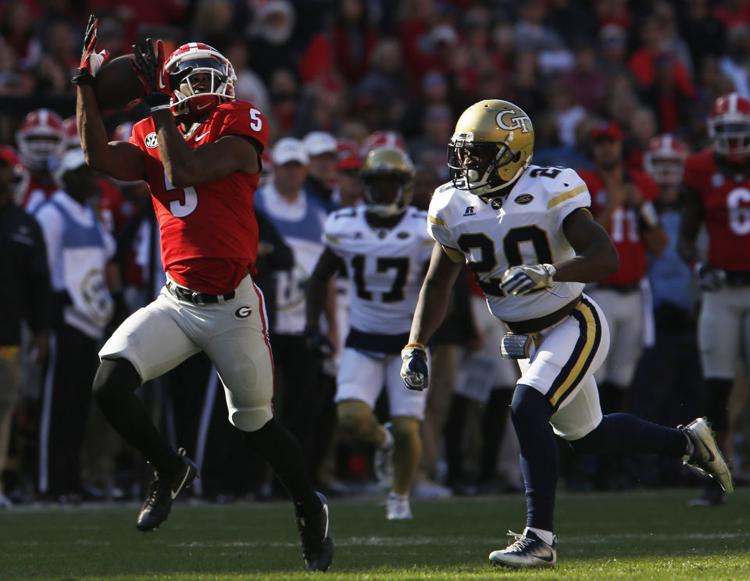 This illustrates just how intense this rivalry is between the two teams. But Georgia Tech head coach Paul Johnson called this back and forth between the two teams 'ridiculous'.
"Certainly, I will talk to our team," Johnson said. "That's not something that has any part in the game. It doesn't do any good to tear somebody's hedges down if you win a game. Go celebrate with your fans and celebrate in the locker room. The same thing when they come here and they go into the middle of the field and rip up the turf and the sod and plant a flag in the middle of the field. Kids will be kids, but it's kind of been tit for tat."
Georgia defensive end Jonathan Ledbetter is a senior who will be playing his final home game in Sanford Stadium. He and the rest of this senior class for Georgia has yet to beat the Yellow Jackets at home.
That sticks with Ledbetter.
"I want this, and I know everybody on the team wants this. 2012 is the last time we won at home and we have taken a lot of disrespect from Georgia Tech," Ledbetter said. "I know some people would much rather see us beat Georgia Tech than win a national championship, and we are not going to disappoint."
After losses, players on both sides of the rivalry are often harassed by not only the opposing team, but their own fans as well.
Garrison Hearst, who ranks fifth on the all-time rushing list at Georgia, experienced this as a player. In Hearst's three season in Athens before being taken third overall in the NFL Draft, the Bulldogs won twice in three tries. The year the Bulldogs lost though was in 1990, the same year Georgia Tech won a national title.
"That's the year they won the national championship," Hearst said. "They came here and kicked our butt and bragged about it. All the games we played, that being the in-state, there was always more on that because you got to hear the whole year 'You guys didn't even beat Georgia Tech.'"
Hearst and the Bulldogs got their revenge on Georgia Tech in 1991 and 1992 as the Georgia fans were temporarily appeased.
But beating the in-state rival also defined Georgia Tech players too in the eyes of the fans, according to former Georgia Tech defensive back Dominique Reese who played from 2007-2010.  
"A lot of the times you hear fans say and at our fan days and after a game after a tough loss say 'Don't worry about anything, just beat Georgia and it's OK.' They'll forget the other 10 games or 11 games of the season but just beat Georgia," Reese said.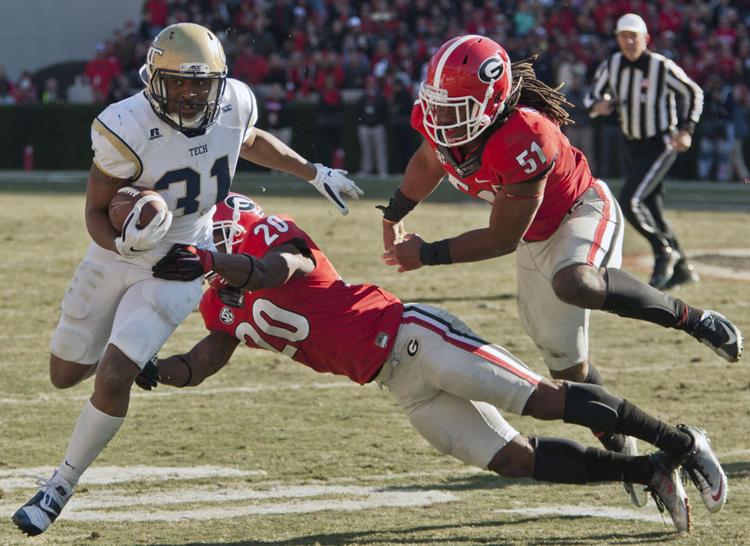 The rivalry between the two teams has changed significantly throughout the years. Georgia Tech was a member of the Southeastern Conference for 32 years from 1932-1964. The game has even been played on Thanksgiving at times.
But one thing that hasn't changed in the rivalry all this time despite the record leaning heavily towards Georgia is the intensity in those games and in between players and fans alike.
On the field especially between the players, it's easy to see the energy. Former Georgia Tech defensive back Mario Butler felt that way when he took the field against Georgia from 2007-2010.
"When I lined up, I don't like you, you don't like me. Let's play ball," Butler said. "As a defensive back, that's just the mentality you have to have."
Back when Dooley coached the Bulldogs, Georgia would typically play Florida, Auburn and Georgia Tech all in a row near the final three games of the season.
Dooley said he believed that there was no school in the country who ended its season with three of the biggest rivals scheduled all in row.
But to him, one rival stood out above all the rest.
"Florida was big and then Auburn was even bigger because of the SEC Championship riding on it," Dooley said. "But then Tech was the biggest of all, because it's the state rival, it's the last game, it's the one you live with."