Ahead of this weekend's SEC championship game between Georgia and Alabama in Atlanta, assistant sports editor Janey Murray spoke with ESPN and SEC Network reporter Laura Rutledge to preview the game.
Janey Murray: Going into the season, what did you expect from these two teams? I know a lot of people predicted this matchup, but is this the one you expected?
Laura Rutledge: Yeah, definitely. There were some moments where I thought, 'OK, maybe we won't see Georgia be the east representative, after the loss to LSU,' but such a credit to Georgia for taking that loss, and almost using it as a big turnaround point in their season. You look at Jake Fromm, and ever since the LSU loss, he's been significantly better, and I think we're seeing the real Jake Fromm, and his real ownership of this Georgia team. That's been fun to watch, and it's crazy, because as much as you can make predictions preseason, this is one of the only times that the media actually got the prediction right. In recent years, a lot of times, that hasn't happened. But for this to be something that ends up turning out this way, it really is fun to see.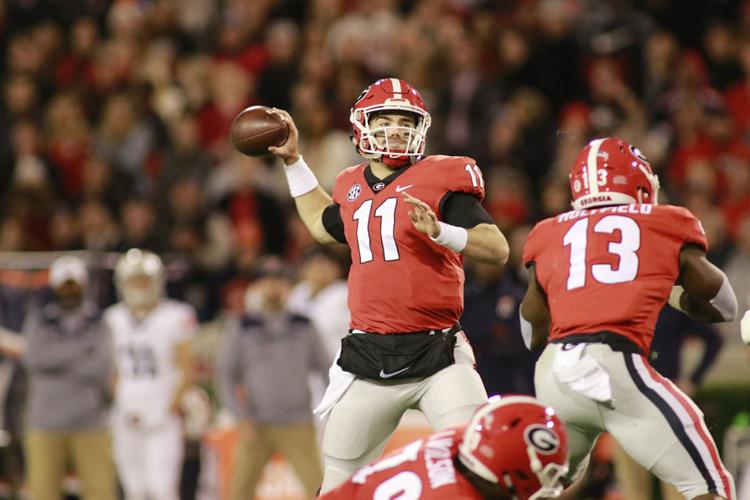 Janey Murray: Obviously, Alabama is favored in this game, because they've dominated all season, but are there any specific weaknesses you see in them that Georgia might be able to exploit?
Laura Rutledge: I think one of the big ways that Georgia has an advantage is actually in special teams. I think Rodrigo Blankenship as your kicker is a major game changer. We all know that kicking can kind of be an adventure in all of football, not just in college football. It's the same case in the NFL too. So, knowing that you've got somebody that's so solid in that area, when I do think this game's going to be really close. I think it could come down to a field goal, and a field goal made is much better than a field goal missed, so I do think that that's an advantage. And then, some other things potentially could be just the one-on-one matchups. A lot of this is going to come down to, when they're playing man, can they win over the other guy? I think 50-50 ball is going to be huge. Know that Tua Tagovailoa is going to throw it as much as he possibly can. They will run the ball as well, but maybe they force him into making some mistakes, and Georgia has the athletes to get to him and to get past their offensive line at times, so they just have to take advantage of those opportunities when they do come their way. But I think the biggest advantage is actually in special teams for Georgia.
Janey Murray: You talk about how good Georgia has been in special teams, and if you were to pick out any slight weakness in Alabama, it would probably be special teams. Just how big of a weakness do you think that is for them?
Laura Rutledge: Weakness is so relative when you're talking about Alabama, because their weakest points are probably still stronger than most teams' strongest points. But that being said, I do think that's an advantage for Georgia, and it is a weakness for Alabama. If you're trying to find one, that's really where it could be. So I think they can exploit some things there and do the best they can to try to make that an advantage that really does factor into the game. For Georgia, to me, this is all about, any time that there is an opportunity to force anybody into a mistake, they're going to have to take advantage of that. Let's say they do get a turnover, you've got to score a touchdown off the turnover. You can't just kick a field goal. Any time that they get into the end zone, or get into the red zone, it's got to be a touchdown instead of a field goal. I think that's going to be, just putting as many points on the board as possible, is going to be the best possible way to win this game.
Janey Murray: On the flip side, where do you think Georgia might be most vulnerable to Alabama's dominance?
Laura Rutledge: I think the offensive line is probably that area. Look, I mean, Georgia's o-line has been patched together in a way where I think a lot of other teams wouldn't have been able to do that, dealing with so many injuries there. They've really handled it quite well. I think they are getting healthier at that position, but it certainly doesn't help to have to go through the gauntlet of the SEC and get to this point, and then, 'Oh, here's your reward for making it to the SEC Championship, you get to play Alabama and their d-line.' And Alabama's d-line has been really good the entire season. They've been excellent of late. They've gotten better as the back end of their defense has gotten better too, so I think that's probably the biggest weakness, maybe, for Georgia in this game. The line of scrimmage always factors in in SEC play, but specifically against a team like Alabama and a team like Georgia. And look, here's the thing: they've got to buy Jake Fromm just a little bit of time, and if they can, I do think he can really put on a display and show what he's done over these last few weeks.
Janey Murray: You mentioned Tua Tagovailoa. What is it that makes him so special, and can you draw any comparisons between him and anyone else?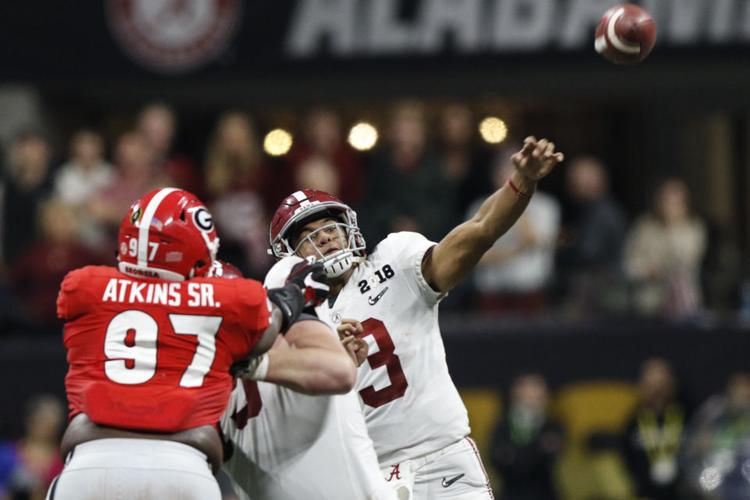 Laura Rutledge: Tua Tagovailoa is a generational-type talent. I think we're going to be watching him for many years to come, not only in college football, but certainly at the NFL level too. I really think the thing about him is, not only is he accurate with his throws, but he's also able to predict where his receiver might be and still pinpoint them exactly where you want him to. With some of those over the shoulder throws, and some of the things like that, you want them to be right at your chin level. He's always hitting his receivers exactly where they want him to be, right where it's a catchable ball, no matter what type of battle they're in one on one with a DB. That, to me, has been one of the most impressive things. The other thing about Tua that people who maybe haven't interacted with him may not know: he's just this calm guy at all times, and he truly is so even-keeled. It's not just like an act that he's putting on, where he's acting like he has this smooth heartbeat at all times. He truly is like that, and I think a lot of it's about his upbringing, and where he was raised, and just some of that Hawaiian culture that he's brought to Tuscaloosa. It is remarkable the way that he carries himself. I don't know if there's necessarily a comparison. I think he is who he is, and we will be comparing a lot of other great quarterbacks to Tua Tagovailoa for years to come.
Janey Murray: Kirby Smart has been talking about how Alabama's wide receiving corps may be the best Georgia has faced. Can you put in perspective how good their receivers are?
Laura Rutledge: I do think that Alabama's wide receiving corps may be the best in the country. They get some credit. I think they could probably get more credit for the way that they've played this year. Look, here's the thing: as accurate as Tua's been, there have been some throws that haven't been as accurate that they have bailed him out on in catching these balls. They're just incredible. You go up and down the whole list of them, and it's just like, there's not a weakness there. The other thing that's an advantage for Alabama is, their running backs can catch the ball out of the backfield, too. So when you're trying to consider all these wide receivers that you've got to deal with, then you say, 'Well, wait a second, they threw the ball to one of those running backs.' And then there's their tight end Irv Smith, who I think is underrated in the whole receiver corps—Ruggs and some of these guys get a little more credit, but I think what Irv Smith has done has been even more impressive, just being that threat at tight end. He's such a matchup problem. So, yes, this will be Georgia's most difficult group of wide receivers that they've faced, but Georgia has a ton of talent. A lot of their guys on defense are a lot younger than you'd like them to be, but they are incredibly athletic. When I recently did the Georgia-UMass game, one of the words that was continually used by Kirby Smart, as well as Mel Tucker, was 'freak.' About all their defensive guys—freakish. And I do think that's very accurate when you think about the way these guys play, the size that they have. Their athleticism combined with that size, it really is impressive.
Janey Murray: I know it's hard to compare from game-to-game, but looking at how Georgia played against LSU, compared to how Alabama played against LSU, how much can you take away from that as indicative of how this game is going to go?
Laura Rutledge: It's worth considering, but I would also throw that whole thing out of the mix. I just think Georgia is a much better team than they were when they played LSU. That was almost like the perfect storm. That day just wasn't good for Jake Fromm. I think there was a lot going on behind the scenes with pressure on him because of Justin Fields kind of nipping at his heels. There were a lot of conversations following that game that were about, 'Hey, everyone's going to have pressure on them in their job.' Kirby Smart even told Jake Fromm, 'Look, I have pressure on me at my job at all times.' Not necessarily the most fair of comparisons, because it's not like Kirby Smart has another head coach right behind him, as Jake Fromm has another quarterback right behind him, who is very talented in Justin Fields. But I think Jake Fromm would admit that he was feeling a lot of pressure from what Fields was doing, and maybe that he would lose his job, and he let that get to him a little bit. So that was a big factor in that game. And then, there were other things too. So, I wouldn't even look at that as much as really being an indicator of what Georgia is now. I think they are a totally different team than they were when they faced off against LSU and lost.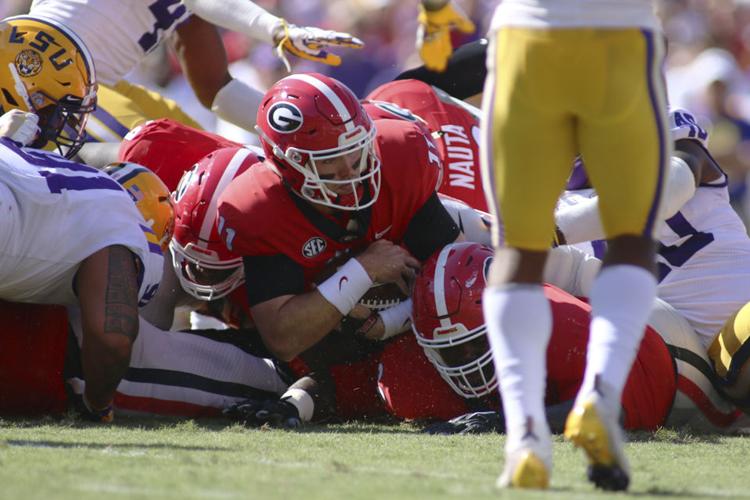 Janey Murray: Do you have a prediction for the outcome and the score?
Laura Rutledge: I think that it's going to be really, really close. I think Alabama's going to win by a field goal. Maybe like 31-28, something like that. I think that actually positions Georgia, based on, maybe some other things that happen around the country, to really be strongly in the conversation for that fourth spot. I think even right now, the way the rankings are right now, I actually think are right, and it's unfortunate that Georgia has to play Alabama to get a chance in the College Football Playoff. But based on some other things that could happen, I don't know that Georgia needs to win this game to get in. I think they still may be looked at, depending on how they play against Alabama, even if they lose, they may be looked at as that fourth best team and deserving to be in the playoff. So, it really is going to be fascinating to see, kind of, what happens on Saturday, and how that all affects what the committee ends up doing.
Janey Murray: If Georgia did lose and got in at No. 4, they'd probably play Alabama again. Do you think the committee would ever try to avoid that?
Laura Rutledge: It's worth bringing up, and I think it's one of the more interesting points in all that. One of the things the committee is supposed to do is to pick the four best teams. Actually, that is the thing they're supposed to do. They're not supposed to think about, 'Oh man, it's going to be a rematch,' or regional bias, or conference bias. They're not. But the one thing that we should all remember is that they are human beings, so it's not like a machine is making this decision. They will be aware of that, but I don't know. To me, it's a weird thing. The other thing you could say, too, is, maybe something happens with moving Alabama down to the two spot based on how they look. Who knows? I mean, there could be so many things. I doubt that happens, but there are scenarios where it would be a rematch. I would think, at the end of the day, it probably would, and that does make you question whether that's the right thing to do. But I think also, if Georgia is one of the four best teams, then they need to be in there, and however the committee decides to deal with that, that will end up being the ultimate question.