NEW ORLEANS — There were two words that the Baylor defense could not keep from being announced all night: George Pickens.
Pickens started the new decade off in style by creating new career highs and being named the Most Outstanding Player in Georgia's victory over Baylor 26-14. Georgia left the Sugar Bowl last year unsatisfied with the result and proved to be more focused this go-around against the Bears. Pickens was a sure start.
Pickens emerged this season as Georgia's leading receiver after the loss of Lawrence Cager with an ankle injury. Coming into the Sugar Bowl, Pickens had racked up an impressive 37 receptions for 552 yards in his first year. Pickens added many more highlights and broken records in only one night at Mercedes-Benz Superdome.
Pickens' evening was full of shattering previous records. Against South Carolina earlier in the year, Pickens reached a career high of seven catches for 98 receiving yards. Against Baylor, the freshman caught the ball 12 times for 175 yards. Before Wednesday, Pickens' longest reception was a 43-yard pass against Murray State. He broke that personal record with a 46-yard flea flicker catch against the Bears.
"George is a great teammate, a great football player," quarterback Jake Fromm said. "What I love about George is he loves football. He loves going out, competing. Seeing him do something like he did today, no surprise to us. And he's just going out and playing the game he loves."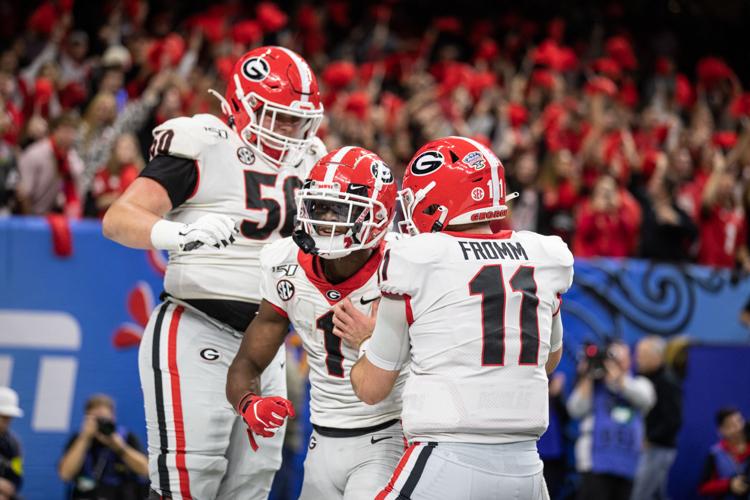 With a less prominent run game due to D'Andre Swift taking less carries and an injured James Cook, Georgia's passing game was relied on more than offensive coordinator James Coley would normally call for. 
Throughout the year, Georgia's offense had been predictable. Coley decided to spice up the play calling in New Orleans, and Pickens reaped the benefits. Pickens had the crowd on its feet for the first time at the end of the first quarter after a deep flea-flicker pass completion using Swift and Jake Fromm.
The play set Georgia up deep in Baylor territory, but it failed to turn its position into seven points. The Bulldogs settled for three, but Pickens took care of the first touchdown soon after.
The game's first touchdown came at the start of the second quarter, and Pickens was there on the edge to reel in the 27-yard pass from Fromm.
Quietly going about his business, Pickens was there and open for Fromm when it mattered. The Georgia faithful, however, was far from quiet when Pickens secured the ball in his hands. Twelve of Fromm's 20 completed passes were given to Pickens.
Tyler Simmons and Matt Landers had the second and third-most receptions but could not keep up with Pickens' hands. He had eight more pickups than Georgia's second leading receiver, Simmons, cementing himself as Fromm's clear target throughout the game and powering Georgia's offense.
"It was a great season to me," Pickens said. "You win some, you lose some. But I feel like every day, every practice, every walk‑through, we just fought. I like winning that way instead of winning the easy way out. I like fighting for the win."