Following Georgia's 26-14 win over Baylor in the Sugar Bowl, The Red & Black graded each position group's performance.
Quarterback
Jake Fromm finished his junior year on a high note with one of his best performances of the season. In what is perhaps his final game as a Bulldog, Fromm threw for 250 yards on 20 completions and two touchdowns, leading the Bulldogs to a 26-14 victory. —Nathan Moore
Grade: A-
Running backs
For the first time in their collegiate careers, Zamir White and Kenny McIntosh were the Bulldogs' go-to running backs. D'Andre Swift was limited to one carry and Brian Herrien didn't play for an undisclosed reason. In their absences, White ran for one touchdown and 92 rushing yards and McIntosh added 26 rushing yards. The rushing attack against Baylor wasn't what Georgia fans have come to expect, but White and McIntosh look more than suitable for more important roles next season. — Henry Queen
Grade: C+
Receivers
George Pickens used the Sugar Bowl as an opportunity to prove he's the star Georgia has been seeking at wideout all season. By halftime, the freshman had accumulated 165 yards — more than the entire Baylor offense to that point (97).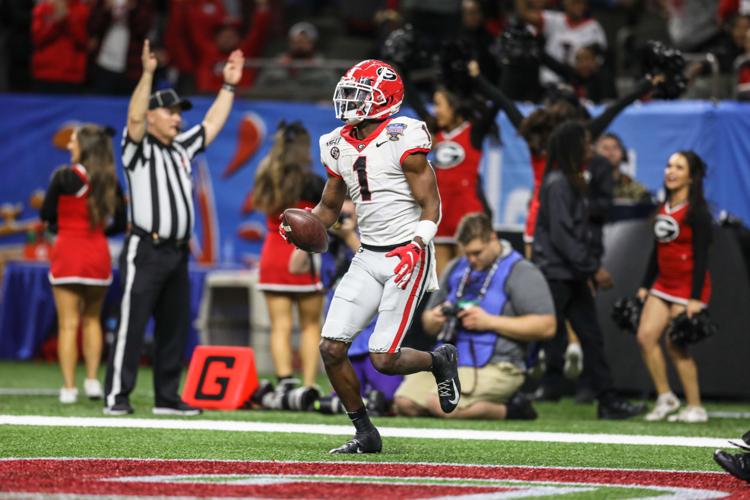 While Pickens' production made up a majority of the Bulldogs' pass game (12 of Georgia's 20 total receptions), the two other receivers that caught passes had good nights too. Matt Landers came down with the first touchdown reception of his career, and Tyler Simmons had four catches in his final game at Georgia. The three accounted for 247 of Georgia's 383 total yards. The main blemish for the receiving corps came in the fourth quarter when Demetris Robertson dropped a well-thrown pass in the end zone. — Augusta Stone
Grade: A-
Offensive line
Matt Luke didn't have much to work with in his first game as Georgia's offensive line coach. Andrew Thomas (NFL), Isaiah Wilson (NFL) and Ben Cleveland (academic issues) didn't play, so Luke had to get creative. Cade Mays, Warren Ericson and Jamaree Salyer started at left guard, right guard and right tackle, respectively. Ericson, a redshirt freshman, had made zero starts and played in only five games this season entering Wednesday. The new group did a solid job of protecting Fromm until late in the third quarter when they allowed back-to-back sacks to set up a third-and-17. —Henry Queen
Grade: B
Front seven
Georgia's front seven continued its reign of terror against opposing offenses. Baylor was held to 295 yards and didn't score until the third quarter. The Bears weren't able to get much rhythm established offensively, particularly in their run game, where the Bears mustered just 61 yards on 28 attempts. Georgia's front seven also created havoc, coming down with seven tackles for loss, three sacks and a pivotal forced fumble on fourth down from Azeez Ojulari in the third quarter. A Travon Walker sack on fourth down gave Georgia comfort in its lead with five minutes to go in the game. The Bulldogs allowed their second rushing touchdown of the season in an otherwise positive performance. — Augusta Stone
Grade: A-
Secondary
Despite the absence of senior safety J.R. Reed, the Georgia defensive backs did just enough to stop the Bears' passing game. Senior safety Richard LeCounte grabbed a pair of interceptions, the second of which iced the game for the Bulldogs. The secondary allowed 234 yards through the air and one touchdown. Given the absences throughout the defense, the secondary put on a solid performance. —Nathan Moore
Grade: B+
Special teams
After a stint of unsuccessful tries, a fake field goal finally paid off for Kirby Smart. Punter Jake Camarda rushed for six yards and a first down to the Baylor 13-yard line midway through the third quarter. The first down was followed by a rushing touchdown from Zamir White to push the lead back to 19. Other than the one trick play, Georgia's special teams play was mistake-free. Rodrigo Blankenship hit two field goals from as many tries in his final game in a Georgia uniform. He finished his collegiate career with zero misses on extra point attempts. — Andy Walsh
Grade: A