Georgia passed the red zone test against Massachusetts, although it came against a much smaller, less talented team along the line of scrimmage.
So for that, the Bulldogs get a "B-." But against rival Georgia Tech on Saturday, it's hard not to give Georgia an "A," as the Bulldogs went 6-for-7 in the red zone, scoring all of their touchdowns in that area.
Quarterback Jake Fromm, like most players, credits preparation. The Bulldogs focused on third down conversions in the bye week and following weeks, and it paid off. 
"I think anytime you put effort into getting better at something, especially us, we end up getting better at it," Fromm said. "[We just] try to be as perfect as we can in there."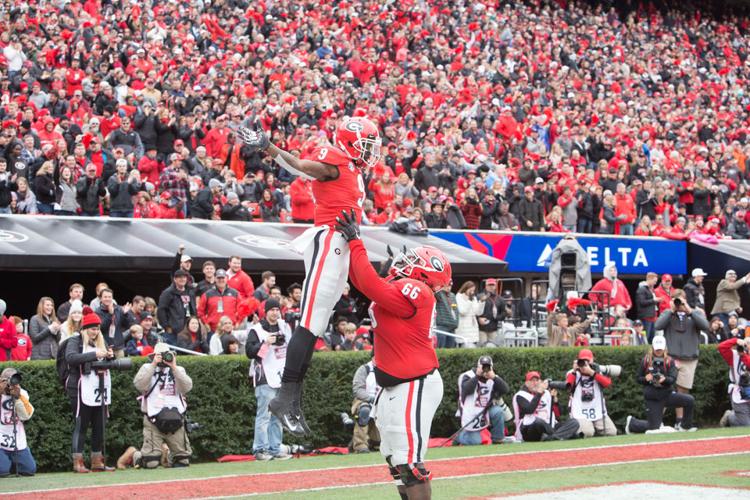 Head coach Kirby Smart pointed out that with the long practices for the defense, the offense had more time to focus on areas that needed improvement. Offensive coordinator Jim Chaney thought his team needed work in the red zone, so he utilized the time accordingly.
While Georgia can't take away much from facing Georgia Tech's offense, the Bulldogs learned about the full capabilities of the offense. Junior receiver Riley Ridley, who caught two touchdowns inside the red zone, put it best when describing what he would take away from the performance.
"We can be explosive. We have to continue to beat the better teams and the more developed teams, and that's what we look forward to," Ridley said.
All the extra work in practice made it that much better for players like sophomore running D'Andre Swift, who finished with 105 yards and a touchdown.
[It felt] real good," Swift said. "That's something we work on in practice all the time [and] I think we're starting to peak at the right time."
Peaking at the right time is appropriate, because Georgia's next opponent is a team that capitalizes on mistakes.
Although there has been less mistakes in the red zone in recent weeks, Georgia will have to continue that trend to have success against the Crimson Tide.
"We had to get better before the SEC championship game; that's what we did," senior center Lamont Gaillard said. "We strive to be better, we strive to be great, and we came out [6-for-7] and that shows."