Georgia's defense wreaked havoc in its 26-14 victory over Baylor. The unit forced two interceptions and one fumble recovery against the Bears. There was only one face behind both interceptions and his name is Richard LeCounte. To Georgia's defense, however, the name behind the play didn't matter.
"I hope that when we say we're a 'no-name defense' people see how talented our players are," defensive coordinator Dan Lanning said. "They don't care who gets the credit. So, there's a lot of names on our defense. We're not a no-name defense. We're a defense that has a lot of names and you need to keep your eyes open for them."
All eyes were fixed on LeCounte as he ran across the field on every play to make sure the ball, runner or receiver was down. With two total tackles, LeCounte's first flashy moment came in the first quarter with just under seven minutes remaining.
Baylor quarterback Charlie Brewer's pass was tipped and fell into LeCounte's hands. This interception stopped a Baylor drive heading towards the end zone and prevented what could have been the first score of the game.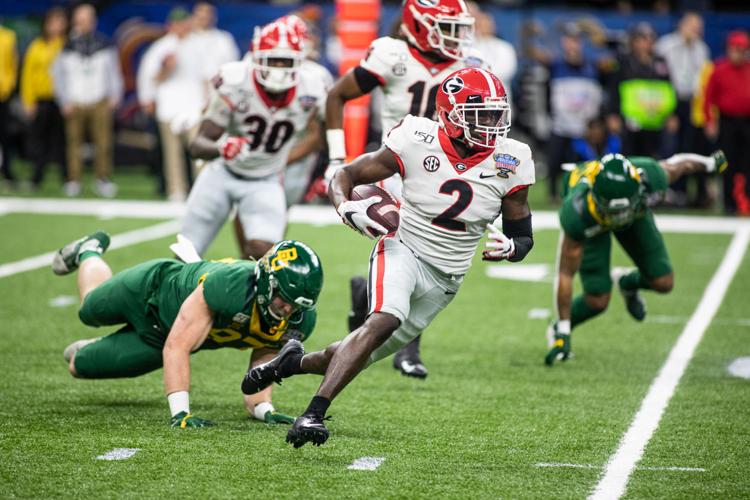 With leader and senior J.R. Reed out of the starting lineup for the Sugar Bowl due to a foot injury, true freshman and Texas native Lewis Cine was called on to step up in his absence. He answered the tall order. Cine was second on the defense with six solo tackles in just his second ever start. His first came against LSU in the SEC championship game when he also had six tackles.
"This game definitely slowed down [for me]," Cine said. "[LeCounte] told me, this is not new to me, I've played this whole year. I haven't started this whole year but I have gotten in and played. Me starting this game isn't new, I've played before, it's just make sure we communicate and we are on the same page."
Junior DJ Daniel surpassed his prior career highs in tonight's game topping the defense for total tackles with eight and one pass breakup.
Georgia's defense kept Baylor to 295 yards of total offense but only 61 total rushing yards. Leading running back Trestan Ebner struggled on the ground for Baylor picking up only 23 yards on five attempts. The defense also held Baylor to a season low 14 points and blanked the Bears in the first half. The Bulldog defense sealed the deal with LeCounte's second interception of the night.
The pick came on a misread pass from third string quarterback Jacob Zeno that fell into LeCounte's hands. With only 1:39 left on the clock, the game was over with the interception. LeCounte ran to the Georgia sideline and jumped over the bench to celebrate with fans. His teammates chased after him to hand over the envied golden spikes.
"[LeCounte] was the leader for us basically the whole time we were here," Cine said. "[LeCounte] had to do more communicating than usual, including for me really. [He] did a good job just stepping up as a leader and not only that, he also did his thing tonight."
With a headlining game that included two turnovers, it is fair to ask whether LeCounte will be returning for another season with the Bulldogs or moving up to the next level after his statement of a performance.
That answer is still under wraps, but sugar finally tastes sweet for Georgia.
"The defense played really inspiring football," head coach Kirby Smart said. "They played really hard. They got turnovers. They gave the offense some short fields, which we thought would be critical, whether it was a fourth‑down stop or a turnover."