Everyone who was there remembers.
Two years ago, Georgia Tech scored 14 unanswered points in the fourth quarter to stun Georgia in Athens, 28-27. The loss was the second time in a row the Bulldogs had lost at home to the Yellow Jackets after doing so just once since 2000.
"Me personally, I don't need to be reminded," senior receiver Terry Godwin told reporters Monday. "It's stuck in there. I remember it vividly like it was yesterday."
Yet the Bulldogs are being reminded of that game and the one from two years earlier in 2014. There are pictures and videos playing of the Yellow Jackets tearing up the hedges and field at Sanford Stadium in 2016.
There is no one better to get the seniors motivated for their final home game against Georgia Tech than Bulldog head coach Kirby Smart. In his final home game as a Georgia player in 1998, he came out on the losing end of a 21-19 loss to the Yellow Jackets.
Senior outside linebacker D'Andre Walker called the actions after the 2016 game "very disrespectful."
"I know me as a senior, I don't want to leave a bad taste in my mouth and have them destroy our field and then walking off the field knowing I couldn't do anything to stop it because we lost," Walker said. "Of course, I don't want to lose at home to Georgia Tech."
While it was the defense that faltered in the fourth quarter two years ago, it was a frustrating experience for the offense as well. The Yellow Jackets possessed the ball for just under 10 minutes in that fourth quarter, keeping Georgia's offense off the field.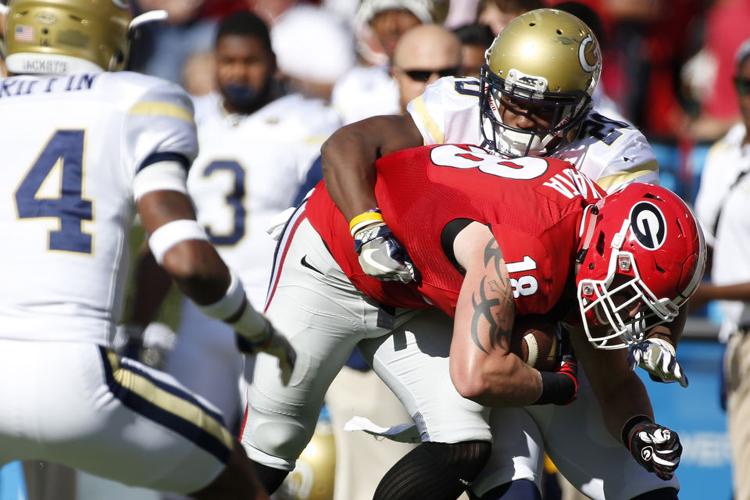 "I remember just watching them march down the field and us not being able to get the ball back, so that was tough," junior tight end Isaac Nauta said. "That's a feeling I don't want to have again, a feeling that nobody wants to have again."
This senior class is one of the most accomplished in Georgia history. They've won 41 games to this point, have taken home an SEC title and brought the program to the brink of a national championship.
But they still haven't beaten Georgia Tech at home. On Saturday, they hope to check that box.
"I want this, and I know everybody on the team wants this," senior defensive lineman Jonathan Ledbetter said. "We're taking a lot of disrespect from Georgia Tech. I know some people would much rather see us beat Georgia Tech than even to win a national championship. We're not going to disappoint."