Georgia head coach Kirby Smart has a photograph from when he was a Georgia safety that brings back memories of his college days.
The photograph was taken at the end of his senior season at Georgia in 1998. Every player who completes his senior season at Georgia takes a similar photograph when they are honored on the field with friends and family. The photo commemorates senior day in their final game at Sanford Stadium, which, for many, comes against Georgia Tech.
For Smart, the memories associated with his photograph aren't all good.
"Every time I see that picture with my family, I know that that was a game that we didn't win," Smart said.
Georgia lost to Georgia Tech that season, 21-19, and the memory sticks with Smart. Thus, he understands how significant it was for Georgia's senior class to close out its final regular season with a 45-21 win over the Yellow Jackets on Saturday at Sanford Stadium.
"It's significant because I know what it feels like to lose your last game to Tech at home, and personally, I know how that has affected me," Smart said.
Before Saturday, no one on Georgia's current roster had ever beaten Georgia Tech at Sanford Stadium. The Bulldogs had lost the previous two meetings at Sanford Stadium in 2014 and 2016.
---
"Just knowing that all the seniors look back at their senior pictures, they won't have a dirty taste in their mouth losing to Georgia Tech."
- D'Andre Walker, Georgia linebacker 
---
But now, the memories that come to mind when senior linebacker D'Andre Walker looks at his senior day photo will be a bit different.
"Just knowing that all the seniors look back at their senior pictures, they won't have a dirty taste in their mouth losing to Georgia Tech," Walker said. "It was big, cause we'd have to live with that for the rest of our life."
Since losing to Georgia Tech in 2016, Georgia hasn't lost a home game. With Saturday's win, the Bulldogs clinched their second straight season going undefeated at home, capped off another 11-1 season and secured a winning record against Georgia Tech.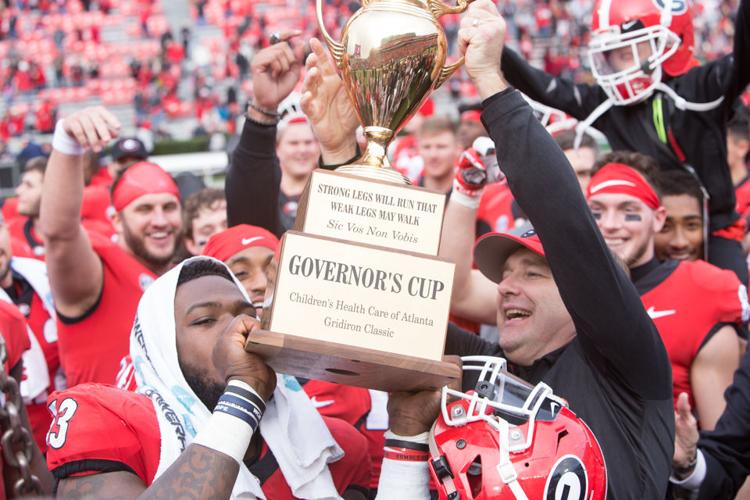 Protecting their own turf is an important point of pride for the Bulldogs, senior defensive end Jonathan Ledbetter said. To him, securing a winning record against Georgia Tech was crucial.
"That loss to Georgia Tech really affects you, and you don't really want to leave this university with a record like that, especially to Tech," Ledbetter said. "You know, we had won last year, but that doesn't mean anything. We want to continue to win, and we got to protect our house."
The current Georgia seniors have been through a lot in their time in Athens. They are the last class that entered the program under former head coach Mark Richt. They experienced a coaching change in 2015, and then a five-loss season in 2016, before turning it around for a trip to the national championship in 2017.
As they near the end of their college careers, they will play in the SEC championship game with another trip to the College Football Playoff on the line.
"I think, personally, with me and the staff, they've bought in. I mean, they came in under a different regime, and they bought into what we believed, and really had a tale of two seasons with the first one, where it didn't go the way we wanted it to go, and the second one, where we had really good buy in," Smart said. "They've overcome so many obstacles and given so much back to Georgia."
And while there are still more challenges to come this season, the seniors know they will look back on their senior day photographs with pride, knowing they closed out their final regular season with a dominant win over their bitter rivals.