Primetime isn't new to Lawrence Cager.
When No. 3 Georgia welcomed No. 7 Notre Dame to a sold-out Sanford Stadium on Saturday, the bright lights didn't faze the graduate transfer. Instead, it was Cager who shined.
"I think every game is a big moment for me," Cager said. "Whether I get one catch or whether I get 10 catches, I treat every game like it's go time."
Cager led the Bulldogs' receiving corps with five catches for 82 yards. He hauled in Jake Fromm's lone touchdown pass to give Georgia a 10-point lead early in the fourth quarter.
"[He's] a veteran guy, a guy who's played a lot of football," Fromm said. "When it counted most, I went to him and he made a play."
Cager streaked down the sideline on the first play of the fourth quarter and reeled in a 36-yard back shoulder catch, his biggest highlight reel as a Bulldog to date. Fromm said he's used to seeing those plays every day.
"I can think back to a moment in practice this week where we did that," Fromm said. "It's nothing new, it's something we've worked on. It's come out strong in really clutch situations."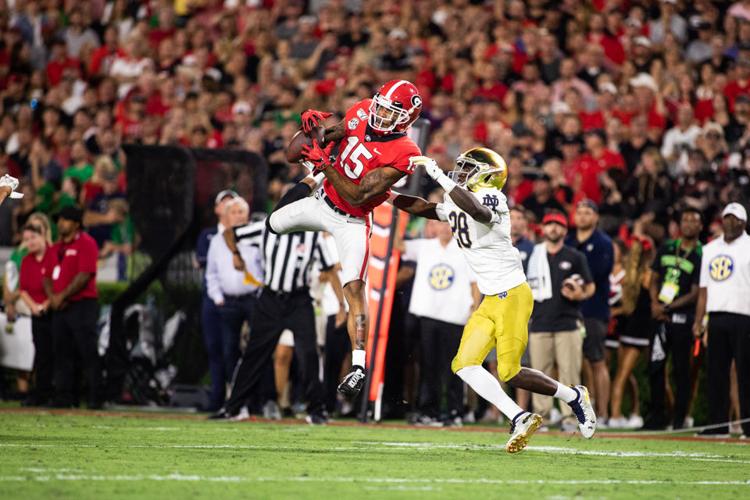 The next play, Fromm hit Cager for a 10-yard gain. Three plays later, Cager jumped up and reeled in a toe-tapping 15-yard touchdown, his second as a Bulldog.
"If I said what I said on the field, you would have to bleep everything out," Cager said. "It was just a lot of excitement I'll say it like that."
Cager's journey to Athens starts in Baltimore, where he grew up. He went to the University of Miami for four years before ultimately selecting Georgia for his final year of college eligibility. Cager and his Miami teammates took on a top-10 ranked Notre Dame squad in 2017.
No. 7 Miami welcomed No. 3 Notre Dame to The Sunshine State and went home with a dominant 41-8 win. And again, Cager produced when it mattered most. He led the Hurricanes with 45 receiving yards in a contest that was a blowout from the start. But Cager said that heightened stage prepared him for Saturday in Athens.
As Cager ran onto Dooley Field in front of a record-breaking 93,246 fans, his heart started beating faster. It wasn't nerves, though. It was excitement.
"I've never seen a stadium light up like this," he said. "I've never seen a crowd get so into it like this. It was one of my favorite games."
When Cager entered Georgia's program with a wealth of experience, everyone began to take note. But first, he had to prove himself. In Kirby Smart's system there's one primary breeding ground that can lead to increased field time: special teams.
"He had to prove himself on special teams," kicker Rodrigo Blankenship said. "He's been putting in a lot of work for our special teams even if it doesn't always get noticed. He's just been an amazing help to our team."
Georgia's receiving room is skewed toward youth. Through four games, no one target has emerged as Fromm's clear favorite. The door is still open for someone to establish themselves as the go-to hands. And Cager is ready to be that guy.
"We just treat it like practice," he said. "[I] just never let the game get too big."