ATLANTA — The fourth-ranked Georgia Bulldogs took a 21-14 lead into halftime over top-ranked Alabama in the 2018 SEC Championship Game Saturday.
Georgia came out with energy to jump out to a 14-point lead at one point in the second quarter. But Alabama closed the half strongly to narrow the gap. Here are some observations from The Red & Black.
Jake Fromm starts hot
Jake Fromm came out firing for the Bulldogs against the vaunted Alabama defense.
He was sacked early by star defensive lineman Quinnen Williams, but found a rhythm and was making quick decisions to get the Georgia offense moving. He finished the first half 14-for-18 for 139 yards and two touchdowns. He found Isaac Nauta on a beautiful 20-yard pass down the middle of the field to give Georgia an early lead.
Fromm was the best quarterback on the field in the first half, spreading it around to a variety of receivers and leading a Georgia offense that posted 227 yards in the first half.
Too Tagovailoa struggles early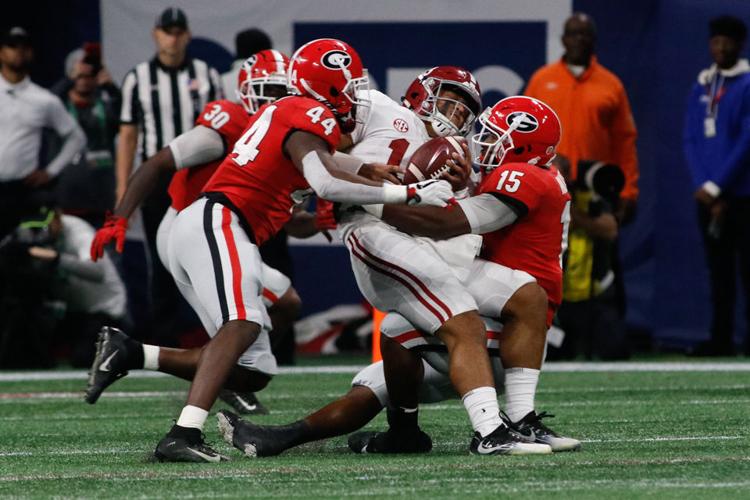 Heisman Trophy favorite Tua Tagovailoa got off to a shaky start against the Georgia defense.
He was 1-for-3 on Alabama's first drive and was picked off by Richard LeCounte at the goal line trying to throw into double coverage. Tagovailoa was also beat up at times and entered the injury tent in the first quarter after being sacked. He did not miss any game time.
Tagovailoa was not helped out by his receivers, who had a fair share of drops. The usually reliable Jerry Jeudy dropped an open pass and tight end Irv Smith Jr. dropped a deep ball while wide open down the middle of the field.
He finished the first half going 3-for-10 for 35 yards, with zero touchdowns and an interception.
Georgia controls the clock
The Bulldogs owned the time of possession game in the first half. Georgia possessed the ball for 20:52 compared to 9:08 for Alabama.
Georgia had a 13-play touchdown drive in the second quarter that ate up 7:19 of the clock. That was Georgia's only drive that lasted longer than 3:33, but it gave the Bulldog defense time to rest and the Alabama defense looked on its heels.
The Bulldogs outgained the Crimson Tide 227 to 146 and had over twice as many first downs (15-7). The sustainability of Georgia's drives was strong in the first half and bodes well for continued success in the game.