George Pickens isn't a freshman anymore. At least, not in Kirby Smart's eyes now that Georgia has played nine games.
And on Saturday, Pickens didn't play like a freshman either. His strong performance helped bolster Georgia's offense in a 27-0 shutout of Missouri. He finished with five receptions for 67 yards and both of Georgia's touchdowns.
"Man, he's growing up," quarterback Jake Fromm said. "He's done a great job of taking his game to the next level, really focusing on the details and making plays when they come his way."
On the Bulldogs' opening drive, Fromm marched the offense down the field. After a big third-down conversion, Georgia had the ball on the Tiger 25-yard line. Fromm slung a pass to Pickens over the middle and let him do the rest.
Pickens came up with the pass at the 6-yard line and sped ahead before getting hit at the 2-yard line. He extended his right arm and muscled across the goal line for a touchdown.
The 6-foot-3, 190-pound target added to his highlight reel in the fourth quarter. After Georgia's offense continuously stalled and settled for field goals, Fromm found Pickens again. With 14:02 left in the game, Fromm tossed it to the front corner of the end zone. Pickens did the rest.
Pickens leaped up and stretched out his arms to make an acrobatic snag then promptly planted his left foot in the dewy grass to secure the 18-yard touchdown catch. His teammates noticed from the sidelines.
Defensive back Tyson Campbell had both hands on his head, his mouth wide open in awe of Pickens' spectacle.
"Wow, what a catch," Campbell thought to himself.
"That's just George," he said. "You can't say anything else about that."
During fall camp, Pickens went viral for a one-handed catch during fall camp, but his teammates see the magician at work everyday.
"You always know when he walks in the room, he's got a really buoyant smile," Fromm said. "He loves the game of football. He's going to come, he's going to ball out for you, he's always going to have a smile and always crack jokes for you."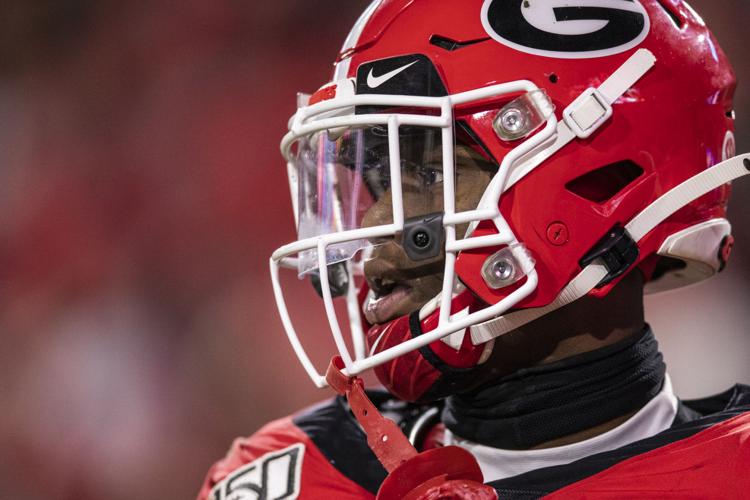 Georgia's leading receiver on the season — graduate transfer Lawrence Cager — went down with a shoulder injury just before halftime. Pickens filled the void over the final two quarters, emerging as Fromm's top target. He finished the second half with three catches for 38 yards and a touchdown.
Pickens should have had a third touchdown on the night. An illegal formation penalty revoked what would have been a 68-yard touchdown haul. Pickens was one of the men at fault.
There are still growing pains for the Bulldogs' young receiver, and Smart wants to see Pickens get more consistent with the little things.
"Attention to detail is what gets [Pickens]," Smart said. "As talented as he is, when he doesn't have attention to detail, he can hurt the team. If he does have attention to detail, he can really help the team."
Smart said Cager "should be fine" but it's still unknown if the graduate transfer will be back to 100% for the upcoming Auburn game. If Cager can't go, it could be Pickens' turn to take the next step.
"We'll see," Fromm said. "I'm ready for him to. We'll see how he goes to work this next week."