JACKSONVILLE, Fla. — Lawrence Cager hadn't practiced a play in nearly two and a half weeks. On Oct. 28, Cager posted a GIF of professional wrestler "The Undertaker" emerging from a coffin on Twitter.
After suffering shoulder and rib injuries in Georgia's loss against South Carolina on Oct. 12, Cager couldn't play against Kentucky on Oct. 19. His cryptic tweet after Georgia's bye on Oct. 26 had no text and left Bulldog fans wondering what he meant.
Cager's career-high performance in No. 8 Georgia's 24-17 win over No. 6 Florida provided an answer on the field, but the wideout offered a more specific explanation of the tweet after the game.
"Oh, [it was because] I was dead," Cager said. "I've got to rise from the dead somehow."
October 28, 2019
And rise he did. Cager caught seven receptions for 132 yards and a touchdown on Saturday in Jacksonville.
"Every receiver dreams of an over 100-yard game in a great rivalry game," Cager said.
Head coach Kirby Smart never doubted Cager would return against Florida, but he wasn't sure what role the graduate transfer from Miami would be able to undertake. Cager had spent weeks running along the sidelines at practice and rehabbing.
Upon hearing Cager's stats from Saturday, Smart was impressed.
"That's big," Smart said.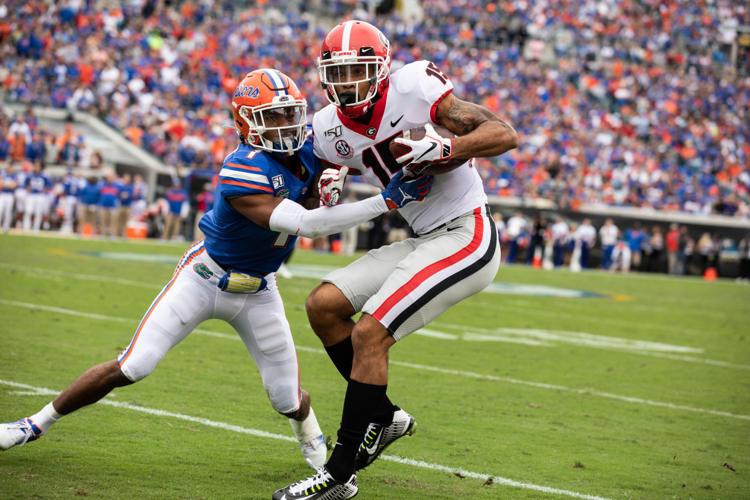 Cager brought in Georgia's most explosive offensive play of the game when he connected with Jake Fromm on a 52-yard touchdown pass — and a subsequent two-point conversion — that put Georgia up by two scores in the fourth quarter. Cager's impact was also felt on third down, as three of his seven receptions kept drives alive for Georgia.
Cager leads all Georgia receivers this season with 26 receptions, 377 receiving yards and four touchdowns. Fromm obviously likes to throw to Cager, and the junior quarterback chalks much of their chemistry down to Cager's 6-foot-5 height and high football IQ.
"For him to have this impact, I think it really says a lot about his character," Fromm said. "He's balling out, man. For him to come and do what he's doing, it's awesome for him [and] awesome for his future."
Despite being a Baltimore, Maryland, native, Cager said he grew up watching the Georgia-Florida game every season. And on Saturday, he repeated multiple times that no injury was ever going to keep him from his only chance to play in it.
"I wasn't going to miss this game for anything," Cager said.