The hairs on Melvin Robinson's arms stood up when the lights went out for over 30 minutes during the 2013 Super Bowl. A power outage at Sanford Stadium would be a nightmare for Robinson, an assistant athletic director and supervisor of facility operations at Georgia.
It's almost impossible, but if something were to go wrong, Robinson and his team have a plan, like they do for almost everything. The problem would be quickly messaged to the fans, coaches, referees and TV crew. Technicians would follow a procedure to restore power within a set amount of time. Then the game would resume.
Every year, Georgia's facilities crew works on this exact drill. It's just one part of preparing and maintaining the newly-christened Dooley Field at Sanford Stadium before and during the season. Employees work 10-hour days to ensure the quality of the lights, hedges, grass, escalators, elevators, concessions and countless other aspects of the stadium.
It is well known that the hedges, planted 90 years ago in the stadium's first season, have replacements stored in a secret location. But there is also a contingency plan should the grass acquire a disease, Director of Athletic Turf Grounds Matt Hollan said.
As the masses enter Sanford Stadium on Georgia football gamedays, Bulldog fans only see the end product of hours of work. But the newly named …
"The joke is our backup has backups," Hollan said. "Everything is under a good security blanket."
Hollan's turf management team has evolved as new technologies have emerged. The University of Georgia Athletic Association facilities team is trying to do the same as it grapples with complaints from fans about alcohol sales, long lines and weak Wi-Fi.
"You have to be able to adapt," Robinson said. "That's how you win in facilities."
No longer a shag carpet
The Georgia football team is in the middle of a stretch in which it plays three home games in as many weeks.
Last Saturday on Sept. 7, the Bulldogs beat Murray State after Sanford Stadium's field was officially named in honor of former Georgia coach and athletic director Vince Dooley. Georgia plays Arkansas State on Sept. 14, one week before the Bulldogs face Notre Dame in what Robinson called the biggest home game in the stadium's history.
Three consecutive home games can make things easier for a football team. For the turf? Not so much.
"The challenge is reduced recovery time," Hollan said. "We just have to make sure the nutrient level, the recovery level, the moisture level, just everything is at its maximum for the grass to grow and recover as fast as it can."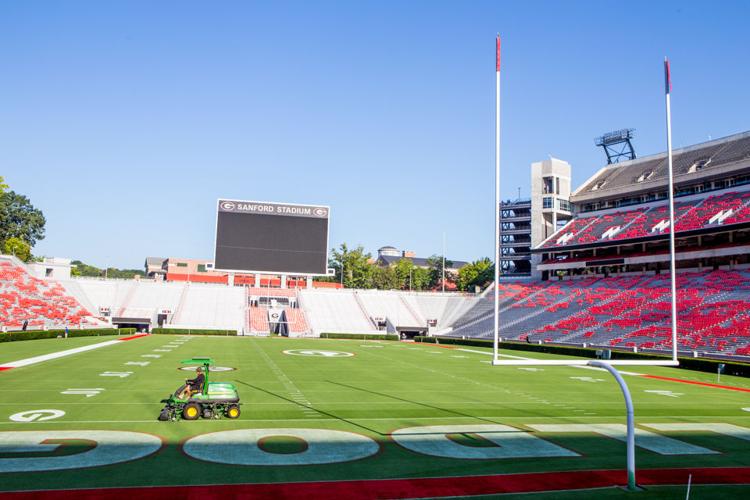 Hollan said his team consists of eight full-time workers and 15 to 20 student workers, half of whom prepare for gameday with the other half working on the grass fields for the rest of Georgia's sports teams.
To prepare for the Arkansas State game, the crew worked late after the Bulldogs' Murray State win, clearing the field of trash to make sure the grass could breathe overnight.
"Honestly, we work until we're tired," Hollan said.
They're back at it on Sunday to aerate Dooley Field and then paint it every Friday before a home game.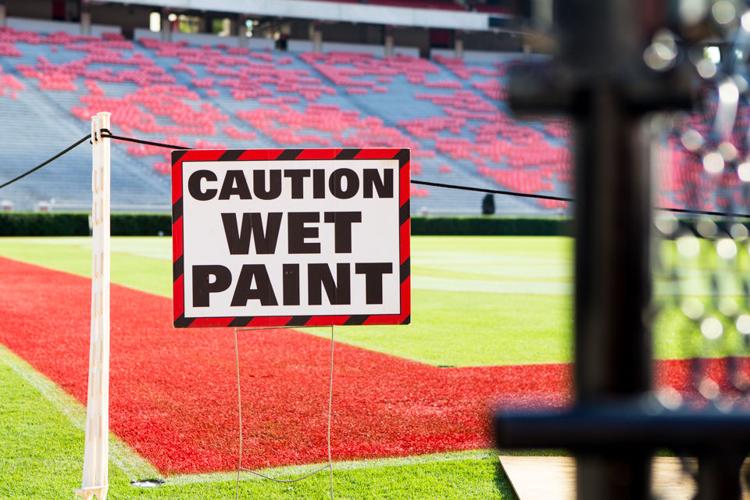 The sports turf staff works long hours, but new technologies have removed some of the physical burdens once synonymous with the work. This summer, Georgia replaced the field at Sanford Stadium with new sod, a process made easier by tractors.
"There's been a fair amount of technology changes, especially a lot of emphasis on player safety, whereas before, it was any pasture would do," Hollan said.
The grass can grow faster and more dense than it used to. 
"If you look at golf course videos or sports field videos from the '90s or early 2000s, you can tell the grass looks a lot longer [and] shaggier, like shag carpet," Hollan said. "Now I feel like we have it to a pretty tight, dense carpet." 
Hollan is in regular contact with the farmers at UGA's campus in Tifton, the location of the university's turf breeding grounds. Dooley Field is made of Tifway 419 Bermudagrass, a Georgia-grown product. 
"It's the Levis and the Wranglers [of grass]," Hollan said. "New jeans come out every now and then that are fancier, but everyone at the end of the day has got a pair of Wranglers and Levis."
'A more appealing fan experience'
Legend has it that the inspiration for Sanford Stadium's hedges came from the Rose Bowl. Charlie Martin, the business manager of the UGAAA, visited the Rose Bowl in the mid-1920s and fell in love with the rose hedges that encircled the field. A few years later when Sanford Stadium opened its doors, Martin recommended adding rose hedges. Georgia instead settled for privet hedges when it was determined that the climate wasn't suitable for rose hedges. 
Generations later, the Bulldogs beat Oklahoma in the 2018 Rose Bowl, and Robinson said Georgia received inspiration from the Rose Bowl Stadium again. After seeing the stadium's flower planters, Georgia added its own planters outside Sanford Stadium. It also decided to pay homage to the program's past after seeing Notre Dame's history plastered on its stadium's walls during the 2017 game.
The first thing students see when they enter on the north end of Sanford Stadium is a mural of Herschel Walker or David Pollack. It's done on purpose.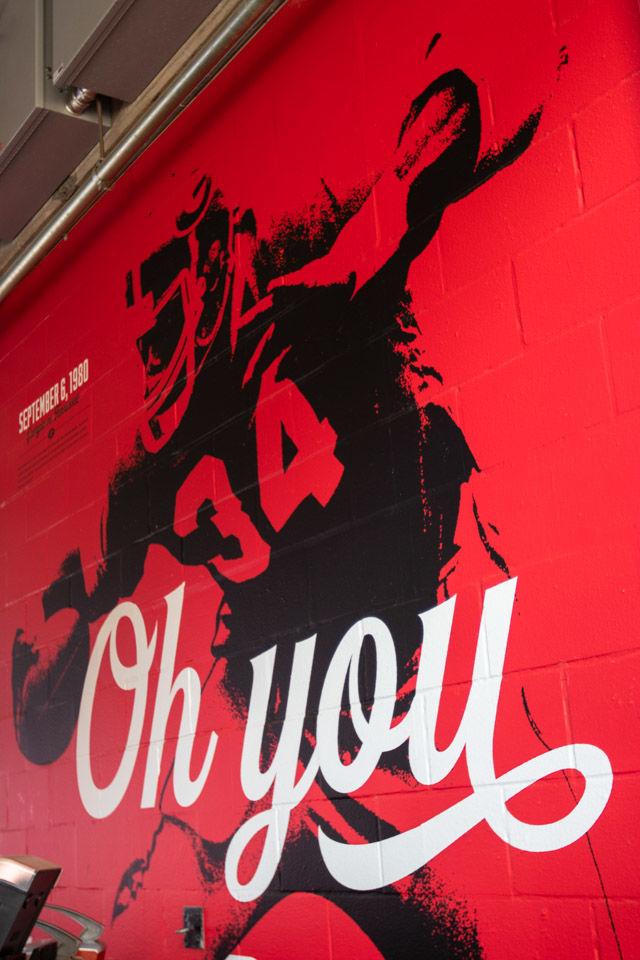 "We call it low hanging fruit," Robinson said. "That's easy … It's not rocket science. We're not curing cancer, we're not saving lives. We're creating a more appealing fan experience."
Robinson said there are improvements still to be made. He acknowledged the existence of documented complaints about the length of concession and restroom lines. 
Sanford is also notorious for its Wi-Fi connectivity problems. Robinson said his team and other collegiate facility departments have not been able to figure out a way to serve so many people at one time. 
Then there is the alcohol. After the SEC announced it would allow alcohol sales beginning in 2019, some fans were hoping to see Georgia sell alcohol to the general public. Instead, alcohol will only be sold in 2019 to the Magill Society, which requires a donation of at least $25,000 to the UGA Athletic Association over a five-year period. 
"I think we're doing it systematically just to make sure everyone is in a good place and in a good space for it," Robinson said. "We keep talking about place and space. Just throwing it out, 'Oh, we're going to sell beer right here.' Well, right where?"
Located in a valley and surrounded by various buildings, Sanford Stadium is a unique structure. 
"Everybody has their own set of challenges," Robinson said. "There isn't a school in the SEC that doesn't have challenges. But again, I think we do the best we can with what we got."
'Every game is like Christmas'
Sanford Stadium's lights haven't gone out yet. But much smaller issues do arise every now and then. 
Hollan was recently fertilizing the grass when he accidentally switched the foaming and defoaming agent. He caught the mistake after spraying a few feet of the field. 
"In hindsight, it all seems so nominal," Hollan said. "At the time, you're tugging your hair out, you're freaking out if you're going to be able to have it look good by gametime. But in the end, it tends to always work out."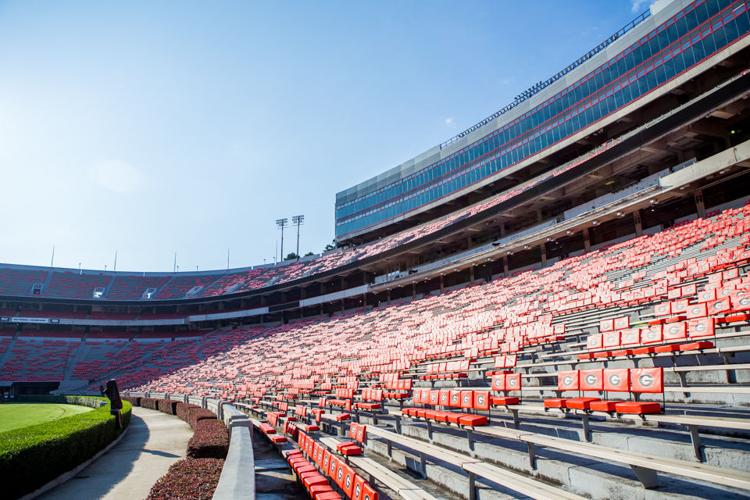 Robinson said his team tries to be anticipatory and strategic. Georgia was ready to press send on its alcohol policy as soon as the SEC announced its decision. The facilities department is also preparing for the scenario in which the SEC mandates metal detectors. 
Robinson and Hollan lead staffs that spend long hours making sure the stadium is fully operational. Seven days a year, they get to see their hard work pay off. 
"Every game is like Christmas, and we're giving gifts," Robinson said. "That fan who comes through the gate, they receive the gift. They unwrap it [and say], 'Wow, Sanford Stadium.'"